David Wroth, of Bell Farm, Docking in Norfolk, has doubled his hectarage of pea crop this year, as his crop was so successful last year.
Mr Wroth even believes that his pea crop could become a replacement for his sugar beet rotation.
"Last year was the first year that we have included peas in the rotation, and this came about as we agreed to grow a seed crop of the large blue pea LG Aviator, for breed Limagrain UK who are local to us," he said.
Mr Wroth has never grown a crop commercially, but he said the crop was really straightforward to grow: "The key was not rushing to drill in the spring until conditions were suitable – which was March 22nd. The previous crop was sugar beet."
To establish the crop, he used a single pass with a Cousins Patriot combination cultivator and then drilled with a Horsch Pronto drill, at a seed rate of 90 seeds/m2.
He said that the crop looked good all season. "It also flowered earlier than other varieties in the area, quite noticeably, by as much as two-three weeks," he added.
"Most of the pods formed at the top of the plant which made for an easier harvest, we set a date when we would harvest the crop and stuck to it. And that's the key with harvesting peas, I think. This year we harvested on 12/13th August."
Although the farm did not come away with the highest yields, David was pleased to say that they averaged around 3.5-4 tons per hectare. His plan is to increase the pea crop acreage year on year, if the peas continue to do well, whilst reducing his sugar beet rotation – replacing the 40 hectares that it is currently grown on.
"In the current scenario of very high nitrogen fertiliser prices, the nitrogen fixing ability of the peas is very valuable," said Mr Wroth.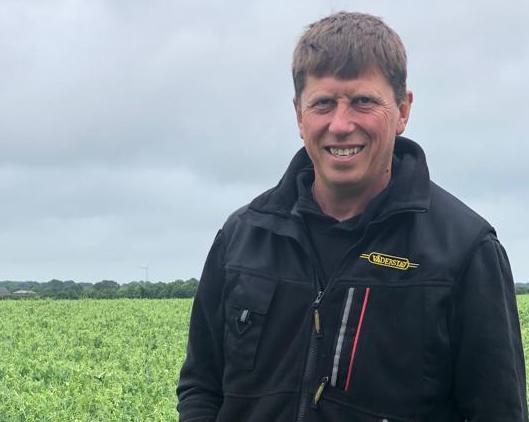 Will Pillinger, pulse breeder for Limagrain, explained that the high yields are because the LG Aviator is a multi-podded variety type. "For each node that LG Aviator produces, there are three pods; this means there are more pods at the top of the plant rather than spread through the plant, making for a more even maturity with less competition for light – and this is a significant characteristic in building yield," he said.
With this predictable plant habit, Will notes that this new type of manageable green pea variety makes planning pesticide and nutrient applications far easier than conventional 'semi-indeterminate' types.
He added: "LG Aviator offers one of the best resistances to downey mildew (8) and is highly resistant to powdery mildew. It's early and has good ratings for standing ability and straw length (rated 6) – making it one of the best agronomic packages of any other provisionally-rated varieties."
The seed is suitable for both human consumption and for animal protein, "all of this makes for a very exciting variety and one that should perform well for UK growers," said Mr Pillinger.
Crop inputs
| | |
| --- | --- |
| Product | Application rate |
| Stealth | 0.08 litres per hectare |
| Sulphur flowable | 2.45 litres per hectare |
| 15% Manganese | 2.45 litres per hectare |
| Intacrop Predict | 0.20 litres per hectare |
| Mohawk CS | 0.18 litres per hectare |
| Nirvana | 3.07 litres per hectare |
| Amistar | 1 litre per hectare |
| Clayton Pirimicarb | 0.28 litres per hectare |
| Pesticide application (March) | 1 litre per hectare |
| Pesticide application (June) | 1 litre per hectare |