The latest AHDB Recommended List included Merlin spring oats, said to offer an unrivalled combination of yield, quality and disease resistance.
It produces high-yielding, high quality oats when grown either conventionally or organically. According to the company, it has the lowest screening losses of any spring oat variety, outstanding disease resistance, including an eight for mildew, and is early to mature.
According to Gemma Clarke at Cope Seeds and Grain, the UK agents of the new variety, Merlin is a standout oat for UK farmers and millers. "Merlin spring oat is suited to all regions in the UK and because of its early maturity, it will do well in wetter climates and the north of the country, where maturity is vital. It delivers consistency and quality to millers, due to its high specific weight and high kernel content and it has the lowest screening losses of any oat variety on the RL."
"Merlin is one of the highest yielding oat varieties on the RL and performs exceptionally well when grown organically or conventionally with good standing ability.
"Also, for farmers looking to farm more environmentally with fewer inputs, Merlin has exceptional disease resistance scores with a mildew score of 8," adds Gemma.
Richard Monk, Hampshire arable farmer, has seen fantastic results with Merlin spring oats. "In 2020, Merlin established well and had strong disease resistance. It was harvested on 22 August and despite the catchy weather at the time it was standing well and combined easily. The yield was 69t from 9.3ha and the germination was sound. This was a better yield than the other spring oat variety we were growing.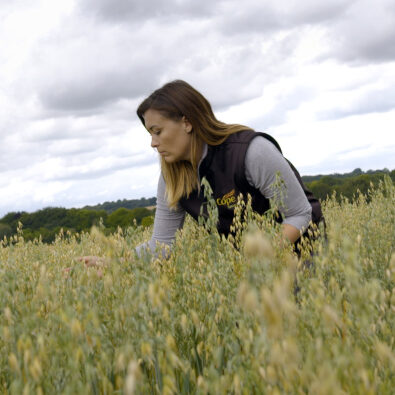 "For 2021 harvest we were encouraged by the 2020 results to increase our area of Merlin but like all oat and barley combining for 2021 harvest here in Hampshire, conditions were really difficult, however, the Merlin has held its own and has done better than the other Spring Oats we grew. I am planning to plant it again this spring for the 2022 harvest."
Merlin is attractive to millers due to the low screenings, and Philip Rayner at Glebe Farm is positive about samples from the 2021 harvest. "Kernel content is very good and dehulling looks suitable. The screenings were low and the bushel weight was very good. We look forward to trialling Merlin through the mill in the next few weeks. We buy a great deal of organic gluten-free oats for export and the UK and are very keen to support improved varieties for both growers and millers."