After 18 months of virtual working, the UK Dairy Day returned to the International Centre at Telford this month and welcomed over 7,000 visitors for the one-day event. It was the first in-person dairy event to take place since March 2020.
On-site were 170 cattle that had travelled from as far as Forres, Inverness to Penzance, Cornwall, as the event hosted National Shows for the Ayrshire, Brown Swiss, Guernsey and Holstein breeds, alongside classes for Dairy Shorthorns and Jerseys.
A leading line-up of judges comprised John Suffern as the National Ayrshire Show Judge, Stuart Williams as the National Brown Swiss Show Judge, Dawn Coryn as the National Guernsey Show Judge, David Booth as the National Holstein Show Judge and Owain Harries judging the Dairy Shorthorn classes and Ben Etteridge judging the Jersey classes.
Champions
The Heifer champions were:
Ayrshire Heifer Champion – Morwick Gwen 35, Willhome Pams Horizon, M A Howie
Holstein Heifer Champion – Evening Sidekick Jennifer, Walnut Sidekick, Evening Hill Farms Ltd
The Grand Champions were:
Ayrshire Grand Champion – Troutbeck Skyfall Peony Rose, P & J Mattinson
Brown Swiss Grand Champion – Kedar Shut Up And Dance With Me, T Lochhead & Sons
Dairy Shorthorn Grand Champion – Churchroyd Bronte Wildeyes 51, IRG Collins & Partners
Guernsey Grand Champion – Tredinney Echo Alicia, RJ & JR Warren
Jersey Grand Champion – Bluegrass Sams Dreaming, A H Wilson & Son
Holstein Grand Champion – Riverdane Absolute Springsteen, Apples Absolute Read, Riverdane Holsteins
The Holstein UK Premier Exhibitor and Premier Breeder Awards were both awarded to Riverdane Holsteins, while the Best Presented and Tidy Cattle Lines, sponsored by NW Resources, were both awarded to Panda Holsteins for their attention to detail.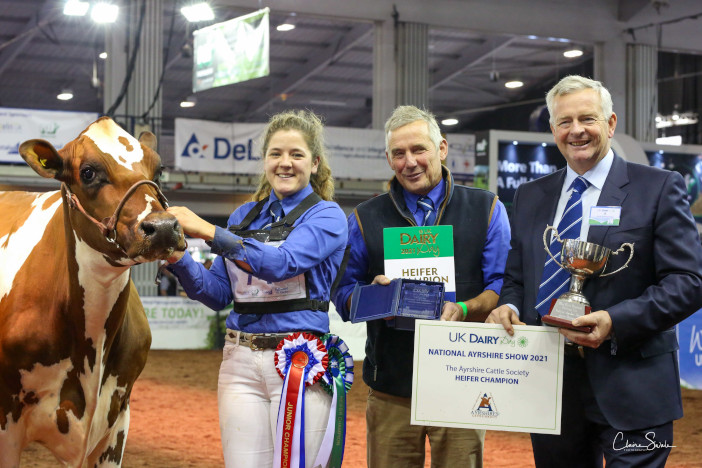 The Howard Sneesby Memorial Trophy was awarded to Holstein UK CEO Sue Cope for her life-long commitment to the National Holstein Show. Ms Cope's work with the Society, the UK Dairy Day event and the National Holstein Show have been shown through her positive leadership and constant support and encouragement.
The event was live-streamed and can be watched below.
Sold out trade stands
Exhibitor space was sold out for the event, with 230 trade stands, laid out across wider aisles for visitor safety. Hettle Andrews sponsored the Trade Stand Awards and judged stand attractiveness, staff presentation and interaction, as well as clarity of branding and stand layout.
Internally, the best Small Trade Stand Award went to KW Alternative Feeds, the Medium Trade Stand Award was presented to LLM Farm Vets and ADF Milking won the best Large Trade Stand Award. Outside, in the sunshine, GLW Feeds took home the External Trade Stand Award.
The New Product Competition, sponsored and judged by IDEXX Laboratories Ltd, featured eight products brought to market since the 1st of August 2020.
The eight finalists were:
Animat Low Emission Mat, Intershape Ltd
Dairyfan: Abbifan 140-XXP-21, Abbi Aerotech B.V.
Inline BRIX Sensor Automatic Calffeeder, Holm & Laue
Invent, ADF Milking Limited
Milktaxi 400Ltr (Pasteuriser), Holm & Laue
SupremeBed, Fairfiled Supplies Ltd
Dairy Sustain, NWF Agriculture Ltd
Volac ImunoGuard, Volac International
The winning new product was the InVent from ADF Milking Limited, with Abbi Aerotech B.V.'s Dairyfan: Abbifan 140-XXP-21 receiving the Highly Commended Award and a Judge's Special Mention was given to Holm & Laue for its Inline BRIX Sensor Automatic Calffeeder.
There was also practical demonstrations of foot trimming, blocking and knife sharpening by Tim Carter and his team. Scarsdale Vets also presented 'Beneath the Black and While' calf painting, while in the Breed Village, members of the National Bovine Data Centre's Classification team ran type classification and linear scoring demonstrations.
A new format for the seminar programme saw the introduction of four industry panels, which reportedly attracted record numbers of attendees and required additional seating for the lunchtime panel 'Future Farming with Climate Change'. The programme was sponsored by Harper Adams and covered a wide range of topics to help dairy farmers, a careers board promoted current opportunities and displays promoted industry initiatives, training providers and charities.
Sue Cope, Holstein CEO and UK Dairy Day event director said; "I am delighted that we were able to host UK Dairy Day after 18 months of uncertainty. I have been overwhelmed with the positive support and reaction from the industry to make the event happen. The pandemic has highlighted the important role dairy farmers have in food production and this event provided the opportunity to network, learn and socialise.
"Finally I would like to acknowledge the excellent support received from the industry enabling this year's event to take place. I would like to thank our Principal sponsors Crystalyx, Fullwood Packo, Holstein UK and NWF Agriculture, our media partners Farmers Guardian and Holstein International, along with all our associate and cattle class sponsors, trade exhibitors, cattle exhibitors and visitors who all support UK Dairy Day, making it one of the best dairy industry events in the UK."
Full results are available at www.ukdairyday.co.uk