With the launch of the Environmental Land Management Scheme and a greater focus on managing crop nutrition more effectively and efficiently, Yara has announced an upgrade to their nutrient management tool, which can be found within the Atfarm digital tool. On a recent "Grow the Future" podcast, Natalie Wood, agronomy operations manager at Yara, outlined what these changes mean for farmers and what steps they can take to make their business more efficient and compliant in a changing industry.
"Yara had an NMP (Nutrient Management Planner) before, but it's ready for a refresh," said Ms Wood. "We've made the new NMP part of Atfarm and updated it to bring everything together, along with the benefits of using the newer version. As part of ELMS, you need to do an NMP to meet that first ambition level. Tools like ours can help."
Planning effectively
At a time when farmers are asking for clearer messages from Government, Yara has made this change in order to help empower their users and give them all the support they need in making better decisions based on real farm data. The updated NMP is based on RB209 – targeted at England and Wales – but an Irish version is currently in production. That said, the system is not dictated by legislation – decisions and control ultimately rest with the farmer.
"The new NMP can be accessed via Atfarm for free by signing up," said Ms Wood. "You can add fields manually – or upload as shapefiles from other systems – to map your whole farm in minutes. Once you've entered field and cropping details, you can create a nutrition plan. This will ask for parameters like crop type, previous crops, rainfall, P and K indices, and whether straw has been removed or incorporated. Once your plan has been created, you can add soil analysis if you have it. If not, default values are used."
"Where Atfarm's NMP differs from the rest is that it can calculate nutrient splitting. For example, rather than just prompting to add 200kg of N, this will be split by growth stage and include all other nutrients, as well as micronutrient timing."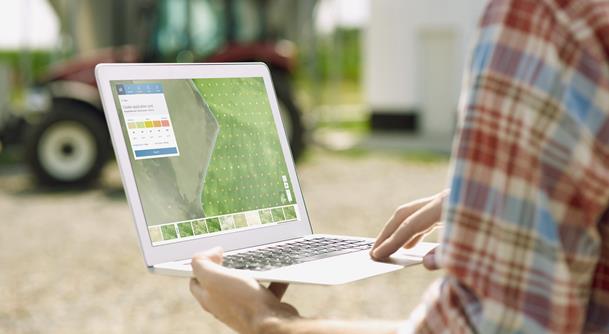 Focusing on efficiency
For Yara, this upgraded NMP will help farmers to be more efficient and ensure minimal wastage of products – vital for meeting the requirements of stewardship schemes like ELMS.
"When thinking about efficiency, this goes beyond just the usual N, P, K, and S," says Natalie. "To get a fully efficient crop, you have to think about all those nutrients holistically. If any single one is lacking, it affects all the others. We need to be as efficient as we can, particularly in a year like this one when we're potentially limited in nitrogen."
Atfarm helps this by centralising farm data within the software in an intuitive way, with the option to look back at historical records and make edits whenever you like. Smart tools like the N-Tester are incorporated as well. "It's a good way of storing everything," says Natalie. "You can effectively plan in-season and be more dynamic, as well as noticing more subtle trends and differences over time that are otherwise easy to overlook."
Essentially, if you're trying to make improvements to your crop results and organic matter while reducing waste, the new tool helps build a full picture from your data and see if you're making a difference.
"If you want to be part of the ELMS scheme, you need to have an NMP," added Ms Wood. "It makes life a lot easier. This new NMP can act as your one-stop-shop for everything nutrition-wise, working in tandem with things like variable rate applications. It's everything you need to be more efficient on-farm, under one roof."