Claas' entry for this year's Tractor of the Year competition is the 2178mm-wheelbase Nexos 260 tractor, competing in the Best of Specialized category.
Under the – now 9cm lower – bonnet, the 120hp Nexos 260 comes equipped with a four-cylinder, 3600cm³ capacity, diesel FPT engine; fully Stage V emissions compliant thanks to the EGR, DOC, DPF and SCR exhaust treatment systems.
Depending on the configuration, the Nexos track width can be narrowed down to just 920mm, increasing to 1,800mm with wide axles. It retains a steering angle of 54 degrees, with a turning circle as small as 3.35m.
The 260 model hosts a mechanical Carraro T100 EVO transmission with 30 forward gears and 15 hydraulic reversing gears. For increased comfort, the transmission layout has been redesigned to provide a flat floor in the cabin.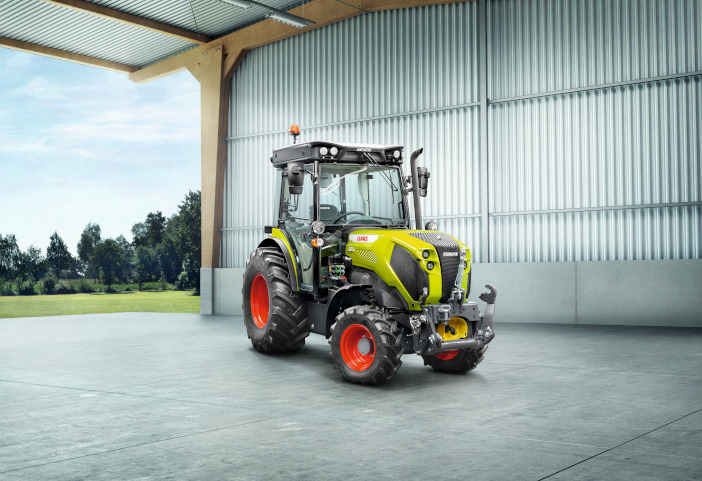 The gearbox is further optimised by the inclusion of the Revershift and Twinshift functions, with a declutch button for easy gear changes and SmartStop, enabling the operator to bring the machine to a stop without using the clutch.
The maximum engine speed for the Nexos 260 is 2300 rpm, while the maximum torque engine speed is 1500 rpm, with a max torque of 466 Nm. With the 260's eco speed function, the engine will run at 1670rpm with a maximum tractor speed of 40 kph.
PTO activation is either mechanical or hydraulic, with rear 540/100 rpm PTO as standard, or an optional rear PTO of 540/540 Eco rpm. The Nexos 260's front PTO is 540Eco or 1000rpm. For use with a wide range of specialist implements, the tractor is said to boast more than twenty hydraulic configurations, with a maximum hydraulic flow of 87 litres per minute (an option over the standard 60 litres) and an independent 27-litre pump for the steering system.
The rear lift has a capacity of 3.1 tonnes, with the front hitch capable of carrying up to 2.8 tonnes. For connectivity, an ISOBUS UT plug is included, as well as an integrated category 4 filtration system within the tractor cab.