The Argo Tractor brand, McCormick, has developed a new range of stage V compliant tractors that will be shown at agricultural machinery exhibitions, set to take place across Europe, in the early months of 2022.
X6.4 P6 Drive
A staple in the new McCormick range is the X6.4 P6 Drive, a companion for open-field and multi-utility operations, hay harvesting, and operations that require a loader. The X6.4 range features three models, the X6.413, X6.414 and X6.415, that are powered by 4.5-litre, 16-valve, 4-cylinder FPT NEF 45 engines with a maximum output of 155hp. The powertrain and transmission layout allow for a wheelbase of 2,560 mm.
The P6-Drive transmission can be enhanced by the four-speed power take-off; the front hitch can lift 2,500kg and the electronic rear lifting system goes up to 7,200kg; the maximum rear wheel size is 650/60R38 and the maximum weight allowed is as high as 9,500kg. The closed-centre hydraulic system also features a 123 litre per minute pump cable that can handle up to seven spool valves.
McCormick X7 short wheelbase
The tractors in the McCormick X7 short wheelbase (SWB) range are fitted with FTP NEF 45, 16-valve, 4.5-litre 4-cylinder engines and FTP NEF 67, 24-valve, 6.7-litre, 6-cylinder engines with turbo intercooler and common rail electronic injection. The X7.618 VT-Drive and the X7.618 P6-Drive (six-cylinder engine) can deliver up to 175hp thanks to the Power Plus system.
The P6-Drive transmission features six powershift gears under load, five robotised ranges and an electro-hydraulic reverse shuttle on the steering wheel. The tractor's total number of gears are 30 forward and 15 reverse which, with the Creeper, become 54 forward and 27 reverse gears.
The P6-Drive transmission can be driven in a similar way to the VT-Drive thanks to the auto powershift system and the stop and action system, which integrates the de-clutch into the brake pedal so the tractor can be stopped without depressing the clutch.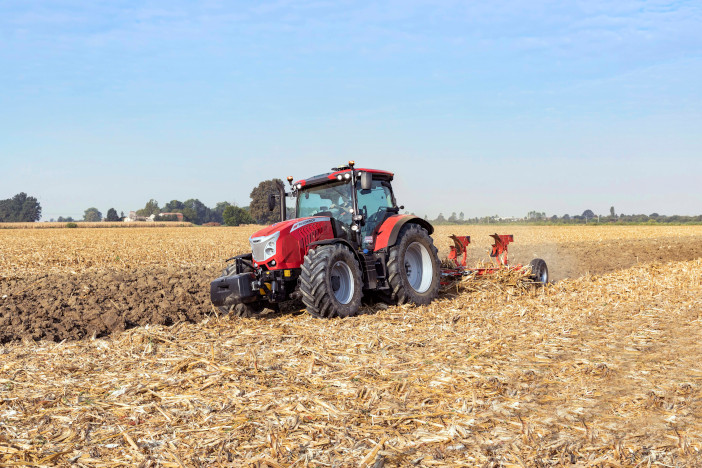 McCormick X7.6 VT drive and X7.6 P6-drive
The McCormick X7.6 range provides reliability and power to meet the demands of farm and fieldwork, with its mix of technologies and additional features: the Beta Power Fuel Efficiency 6-cylinder, 24-valve engines with turbocharger and common rail injection, with 240hp outputs.
The P6-Drive has six powershift gears for five ranges, and the VT-Drive transmission has a Power Zero system – that keeps the tractor stationary and blocks all movement once the reverse shuttle has been engaged.
The transition from road to the field is now more effective due to the McCormick EazyGrip central tyre inflation system, which controls pressure and stops automatically when the pre-set level is reached. Operated from the Data Screen Manager, the EazyGrip system reduces soil compaction, fuel consumption and tyre wear, and optimises soil productivity.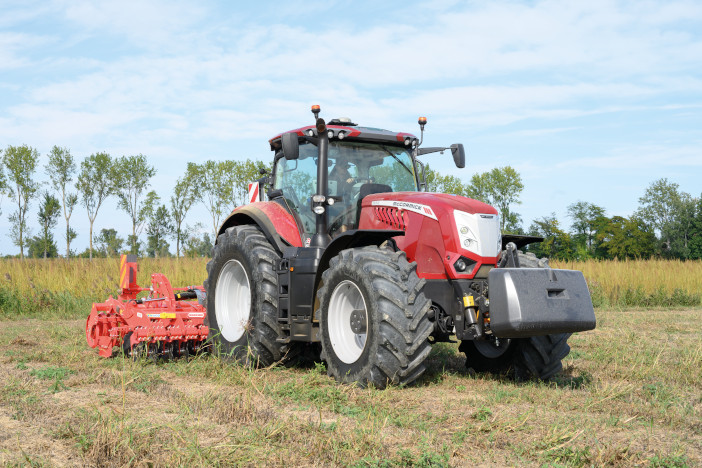 McCormick X8 VT-Drive
The X8 VT-Drive is available in three models, with power outputs of 264, 286 and 310hp available. Power is delivered by 6-cylinder Betapower fuel efficiency 6.7-litre engines, equipped with eVGT electronically controlled variable geometry turbocharger and selective catalyst reduction (SCR) exhaust gas post-treatment system; though the tractor's strength lies in the four-stage continuously variable transmission: 40km ECO speed at 1300rpm and 50km ECO speed at 1600rpm.
McCormick X5 Stage V
This range offers three models, the X5.100, X5.110 and X5.120, available in Premium and Efficient versions, with power outputs ranging from 95hp to 114hp. The High Clearance X5 is particularly suitable for horticulture in two Efficient models, the 95hp X5.100HC and the 102hp X5.110HC.
In the X5 line, transmissions range from the Premium 48+16 with hydraulic reverse shuttle and Hi-Medium-Low (H-M-L) to 24+24 with a mechanical or hydraulic reverse shuttle, in the Efficient and HC version. The hydraulic system, in the Efficient and HC versions, provides 62l/min for utilities, and up to 82l/min in the Premium version.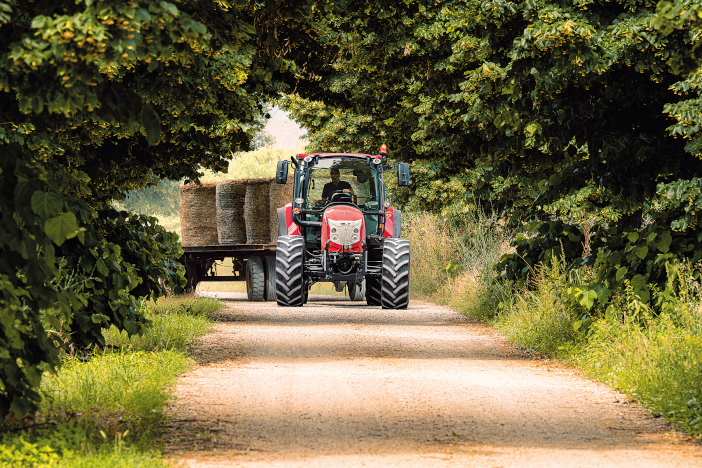 Enhanced by a torque of 375Nm at 1,400rpm (values usually associated with 100hp tractors), the X5 has a 75hp 3.4-litre, 4-cylinder and 8-valve FPT turbo intercooler engine. While the X5's power is amplified by the category 2 mechanically controlled rear lifting system, with a capacity of 3,900kg, and an additionally available 1,700kg category 2 front hitch.
A dual-pump hydraulic circuit provides efficient management of the five hydraulic spool valves (3 rear and 2 mid-mount), with a pump flanged to the engine that has a dedicated flow rate of 56l/min, with 32l directed to the steering system.
McCormick X4F
The McCormick X4F is a tractor engineered for manoeuvrability, especially in tight spaces, making it ideal for row-crop operations. The X4F is equipped with an open-centre hydraulic circuit, with a 30l/min pump for steering and 58l/min for utilities, while a third, 36-l/min pump, can be added to operate in tandem with the utility pump – for the X4F to achieve a total flow rate of 94l/min, of which 55l/min can be achieved from as little as 1,500 engine RPM.
The X4F is configured with the P3-Drive 48AV+16RM transmission, with electro-hydraulic reverse shuttle and fully robotised H-M-L speed and gear shifting. The engine's stage V compliance is assured by a system that uses a passive regeneration DPF, DOC oxidation catalyst and, for models over 75 hp, SCR catalytic converter and AdBlue tank with practical quick-access and quick-top-up system.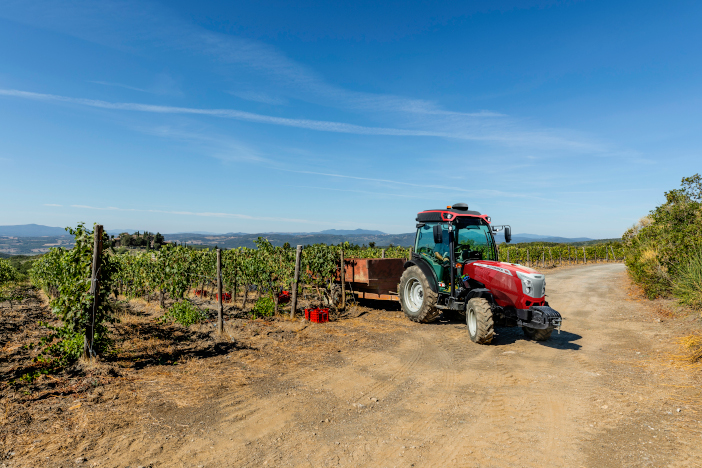 Each of the new McCormick tractors features the Data Screen Manager software, on a 12-inch touch screen monitor, with programmable buttons, allowing operator-customisation of tractor controls, arrangement of satellite guidance, and implementation of the ISOBUS system and McCormick Fleet & Remote Diagnostic Management system.
The X6.4 P6 Drive features the McCormick High Visibility cab with its FOPS-homologated panoramic roof, and hatch, for natural ventilation, and the X5 sports a suspended cab option that can be combined with the suspended front axle in its Premium version.
For more information go to www.mccormick.it