Dumfries Show provided the setting for the Simmental breed to put on a fantastic 2023 Scottish Simmental National Show on Saturday 5th August.  The forecast rain just about held off long enough for the exhibitors to put on a collective quality promotion of Simmental cattle across the classes. Both sections saw some heavyweight shootouts as high performing summer show cattle came together for the first time, combined with new lines and new faces at this years' shows. 
After three hours of judging, Popes Princess Immie, with her bull calf at foot Popes Premier, from Messrs JH & VG Wood, Popes Farm, Dutton, Preston, Lancs got the Championship tap forward to win the Overall Supreme Championship. Immediately after the Simmental judging, Popes Princess Immie moved straight to the head-to-head with the other breed Champions and where she powered through to win the Overall Individual Interbreed.
These latest wins capped a remarkable showing year for Popes Princess Immie as she added the Scottish Simmental National Show, and Dumfries Show Interbreed titles, to the Simmental Supreme at the English Simmental National Show, and Reserve Continental Interbreed, at the Royal Norfolk; and the Simmental Supreme and Overall Individual Interbreed titles at the Great Yorkshire Show. 
Speaking afterwards, Vikki Wood said:  "We are all absolutely thrilled to win the Scottish Simmental National Show to cap what has been an amazing summer show season for us.  The standard here at Dumfries Show was so high and I'd really like to congratulate all of the exhibitors.  Achieving these wins is of course fantastic for the Popes herd but the shows are really all about putting good quality cattle in front of people and flying the Simmental flag.  I think all of the breeders here really collectively achieved that.
"We've had some tremendous Popes females at shows in past years and I think Immie is now right up there.  She's more than done her bit and will now gracefully retire from the show ring.  The Popes herd is all about females and families, strong, proven female lines breeding the next generation of replacement females, and bulls for sales.  The shows continue to be a tremendous and important shop window for breeding lines and forward sales."
Judge, Bridget Borlase, said: "This is just a super cow and I feel a very worthy winner amidst some really strong competition and a tough but very enjoyable one to judge.  Immie's not overly big but is very well balanced and has a tremendous show ring presence. She's just full of flesh and carries herself ever so well.  With plenty of sparkle she oozes femininity and is doing a great job of what is a terrific calf at foot."
At the Show, the Popes herd collection of prizes included:  Simmental Supreme Champion, Dumfries Show Interbreed Champion, Overall Simmental Female, and with Popes Princess Noor winning Junior Female, and Reserve Junior Champion. Their other heifer, Popes Trixies Mikala, also took first prize in the class for heifers born between January 1, 2021 and April 30, 2021.
Another star from the Popes team this summer has been the heifer Popes Princess Noor and she was at it again in Dumfries when lifting the Junior Female and Reserve Junior Championship. These titles added to the Junior Championship win at the Royal Norfolk, the Reserve Junior Championship at the Great Yorkshire, and being part of the winning Junior Interbreed Team of Four also at Harrogate, for this stylish heifer.
Bull performance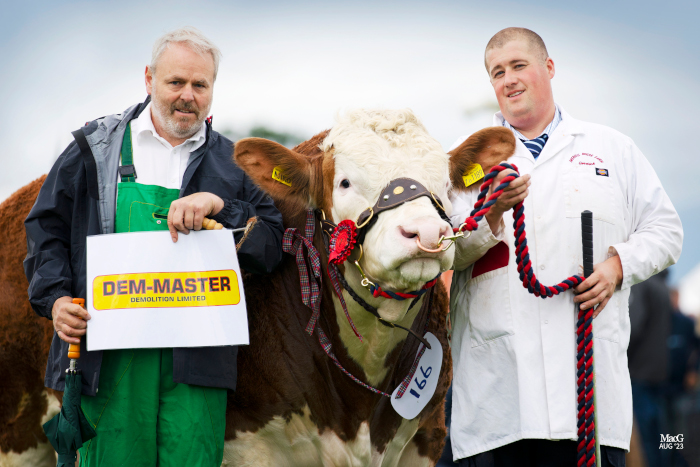 In a good show of bulls, it was Overhill House Niko from Richard McCulloch, Armadale, West Lothian, who proved to be the day's star turn in this section when winning the Male Championship, Junior Male Championship, and Overall Junior Championship.  Judge, Bridget Borlase said: "I really liked this bull. He's just full of breed character, has plenty of length, and has a lovely quality, soft flesh to him."   
This Male Championship comes on the back of a strong sales year for the Overhill House team that saw them take the top price at the Simmental sales at both Stirling and Carlisle in May, and with Stirling seeing a top all -breeds price of 16,000gns for Overhill House Neil.  Speaking afterwards, Richard McCulloch said:  "We're delighted to win the Male Championship and it's been a tremendous show of Simmental cattle, maybe the best I've seen at a one day show."  The plan from here is that Overhill House Niko will be aimed at the Stirling Simmental Bull Sale in October.
The Reserve Male Champion can from the senior Simmental bulls section in the shape of the winner of Class one, Islavale Jabba from Gavin Brown's Springfield herd at Penicuik, Midlothian. With a show track record behind him Islavale Jabba, 'a well muscled senior bull that has retained his sweetness',  took Reserve Senior Bull and Reserve Overall Male at the 2021 Live Streamed Royal Highland Show.  This year he has won the Overall Championship at Dalkeith Show.  a has taken Overall Champion at Dalkeith Show this year.  At the 2021 Live Streamed Royal Highland Show, he took Reserve Snr Bull and Reserve Overall Male.
Standing Reserve in the Senior Males was four-year-old Auchorachan Kennedy from local breeders Jim & Patricia Goldie, Newbie Mains Farm, Annan. Taking the Reserve Junior Male was Annick Nazareth from the Merkland herd of Jim & Liz Dyet, East Merkland Farm, Strathaven. Sired by Kilbride Farm Karl, Annick Nazareth has this year been Champion at Neilston, and Ayr Show respectively, and was Reserve Champion at Newmilns Show.  Described as a bull with 'tremendous length and plenty of shape', Annick Nazareth will be used as a stock bull in the Merkland pedigree herd.
In the Pairs, it was Lindsay Currie, along with his son Robert, Pinclanty, Pinmore, Girvan, Ayrshire who took first prize with two very smart heifers, Braegarrie Nadia, and Braegarrie Norma who had both placed second in their respective classes. Commenting, Lindsay Currie said:  "It's the first time we've shown in a while but we were thrilled to support the Scottish Simmental National Show at a venue close to home. The heifers behaved really well in the ring considering it was their first time out and Robert and I are delighted to have won the Pairs class with them."