The Ag-drive app supports agricultural contractors and farmers with the management of their businesses, by replacing paperwork with easy to use digital documents on their mobile or desktop. And, the app has just received an update that further simplifies the coordination of jobs, operators and in-field invoicing.
The app previously allowed work teams of any size to record jobs. Now, setting up a job has been made easier as only the team leader is responsible for job details, while operators simply have to sign into the job, on the app, to say they are present.
In addition, multiple locations for a job can now be specified – with location instructions provided by Google Maps, via the drop of a location pin or a farm address; and jobs can be scheduled without operator allocation, while any operator can begin a job from a scheduled list.
Billing for longer-term jobs is also now easier, as, when jobs are recorded as partially completed – to be resumed later, the job's time recordings are logged separately, with individual dates and times. With the update, completed jobs can now be approved for invoicing directly from the mobile app, for on the go document completion.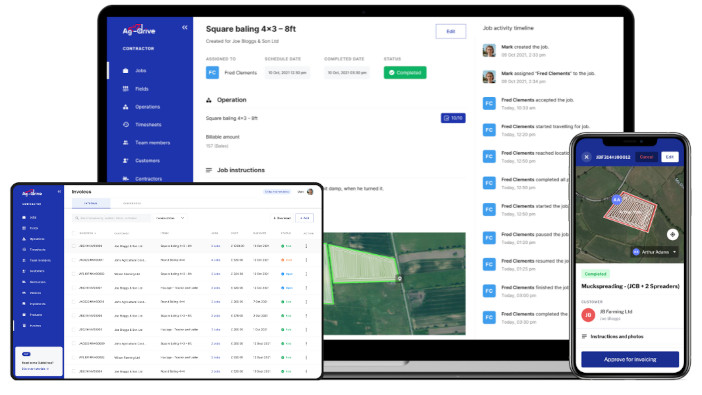 The app updates have been made in response to user feedback, said Ag-drive founder Will Dunn.
"The improvements to team jobs with Ag-drive will make a huge difference to our users who run large teams of operators, where efficient management is critical," he added.
"With input costs rising rapidly across all areas of farming, keeping accurate records are essential and the only way to do this is by going paperless. For contractors, the high cost of fuel means cashflows are strained more than ever."
"Ag-drive is improving the way industry works by making every job accountable and traceable. Regular invoicing is more efficient than doing it a handful of times a year, and integrating Ag-drive with accounting packages takes away a lot of the hassle associated with traditional paper-based timesheet systems."
Ag-drive offers a free 14 day trial, with no need to provide credit card information on sign-up. After the free trial period expires, users can continue using Ag-drive from £10 per month, depending on the size of their team.