According to new research conducted by the University of Aberdeen, two-thirds of ATV users do not wear a helmet because they feel foolish wearing one on their own farm, or because they do not believe that they ride fast enough to warrant them.
The report, carried out by Dr Amy Irwin and Jana Mihulkova found that 63.5% of the 211 respondents owned a helmet but that only 29.9% stated that they wore a helmet frequently or always.
The research pinpointed several underlying factors, ranging from perceptions about helmets to personal barriers that stop farmworkers from wearing a helmet when operating an ATV.
Personal perceptions included:
believing that the speed travelled did not justify head protection;
that helmets were unnecessary for short distances;
that helmets were less important for those using ATVs infrequently, or for ATVs not used for racing or stunts;
that only children aged 16 or below needed head protection;
experienced riders do not a helmet;
that it is more important to drive carefully than to wear a helmet;
a helmet is only required on hills or on the road;
that the user would not want to spend money on a helmet.
Other barriers to wearing a helmet were also reported, including:
feeling foolish while wearing a helmet, or that the user would look stupid if no one else was wearing one;
hardly anyone else wearing a helmet;
that helmets are uncomfortable to wear or make the user too hot;
that wearing a helmet can impair your hearing.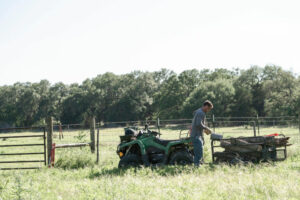 Forgetting to wear the helmet, being unable to find a helmet and being tired or in a rush were also highlighted in the responses.
To tackle the issue and to promote responsible riding in general, Can-Am is committing to educating new and existing users with seven golden rules as part of its global responsible rider programme:
always wear the correct personal protective equipment, such as a helmet, boots, long sleeve shirt and trousers when out riding;
prepare an itinerary before setting off and communicate to the people close to you (colleagues, friends or family);
follow the recommendations for use that are specified by the manufacturer in the operator's guide as well as on the safety labels placed on the vehicle;
follow maintenance instructions as recommended by the manufacturer;
inspect the vehicle before use to make sure it is in good working order;
take communication devices and breakdown equipment;
be mindful of the animals you come across and do not damage their natural habitat.
James Dalke, BRP commercial manager for the UK and Ireland, said:  "As a brand, we are committed to upholding health & safety standards, and our partnership with EASI enables us to offer training to all Can-Am customers. The fact that people have a helmet and do not wear it and the reasons why they don't reflects a mindset that we are aiming to change through education, as ATVs are the vehicles of choice for farmworkers to carry out daily tasks."