Lamma 2022 will be the first opportunity for farmers and contractors to see the latest generation Bobcat R-Series agricultural telehandlers. On the company's stand (Hall 19, Stand 19.200), Bobcat will be showing two new models for the first time; the top of the range TL43.80HF Agri 4 Star model and the compact TL30.60 machine.
Commenting on the first appearance of the R-Series at a UK show, John Christofides, regional sales director for Bobcat EMEA, said: "As the UK's leading farm machinery show, Lamma is the perfect platform to give farmers their first close look at our ground-breaking R-Series agricultural telehandlers. The new R-Series range offers superior machines that combine all-day comfort, maximum productivity and reliability, intelligent features, a robust build with intuitive operation and excellent 360-degree ergonomics."
On standard 24-inch tyres, the TL43.80HF offers a maximum lift capacity of 4.3 tonnes, a maximum lift height of 7.5m and a maximum forward reach of 4m. The TL30.60 has a lift capacity of 3 tonnes, a lift height of 5.9m and a forward reach of 3m.
With these new models, the R-Series provides a choice of seven models with Stage V engines, with lift capacities from 2.6 to 4.3 tonnes and lift heights from 6 to 8m.
Next is Now
The R-Series is part of the company's Next is Now programme, combining new product development with more connected technologies and services that reshape how work gets done on the farm.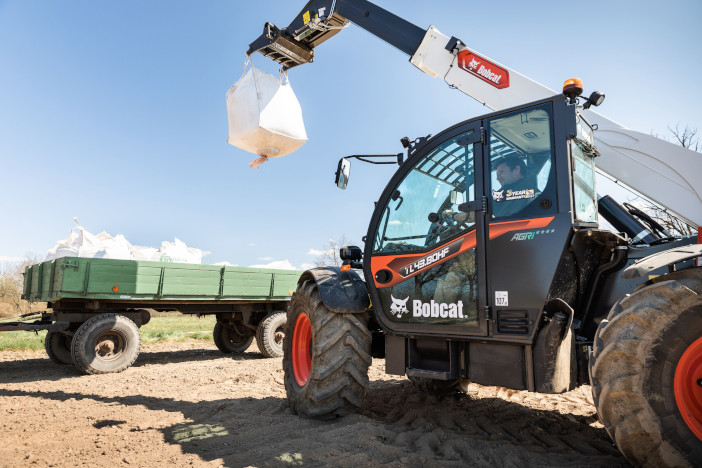 Under the same programme, Bobcat recently entered the wheeled loader market for compact wheeled loaders and small articulated loaders, as well as launching new-generation compact loaders and the R2-Series 5 to 6-tonne mini-excavators. The company has also added a full range of new light compaction machines, developed with the Ammann Group.
The new telehandlers feature a new cab design, with a high-quality contemporary interior with R-Series branding, colours and textures. A new Grammer Maximo Dynamic air suspension seat with heating and a suspended armrest is featured. The new LCD colour display provides interactive and streamlined information and is available with a larger 7-inch touchscreen with built-in radio and phone connectivity.
The latest multifunction joystick enables faster operation. Transmission controls are located at the back of the joystick, with thumb control of the boom and auxiliary functions and new smart features such as Auto Grab, bucket shake, boom float and speed shifting.
Increased efficiency and productivity
Visibility is bolstered with 360-degree LED work lights, while the boom speed, powerful transmission and automated boom functions enable farmers to complete their work more efficiently. They also offer a range of new and proven operating functions including: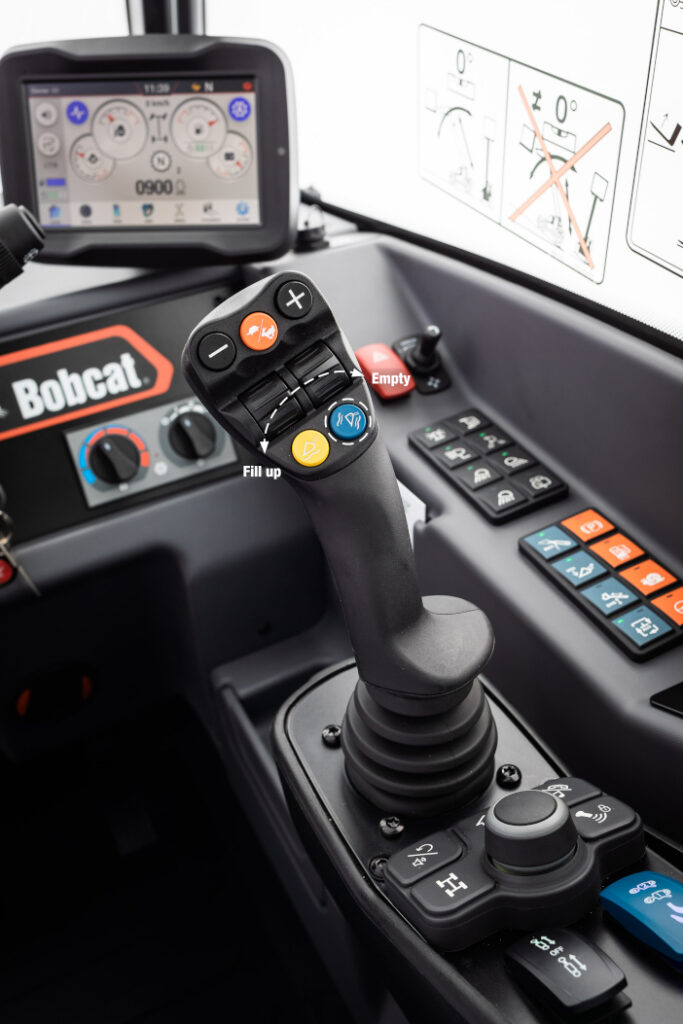 Job Manager – adjust and save settings for multiple attachments and jobs
Two drive modes to fit the operator's needs and habits
Flex drive control to manage separately engine rpm and drive speed
Automated boom functions
New job manager functionality allows the operator to save and recall custom settings for different attachments or applications.
As with all new Bobcat telehandlers, the R-Series is delivered with a three-year warranty, or 3,000 hours, on the entire machine as standard. This can be extended to five years and 5,000 hours if required.
John Christofides added: "Lamma connects farmers from all sectors with the latest cutting-edge machinery, technology and equipment for the farming industry including our next generation R-Series agricultural telehandlers. The latter is a fundamental asset of our business strategy and a key pillar of our Next is Now initiative. With these new models and the increased investment in our telehandler business, we are aiming to double the production of Bobcat agricultural telehandlers by 2025."
For more information go to www.bobcat.com