Kubota has been awarded the silver medal in the 2021 Technical Innovation Award scheme by The Royal Highland and Agricultural Society of Scotland (RHASS).
The award is in recognition of an AEF certified tractor and implement TIM combination (Tractor and Implement Management) from a single manufacturer.
"We're delighted to receive a RHASS silver medal for this innovation," said Henry Myatt, Kubota product manager for the M-series tractor range. "Judges were impressed by the connectivity available for the M7003 Premium KVT tractor and the ISOBUS-compatible BV5160 variable chamber round baler."
Tractor and Implement Management
Through ISOBUS connectivity, TIM allows the implement to control several of the tractor and baler's key functions, to improve operational efficiency.
These include a pre-programmed rate of deceleration to pause baling and apply net, along with opening and closing the baler's tailgate. A built-in inclinometer prevents unsafe bale ejection on steeper gradients.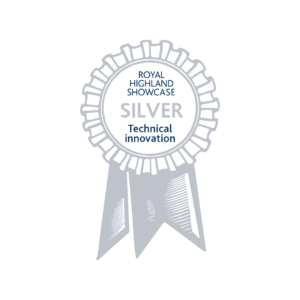 From a safety standpoint, the system then needs to be re-activated by the operator to resume the baling process. The system then uses a pre-programmed rate of acceleration to automatically reach the desired forward speed.
"By automating many of the repetitive tasks associated with round baling, this combination of TIM technology will reduce operator fatigue, while contributing to an overall efficiency gain," he added. "And we're delighted to see this being recognised by the RHASS with such a prestigious award."
Kubota was the first manufacturer to receive AEF certification for both the tractor and implement. This is with thanks to the latest developments with the M7003 series tractors and the ISOBUS-compatible BV baler range.
New innovations can be entered for a RHASS silver award, then after three years of commercial use, a silver award winner can then enter for a gold award. For the gold award, opinions are also considered in the judging criteria.
In the absence of the 2021 Royal Highland Show, the award will be presented at Ingliston House at next year's event.
Read more about Kubota via the website.