Taking place at the NEC, Birmingham, Lamma 2022 saw a wide range of equipment launched or making its public debut after two years of virtual introductions. The June edition of Farm Contractor & Large Scale Farmer magazine features a brief on just a few of the new machines there, below we highlight another selection.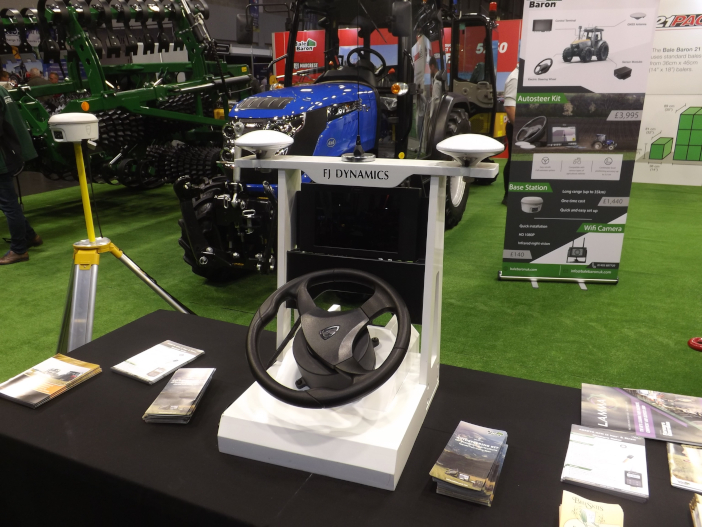 Bale Baron – www.balebaronuk.com
On the Bale Baron stand, visitors could find out about the FJDynamics retrofit kits for steering systems and precision farming modules. Steering systems can offer straight line and curve modes, while the positioning systems include a sensor module, GNSS antenna and the option of 4G RTK or a base station to cover up to 35km.
Notably, the system comes with an IMU sensor for terrain compensation, enabling the system to work accurately even on undulating ground. Field information can also be imported and exported for easy data sharing. Options from FJD include ISOBUS control, enabling the operator to easily control the implement.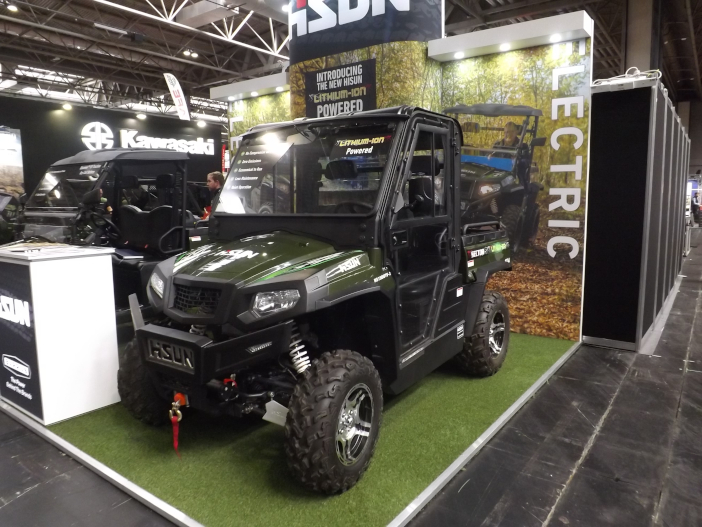 Barrus – www.barrus.co.uk
Barrus introduced the all-new HiSun lithium-ion powered UTVs, with four models available offering 5kW, 7.5kW, and 15kW models as well as a 4-seater 15kW. The flagship Sector 15kW is reportedly a real workhorse, with more power and torque and the capability to handle inclines of 30 degrees in forward and reverse.
The lithium-ion batteries used to power the range are designed for longer runtimes, with a single charge keeping them working for a full day. Like the flagship, the 7.5kW unit can tackle a range of tasks, including carrying up to 280kg in the cargo bed. The 5kW unit still has enough power to handle 30-degree inclines and can reportedly run up to 44 miles on a single charge.
All models have the option of a DFK, fully enclosed cab with a windscreen, metal roof and lockable doors. They also feature a winch, tow hitch and cargo bed. Notably, overnight charging is said to cost just £1, depending on energy costs and require no road tax.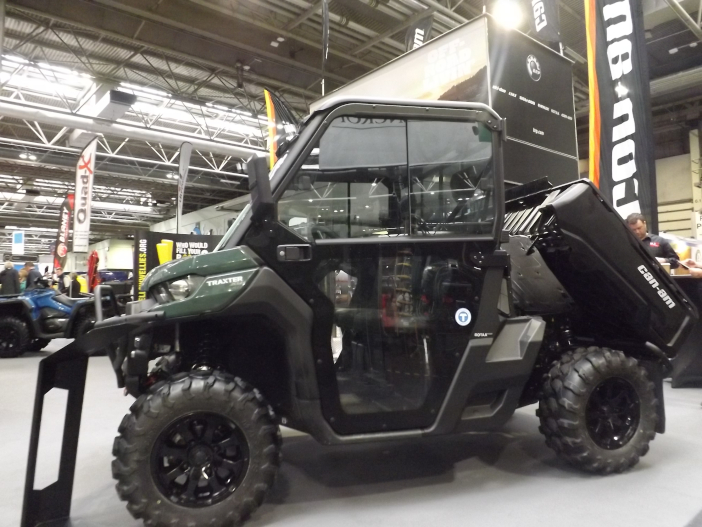 Can-Am – www.can-am.brp.com
BRP highlighted the latest Can-Am Traxter HD7 and Can-Am Traxter HD9. These side-by-side vehicles (SSVs) are said to highlight how the offroad lineup continues to prioritise the user, as they have been designed to handle the job demands of utility riders as well as the challenging conditions.
The HD7 is a work-ready vehicle that provides the user with consistent performance, no matter what the terrain. With a new HD7 Rotax engine, it is said to be optimised for offroad use with 37% more power than the HD5 engine it replaced. The larger HD9 is reported to offer class-leading power and low-end torque through a new Rotax HD9 power unit, ideal for travelling up the side of hills or towing and carrying cargo on the flat.
Also on the stand was a range of Can-Am's most popular models, including the Outlander 450 and the Outlander 570 XU.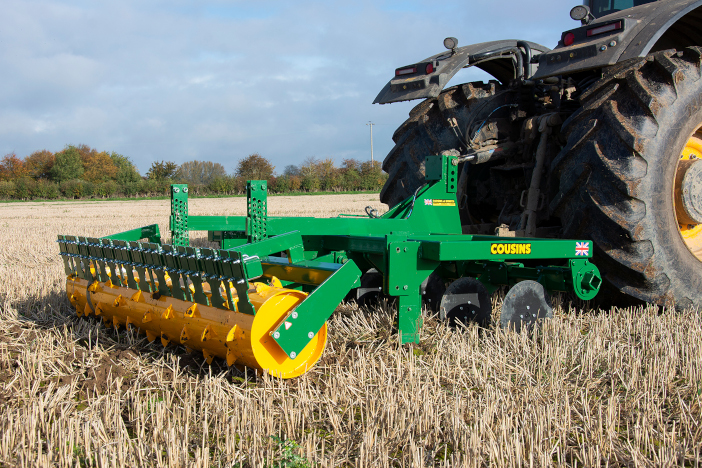 Cousins of Emneth – www.cousinsofemneth.co.uk
Celebrating its 70th anniversary, Cousins has developed a range of new products. Starting with the Low Disturbance Soil Loosener, available as a 3m rigid and 4m hydraulic folding unit and fitted with the new step change low disturbance leg and shark fin roller option.
Working depths range from 8-12 inches and the step change leg can be swapped out for either a Micro-Wing, Quik Foot or Level Lift Tine. The step change leg can be retrofitted to all existing Cousins V-Form soil looseners.
The company also showcased its tine kit option to fit the Contour Roll range, comprising two rows of sprung finger tines fitted ahead of the roller to evenly spread crop residues, aid with chitting and produce a fine surface tilth. Also exhibited was a prototype Roller, suitable to be used as a standalone machine, or in combination with shallow cultivators.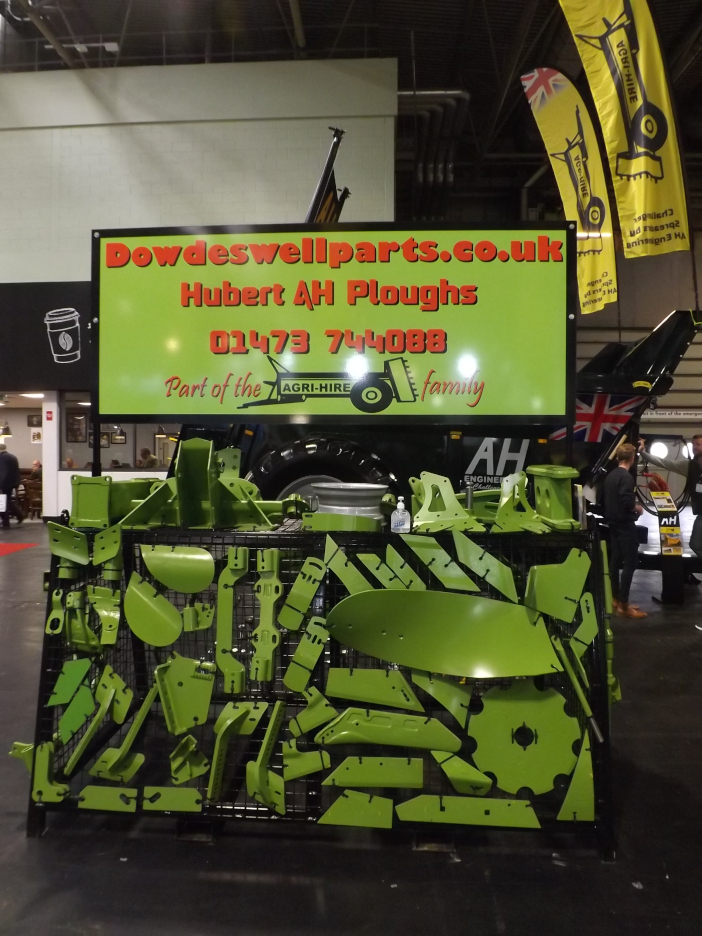 Dowdeswell Parts – www.dowdeswellparts.co.uk
A sister company to AgriHire, which supplied Dowdeswell components from the mid-2000s until the plant closed in 2015, Dowdeswell Parts manufactures mouldboards, shins, landslides, wings and points for Dowdeswell ploughs, enabling users to keep their machines running for longer.
They can supply parts for the full range of Dowdeswell machines, working with suppliers and foundries, and using the same CNC manufacturing equipment that is used to produce the AgriHire range of ploughs.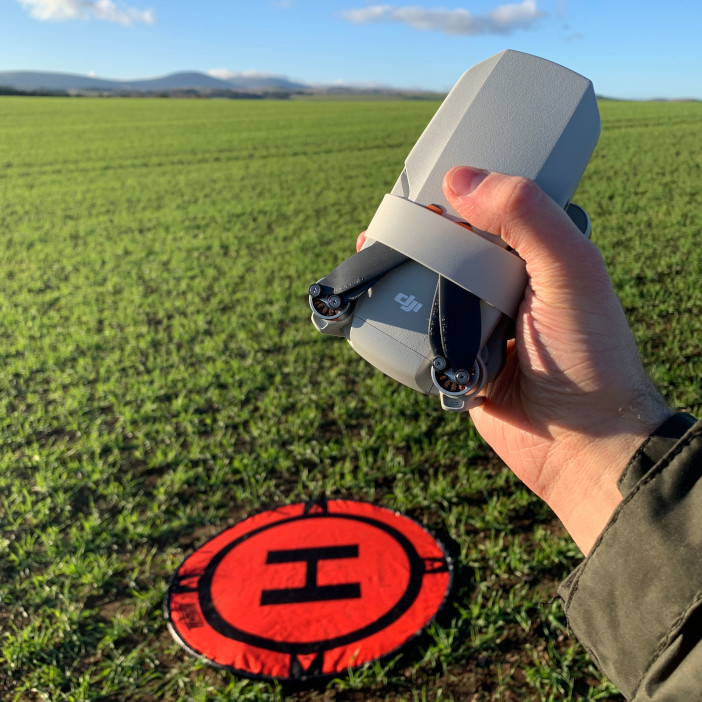 Drone Ag – www.droneag.farm
Visitors had the chance to see the latest features in Drone Ag's Skippy Scout crop monitoring system in virtual reality. It was an opportunity to see how the software enables a drone to take a bird's eye view of the whole field; dubbed Scout Spheres.
According to the company, using a drone can speed up crop walking by up to twenty times and generate PDF reports immediately to show the green area index and the number of plants. Drone Ag also showcased the future of using drones, with a DJI spraying drone on the stand offering a 20-litre capacity and the facility to spread granular products.
Knight Farm Machinery – www.knight-ltd.co.uk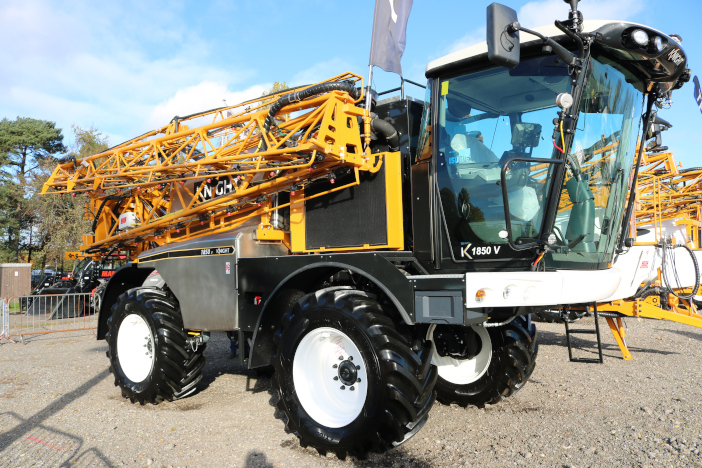 Key amongst the latest developments on the Knight stand was the 1850V self-propelled sprayer, featuring a 5,000-litre spray tank and added under-chassis clearance, while still maintaining a lower centre of gravity than its predecessor. This has been achieved by widening and extending the spray tank downwards between the wheels.
In addition to this, the boom now folds to a five-degree angle (down from ten), which is said to reduce the transport height by around 50cm.
Other units on the stand included an uprated Trailblazer trailed sprayer range, available in the Pro specification with a sprung drawbar, simplified plumbing, an air purge system and a new induction hopper. There's also the LITE machine, which is said to be a simpler machine for those on a tight budget.
Finally, the company has extended the capacity of its Xtra mounted range by making available a 1,900-litre front tank, extending the existing range which includes 1,100- and 1,500-litre units. When combined with the largest mounted unit (1,900 litres) this can provide a similar capacity to a small self-propelled sprayer.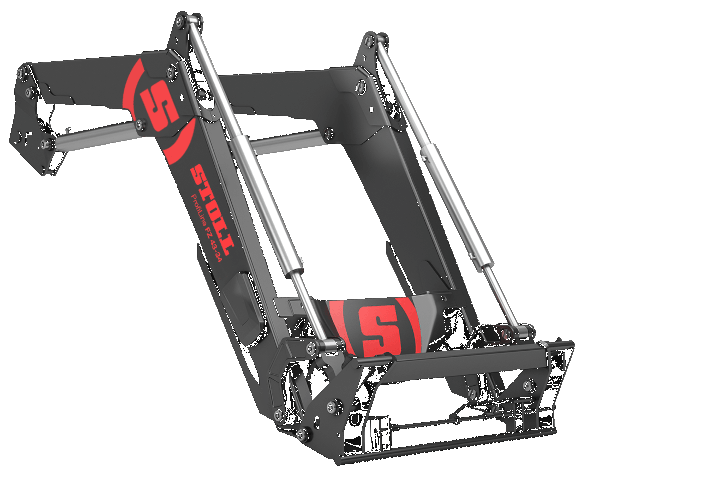 Lynx Engineering – www.lynx-engineering.co.uk
Making its debut at the event, the latest generation of Stoll ProfiLine front loaders were on the Lynx Engineering stand. Designed for tractors from 50hp up to more than 300hp, the loaders can be fitted with a range of options from the company's technology platform. These include Work Area Restrictions, which use sensors to restrict loader height when working in barns.
Payload Weighting is also available, enabling operators to weigh the load during work, ensuring accuracy for bucket work or when handling bales, silage or pallets. The new loaders are also fitted with Electronic Self-Levelling, alongside established features such as Drive-In, Return to Dig, Comfort Drive, Hydro-Fix, Anti-Lowering Guard and rapid implement attachment.
Stoll has also uprated its Z-Kinematics technology, which is said to improve visibility by concealing the mechanical parallel guide rods within the lifting arm booms. This also enables the loader to be mounted closer to the tractor, meaning that components are in the best position to reduce the load on the tractor.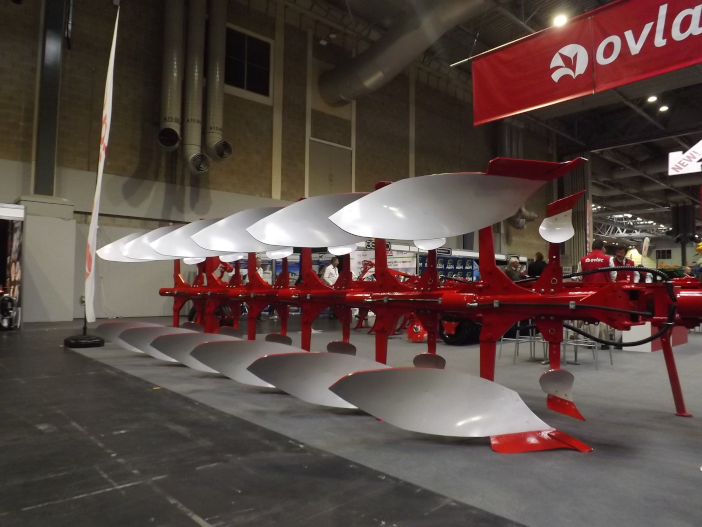 Ovlac – www.ovlac.com
Lamma 2022 was the first time that Ovlac exhibited in its own right and the stand featured a host of new products. First up was the XPerience on-land plough, suitable for both on-land and in-furrow operation, and can be used with GPS guidance and tractors fitted with wide tyres. It's available with shearbolt or hydraulic reset, and can be optioned with hydraulic working width adjustment and hydraulic front furrow adjustment.
The Shallow Mini plough is designed to work as shallow as four inches, and can be up to 40% wider than a traditional plough. It's said to be suitable for farms looking to reduce their tillage, offering a wide working width, high daily outputs and good control of weeds and pests. Finally, Ovlac showcased its special black XPHV auto-reset, six furrow machine to celebrate 85 years of manufacturing. The company held a competition for 12 months use of the machine, which was won by Mr Stephen Watkins on the day.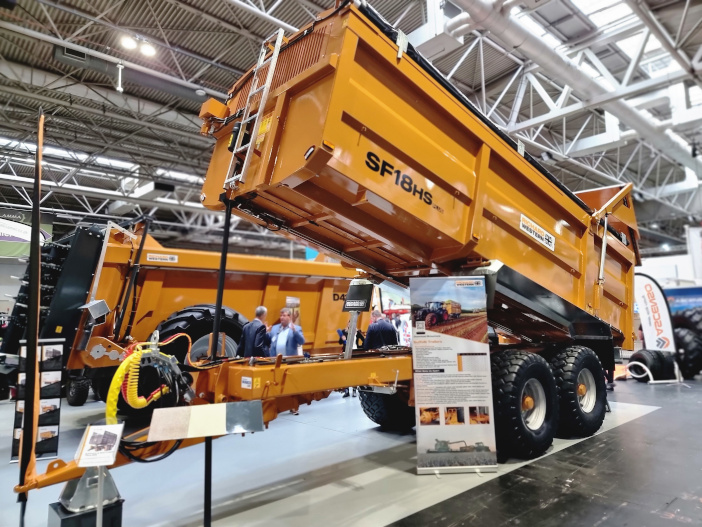 Richard Western – www.richardwestern.com
Focused on units that can handle bulk loads at high speeds, Richard Western showcased its SF18HS Plus Suffolk trailer with silage sides and the option of a side-to-side hydraulic rollover sheet. The sheet design covers the contents without impacting capacity and emptying can be done with the cover still in place.
Sitting at the top of the range, trailers with the Plus specification are fitted with 560/60 R22.5 BKT tyres, a flashing LED beacon, arched perspex window, grain chute, hydraulic tailboard, LED road lights and indication ballast control.
Other features on the stand included the SRT20 stone and rubble trailer, built around a chassis constructed with 10mm 355mc steel, with eight bends per section, and fitted with ten-stud commercial axles and 420mm x 180mm brakes with hydraulic or air actuation. There was also the Delilah D4150 vertical beater manure spreader, available with two spreading options, 1,100mm diameter blades and replaceable wearing parts.
As an option, a hydraulic folding canopy door can be fitted to adjust the output and spreading width of the machine.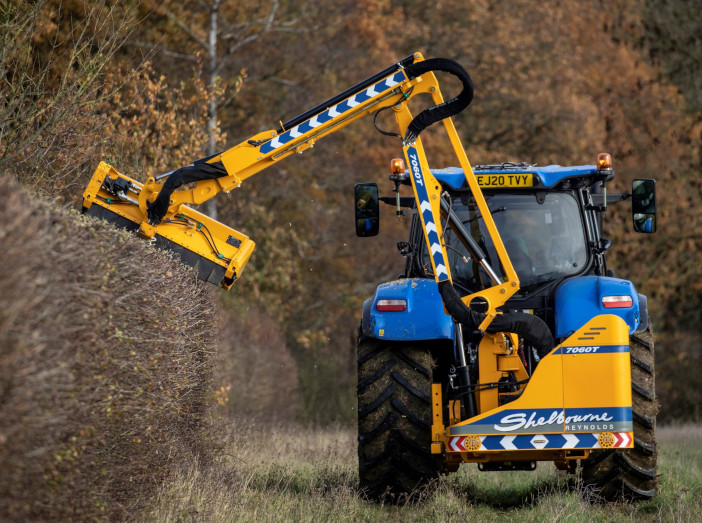 Shelbourne Reynolds – www.shelbourne.com
Specialising in hedgecutters, bedding machines and feeding equipment, Shelbourne Reynolds has replaced its 700 and 800 flagship ranges with new 7000 and 8000 machines. Five models are available in the 8000 series, each suiting high-hour operators.
The 8060T has a maximum reach of 6m, increasing to 7m on the 8070T and 8m for the 8080T. Two variable forward reach models (the 8065 and 8075) offer 6.5m and 7.5m maximum reaches respectively, with forward reaches of 2m and 2.5m.
For the 8000 series, the company has developed a new operating system. The S-Touch combines joystick control with a six-inch touchscreen for adjusting settings and function responses. The S-Touch Compact is standard, with fingertip control, while the S-Touch Max can be optioned with its larger multi-function joystick.
Two models are available in the 7000 series. The 7060T has a 6m telescopic reach, while the 7062VFR offers 6.2m outward reach and forward reach. These use the established Shelbourne digital proportional joystick and LCD screen.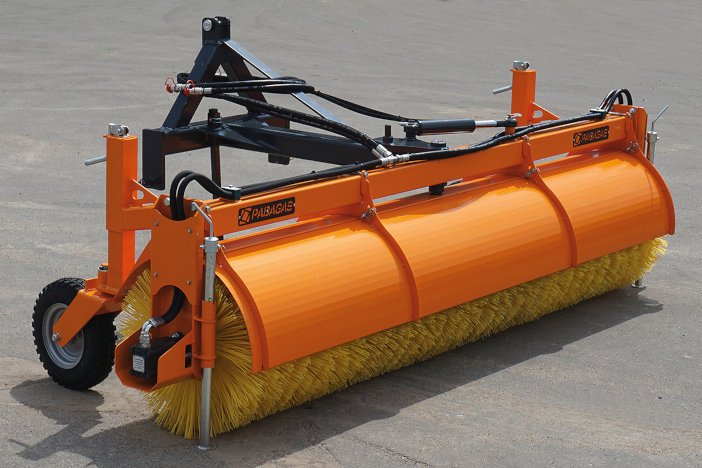 Spaldings – www.spaldings.co.uk
Bespoke tines from Tillso, alongside Spaldings' own SPL Ultra range of soil-engaging parts were showcased on the stand. It is the sole importer for the Tillso Sabre system, which comprises a common point and shin, as well as four soil-lifting wing assemblies to suit different soil types and working depths.
Retrofit components are also available for a number of different subsoilers and cultivators with soil-loosening tines. Spaldings own SPL Ultra range of points, wings and shins were also on show alongside the laser scanning technology used to measure wear patterns.
There was also a range of machines on show, including flail mowers and forestry mulchers from TMC Cancela and a range of brush sweepers from Padagas, including bucket sweepers for clean and dump operations.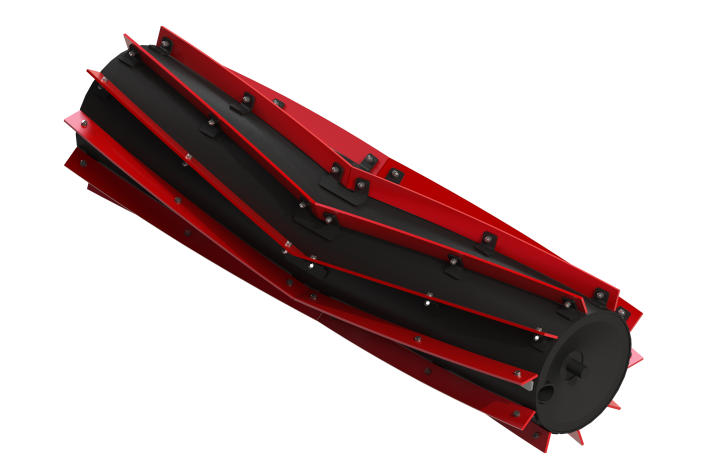 Sumo UK – www.sumo1.com
The latest product in the Sumo range is the Front Crop Crimper, said to help zero-till and organic growers prepare their ground ahead of the drill by rolling and breaking weeds, volunteers and cover crops.
Crimping blades are fixed to a packer measuring 508mm in diameter, which can be water ballasted if required. These break the stems and remove moisture to start the breakdown process. The machine features a steering headstock. The unit is manufactured with Hardox steel to ensure a long working life.