After more than a year away, the Lamma Show returns to the National Exhibition Centre (NEC) to showcase the latest machinery and technology for the agricultural sector.
On the 4th and 5th of May, the UK's premier machinery show, the Lamma Show, will return with more than 700 exhibitors and upwards of 40,000 visitors expected to descend on the NEC in Birmingham.
The event will be an opportunity for manufacturers, software developers and component engineering firms to meet customers. It also enables farmers and contractors to network and discover new ideas and methods of operation. Perhaps more importantly, after the last two years, it's one of our industry's largest opportunities to socialise.
As with previous years, visitors will have the chance to collect DairyPro, BASIS and NRoSO points on both days. With agriculture now focused on reaching NetZero, there is also the Farming 4.0 Trail, highlighting the latest farming technology.
Continuing the work done during the 2020 edition, visitors will be able to see the latest autonomous machinery and alternative fuels; smart sensors and livestock software and robotic milking and feeding equipment; options available for big data analysis, precision farming technology and artificial intelligence; and equipment designed to eliminate food waste and improve sustainability.
Sponsored by consultancy Safety Revolution, the Farm Safety Zone will also return. The company aims to raise awareness by providing delegates to offer knowledge, advice and support on issues surrounding farm safety.
Below, we have highlighted just a proportion of the products that will be on show at the event.
Agricast – www.agricast.net – Hall 20, Stand 20.328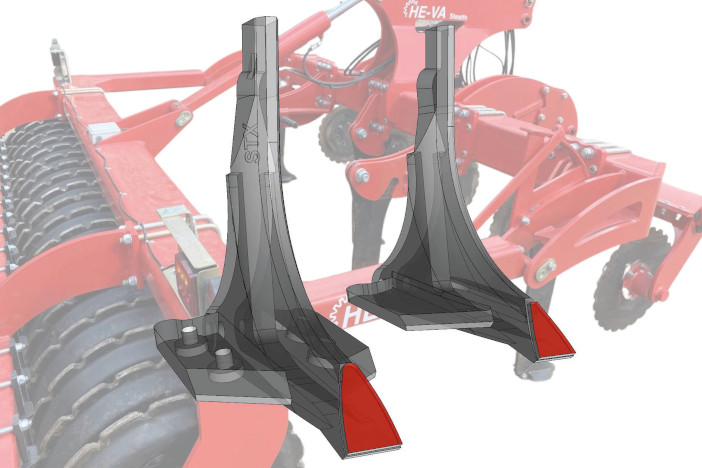 The leading UK manufacturer of replacement wearing parts will reveal the latest addition to its range of low disturbance cultivation points. The Stealth Xtra (STX) point is compatible with the HE-VA Stealth and Evolution machines and features a system to prevent the point from moving laterally, reducing wear on the Hardox leg. It's also possible to bolt wings directly onto the point, enabling it to lift more soil. The company has also adapted the point to reduce wear around the fixing bolt, by hiding it at the rear. Agricast will also showcase its range of packers, including the STP-650 steel tensioned packer, and the LCP-600 low-cost packer.
Agrifac – www.agrifac.com – Hall 11, Stand 11.260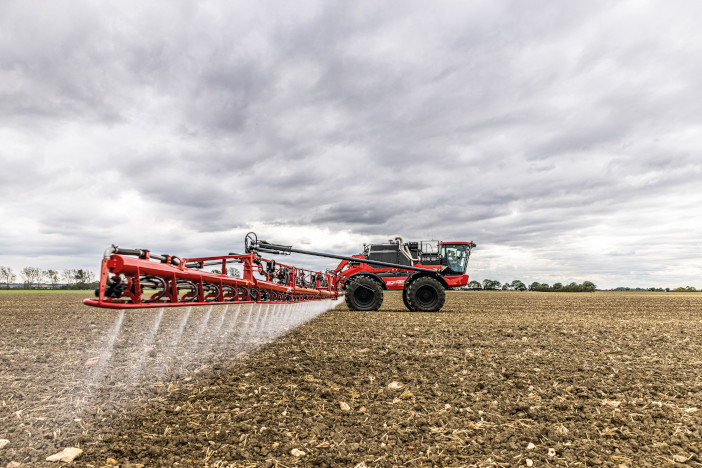 Agrifac will highlight two of its self-propelled sprayers, the Condor V and the Endurance II. Both come fully equipped with a host of technologies, including the StabiloPlus patented undercarriage design, the BalancePlus boom suspension, the GreenFlowPlus spray pressure system and the EcoTronicPlus control package.
The company invites visitors to find out more about its '4e for growers' concept, which focuses on efficiency, ecology, economy and ergonomics. Tank sizes up to 8,000 litres are available, alongside boom widths up to 55m. Machines are also delivered ready for spot spraying operations, with options including AiCPlus camera technology and DynamicDosePlus for individual plant dosing.
AgVantage (Dewulf) – www.agvantage.co.uk – Hall 8, Stand 8.830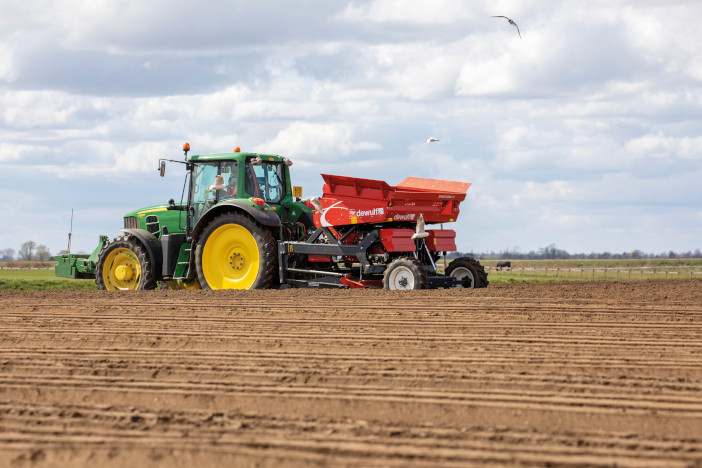 As the UK distributor of Dewulf potato handling equipment, AgVantage will showcase several products including the RCA3060 two-row harvester with a wide C-elevator intake, 18 rollers with automatic adjustment and the option of the Easy-Clean system.
Visitors can also see the Structural 30 planter, with the patented Wave Belt system to stop seeds from rolling side-to-side in undulating conditions. In addition to this, the Inclino Master technology keeps the planting elements and the bunker horizontal at all times, while the furrow opener follows the contours of the ground so that the operator can focus on driving.
Cousins of Emneth – www.cousinsofemneth.co.uk – Hall 12, Stand 12.252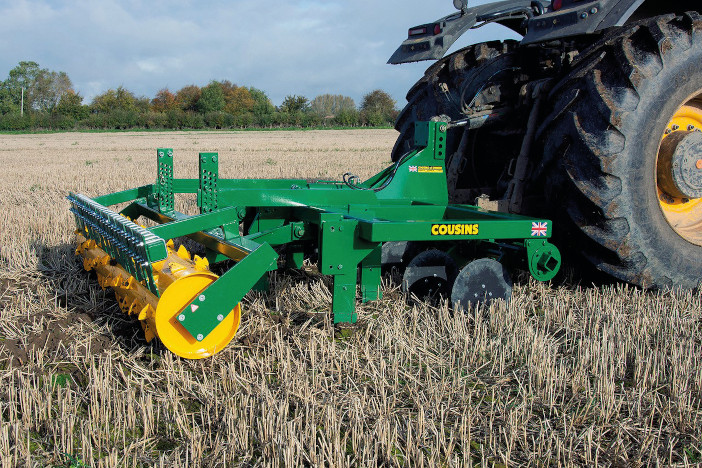 Kickstarting its 70th anniversary, Cousins will showcase a host of new products, including the Low Disturbance Soil Loosener. It's available as a 3m rigid or 4m hydraulically folding machine, equipped with the latest Step Change leg (also available for retrofitting on V-Form machines) and the Shark Fin roller option.
The machine can work down to 12 inches and the leg can be replaced with either the Micro-Wing, Quik Foot or Level Left Tine to suit the operation. Additionally, Cousins will launch a new tine kit option for the Contour Roll range to spread crop residues and a new prototype roller for standalone consolidation or for use in combination with shallow cultivators.
Fendt – www.fendt.co.uk – Hall 9, Stand 9.220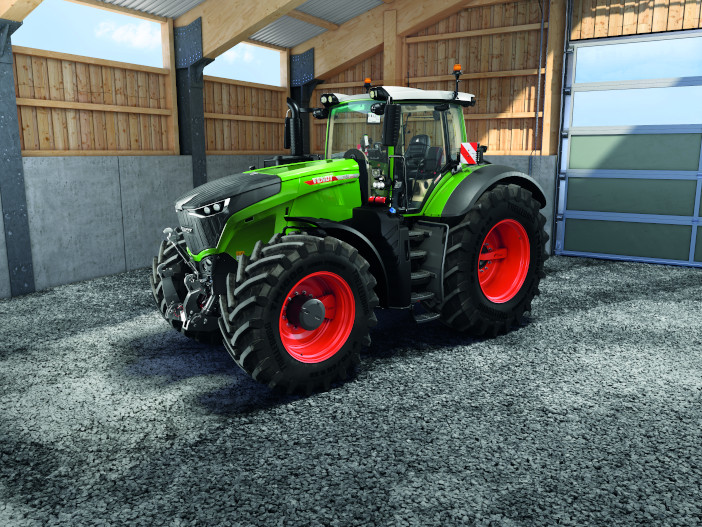 Fendt will highlight its position as a full-line manufacturer with a wide range of products from its portfolio. Taking centre stage will be the FendtOne system, seamlessly connecting the tractor to the office and now available on 500 and 900 machines.
Additionally, Fendt will exhibit the Ideal 10 combine with the IdealBalance cleaning system and the newly available lane guidance system for Controlled Traffic Farming operations. On the grassland side, a range of large square balers and Rotana round balers will be on show with new options, alongside the Tigo loader wagon and Katana forage harvester.
There will also be the opportunity to see the Cargo T955 telehandler with its unique hydraulically lifting cab.
GM-R Sprayers – www.gm-rsprayers.co.uk – Hall 6, Stand 6.714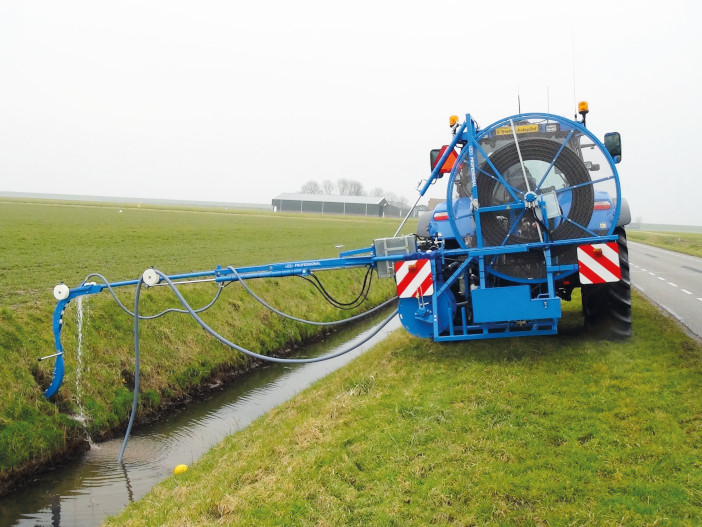 The latest Professional Drain-jetter will be available to view on the GM-R Sprayers stand, carrying 600m of hose to facilitate operations in the longest drains. A new drive system provides enough power to push the hose into the drain and pull it back, while the double hydraulic telescopic guide can reach over 3m.
Wireless remote control is available for all hydraulic functions, including turning the water supply on and off, and it's possible to pre-set the distance with the Automatic Repeat System to create a rodding effect. A large LED display shows the electronic distance counter and it's completed by an automatic retrieval system.
JC Machinery – www.jcmachinery.co.uk – Hall 17, Stand 17.430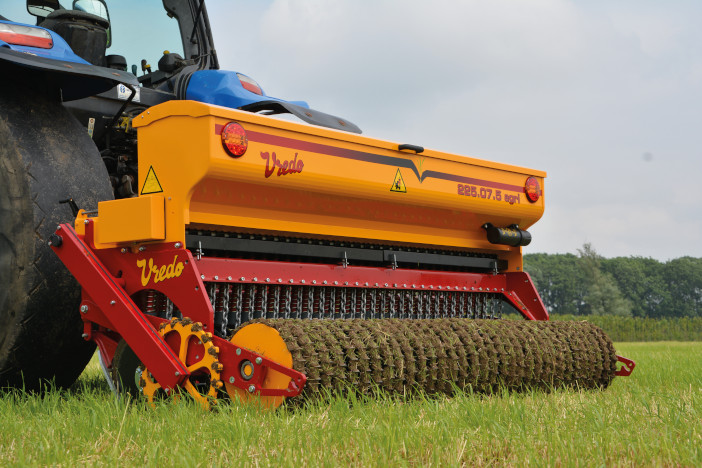 JC Machinery will highlight a range of machines from Vredo, Imants, Evers and Weed Control. The Vredo Agri Seeders reportedly offer a 96% germination rate, with its 7.5cm row spacing making it ideal for grassland and arable applications.
The Imants Spaders remove the need to handpick debris out of the soil after harvest and eliminates the need for subsoiling. It brings fresh soil to the surface while incorporating organic material. Evers' GPG spring tine harrows can alleviate compaction by breaking up and dispersing soil and muck to stimulate new grass growth. Finally, the FLAME Weed Control Greenhouse weed burner is tractor mounted and eliminates weeds, residues, teases and moulds.
Knight Farm Machinery – www.knight-ltd.co.uk – Hall 6, Stand 6.620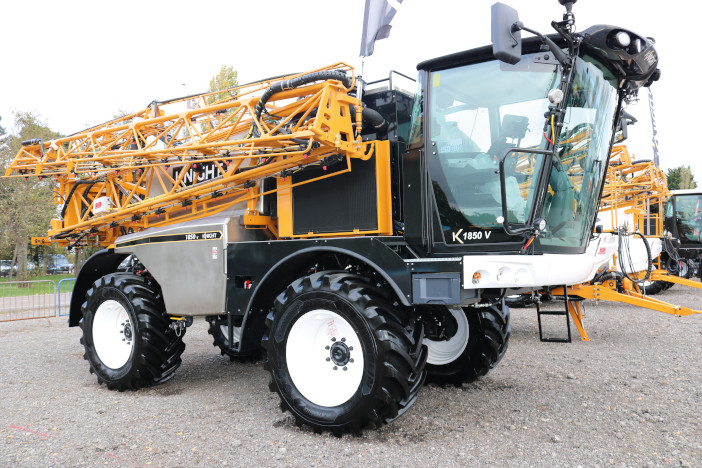 The 1850 series of self-propelled sprayers from Knight has been extended with a new 5,000-litre model. The 1850V features a stainless steel spray tank and added under-chassis clearance, however, due to the tank being widened and extended downwards, the centre of gravity is said to be lower than existing models.
The boom also folds at a lower angle (from ten degrees to five degrees) reducing the overall height of the machine by 50cm. Power is supplied by a 225hp Perkins engine, with Poclain MHP hydrostatic wheel motors. The all-wheel hydrostatic braking has also been bolstered by dynamic foot braking. Finally, the cabin has undergone a facelift and a new bumper has been fitted.
McHale – www.mchale.net – Hall 10, Stand 10.400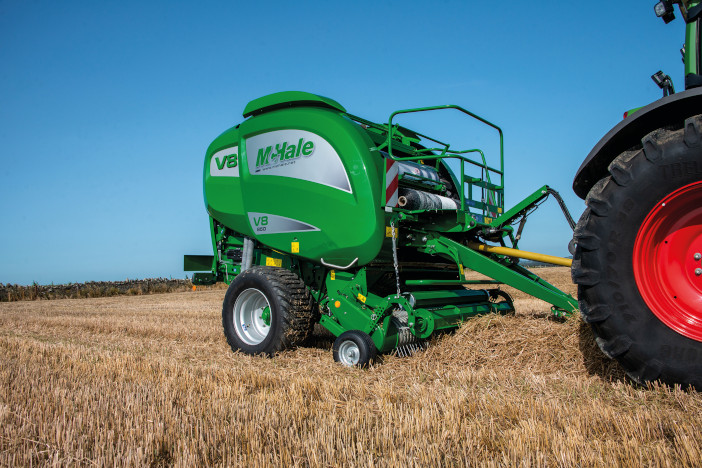 Responding to customer requests to produce a variable chamber baler for bales up to 1.9m in diameter, McHale will introduce the V8 range, comprising two models. The V8940 is delivered without a chopper, while the V8950 is fitted with a 15-knife chopper unit. Both feature a new pick-up with either a five-tine or six-tine bar, Adaptive Intake and a double crop roller.
A drop floor unblocking system is standard, which widens the feed channel to allow lumps of material to pass through, and the bale chamber has been uprated with three heavy-duty endless belts, a high performance netting system, the latest Expert Plus control panel and automatic greasing.
Mzuri – www.mzuri.eu – Hall 19, Stand 19.360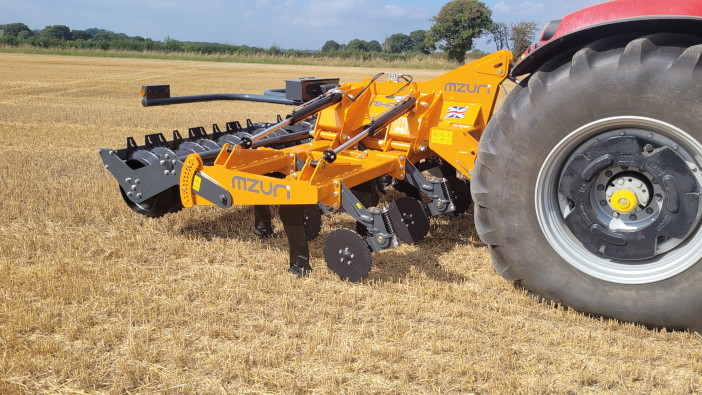 Alongside its range of Pro-Til drills, Mzuri will exhibit its latest low disturbance subsoiler. Available in 3m, 4m and 6m working widths, the Rehab has 500mm spacings between each of the legs and a stagger of 750mm to enable free movement of crop residue.
Spring-loaded discs cut through trash and topsoil and can also pivot to avoid stones. Following the discs, a 15mm hardened steel leg features a replaceable tungsten carbide tipped point and comes with a choice of three wing widths to determine the level of fracture in the soil. At the rear, there's a V-profile packer roller.
Opico – www.opico.co.uk – Hall 6, Stand 6.440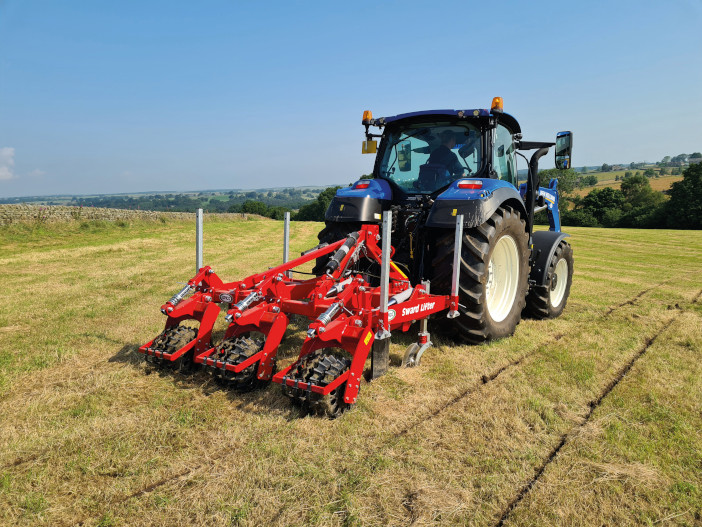 The latest iteration of the Opico Sward-Lifter grassland subsoiler features a modified three-point linkage, which enables a Cat 3L headstock connection to be bolted on. Other updates include a new 60mm square box section disc depth adjuster that replaces the previous tubular design, and the cutting discs are now bolted-on to allow operators to improve the alignment with the subsoiler leg. These can now also be mounted in a high or low position to maintain maximum strength.
Each press roller is now individually spring-loaded, with pin-adjusted depth control and the 2022 version will be available with shearbolt or hydraulic auto-reset protection.
Ryetec – www.ryetec.co.uk – Hall 20, Stand 20.580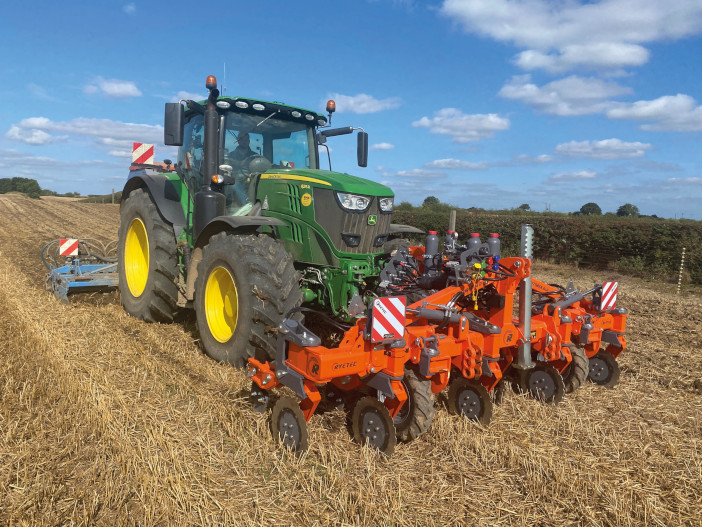 Ryetec's 4m ALD arable subsoiler is said to be unique on the market as it can be both front and rear-mounted. When rear-mounted, a secondary drawbar can be used to pull a drill or additional cultivator for one-pass operation. The machine can also be operated at 4m or 3m (with the wings folded) to suit tractor size and field conditions.
The company offers its ALD in working widths from 3m to 6m, as well as the GLD grassland subsoiler to break up compaction in permanent grassland. On the stand at Lamma, Ryetec will also exhibit the range of Ma/Ag direct drills and its series of WeightBoxes.
Samco – www.samco.ie – Hall 17, Stand 17.630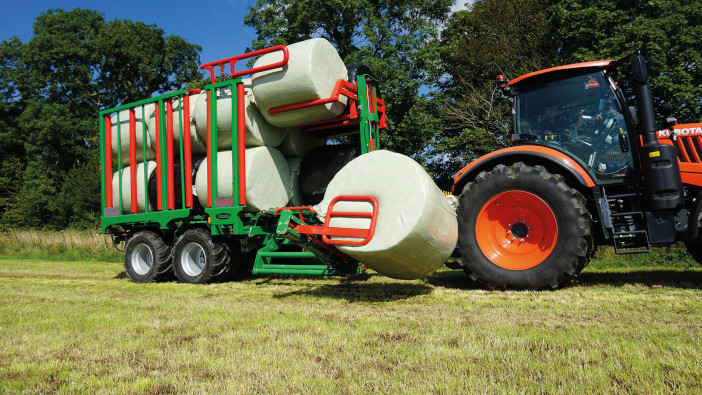 Entered into the Young Engineers Award at the event (pre-production and design were handled by 27-year-old Paddy Lane), the Samco CTS 1600 round bale chaser can reportedly load 16 bales in under eight minutes.
It features a hydraulically operated bale squeeze that lifts and rotates the bales onto the chaser. Once loaded, the bales are secured by the chaser's caged sides, which move inwards to hold the load in place.
In the yard, the chaser can unload eight bales, in four stacks of two, simultaneously. The operator then moves the trailer forward to unload the remaining bales.
Shelbourne Reynolds – www.shelbourne.com – Hall 12, Stand 12.200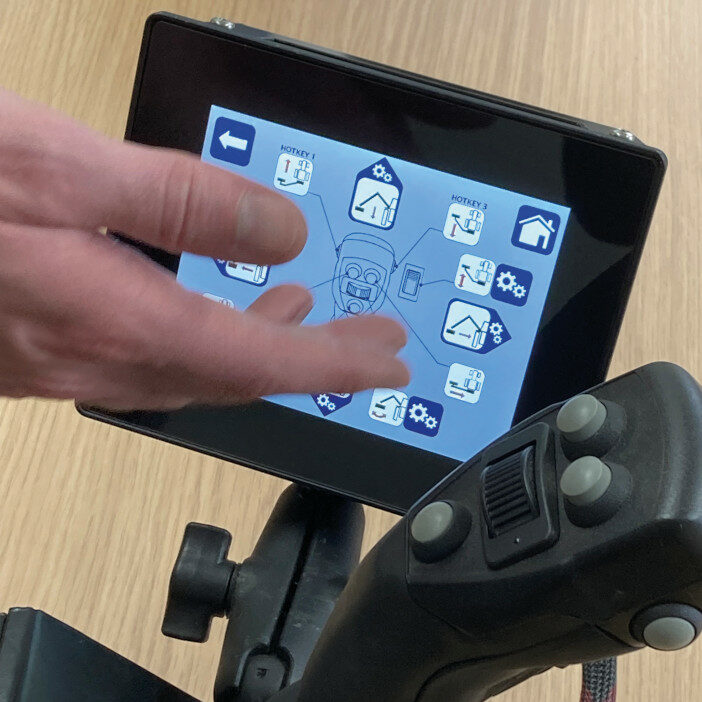 Shelbourne Reynolds will introduce the S-Touch hedgecutter control system for its 8000 series. It combines a joystick for immediate operating functions and a six-inch touchscreen for altering settings and function responses.
Two versions are available: the standard S-Touch Compact uses a compact joystick for primary lift and reach functions, with a rotating ring to control the slew, telescopic and variable forward reach functions; while the S-Touch Max includes a larger multifunction lever for more complete control over the machine, with three configurable hotkeys. The terminal is common to both and features two pre-set operator modes and full details of servicing and maintenance schedules.
Slurryquip – www.slurryquip.com – Hall 7, Stand 7.900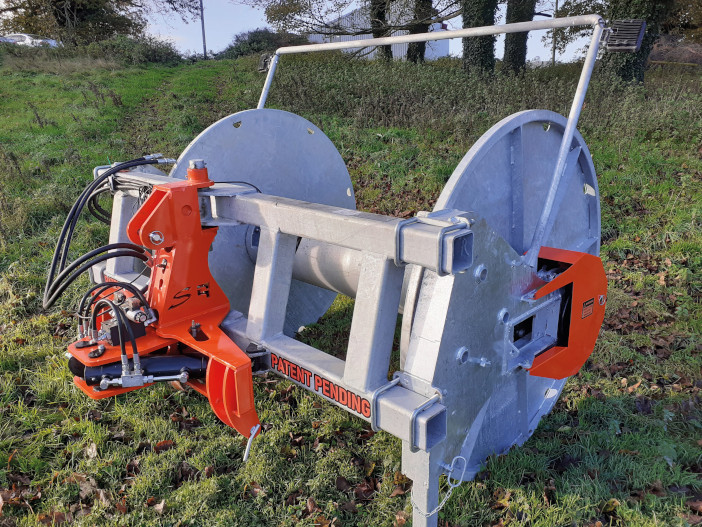 Alongside the NPaK system, which enables a fertiliser solution to be added to slurry to boost nutrient levels, Northern Irish manufacturer Slurryquip will exhibit the RRR 1,200m front-mounted pivoting reeler. Being able to pivot the reeler, enables operators to traverse narrow lanes and farm tracks where weaving the tractor would not be possible.
It can be operated with one or two spool valves and the reeling of the hose can be speed controlled. While specifically designed to be front-mounted, the RRR can also be mounted on the back of the tractor if needed. The assembly is also compatible with all Slurryquip bobbins so that existing equipment can be upgraded.
Tama UK – www.tama-uk.co.uk – Hall 18, Stand 18.742

Said to be the first of its kind, Tama will introduce its Tama Cycle range of netwrap and twine. Developed to reduce the environmental impact of baling, the new products are manufactured with a significant proportion of recycled and reused raw materials. These materials will be taken from the waste produced during Tama's own production, as well as waste taken from other industries.
According to Bart Cope, global sales director, the Tama Cycle netwrap and twine continue to offer consistent performance while using less virgin plastic. "Using recycled raw materials and maintaining product quality was a challenge, but we all worked hard to overcome it," he said.
Tramspread – www.tramspread.co.uk – Hall 12, Stand 12.376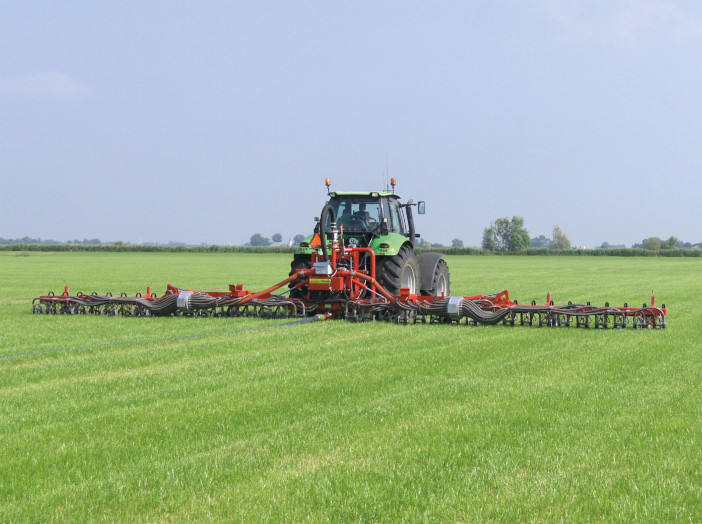 Tramspread will exhibit a Sleepflex 12m trailing shoe, manufactured by Netherlands based company Roelama. The new agreement for Tramspread to distribute the company's range of products in the UK includes the full Sleepflex range from 6.4m up to 12m.
The 12m model features an integrated lift system, fully electrical hydraulic steering and two turning points on the swinging arm, enabling the operator to reverse without driving over the drag house. The design incorporates fewer turning points than other machines on the market, reducing the amount of maintenance required and are available with options such as section control and flow meters.