It was a return to form as Lamma moved back to its traditional January timeslot, with an exceptionally busy first day and plenty of new products to see.
On the 10th and 11th of January, the National Exhibition Centre, Birmingham, opened its doors to the agricultural industry. Nearly 600 exhibitors set out their latest products for a crowd of 33,669 professionals from across all sectors of farming.
New additions to the event included a live demo area, where the latest machinery from companies such as McHale, Krone, Valtra and Eco-Charger were showcased for the attendees. The future of the industry was centre stage with the Future Farming Trial, guiding people through the ten halls with a curated list of 13 exhibitors.
Farm Contractor was there for both days, and there was certainly a positive buzz at the event. Both days were incredibly busy and there was a huge amount of new technology to discover.
The dates for Lamma 2024 have already been confirmed, returning to the NEC on the 17th and 18th of January.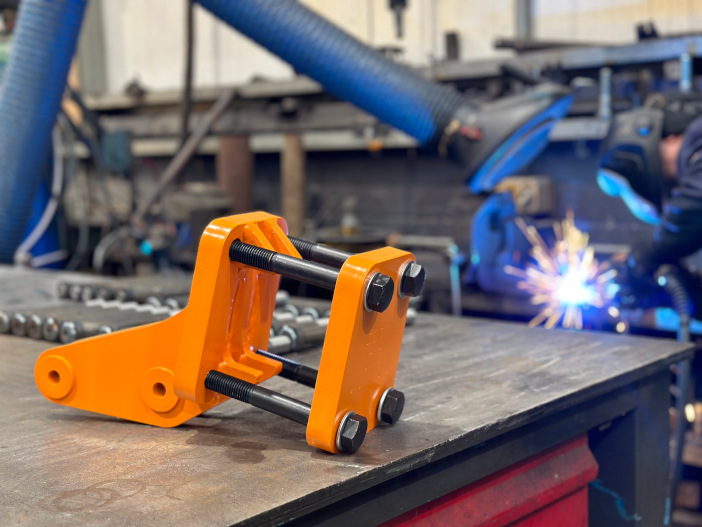 Agricast – www.agricast.net
Agricast used the show to launch its new trade-in service for customers wanting to replace their Terragrip Spring Units with the shear bolt protected alternative – the Agricast Leg Clamp – which allows users to move to lower disturbance cultivation methods. To receive a trade-in, customers just send their complete Terragrip Spring Unit to Agricast and a Leg Clamp will be returned to them for the cost of delivery.
The launch of the trade-in service coincides with Agricast's expansion of the Terragrip Spring Units parts range. The range sees a redefined and strengthened design, which is now compatible with its LDX, GLX and STX low disturbance legs and original parts.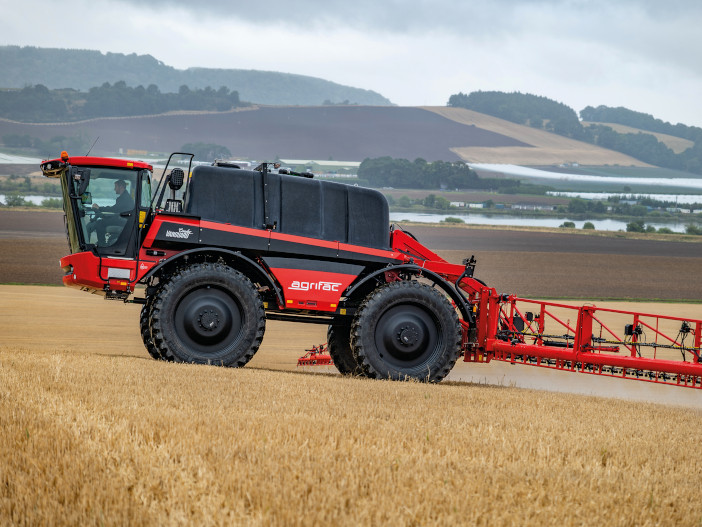 Agrifac – www.agrifac.com
Agrifac, the self-propelled agricultural sprayer manufacturer, exhibited its new Condor Vanguard sprayer at Lamma. With a maximum vehicle width of 255cm and a tank capacity of 6,000 litres, the Vanguard completes the Condor range. It can be flexibly used thanks to a 75cm adjustable track width and is available in two track width variants: 180 or 300cm. The Vanguard also offers a stable boom and higher capacity, for optimum coverage, minimal drift, variable spraying technology and 'spot spraying' at plant level.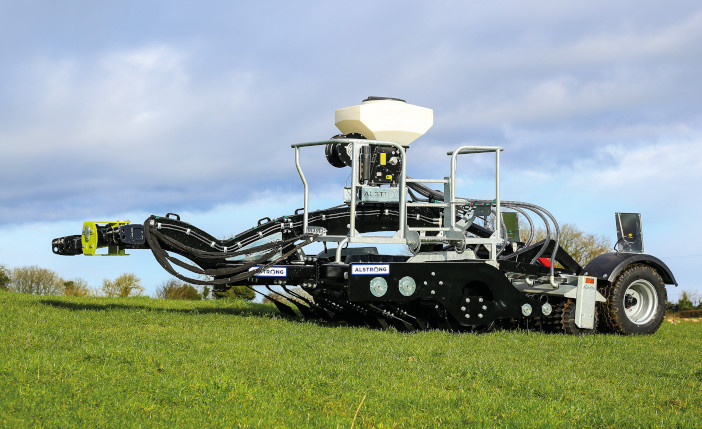 Alstrong Ltd – www.alstrong.ie
The second generation Alstrong Auctus rejuvenation and re-seeding machine, from Alstrong, was showcased at Lamma alongside the company's trailed aerator. New features of the Auctus include a gyroscopic headstock, redesigned ripper paddles and a freewheeling 'revolving scraper'. With the capacity to handle all sizes of seed, the Auctus can achieve outputs of up to 16 acres per hour; the in-cab control unit allows seed rates to be altered on the move, and displays a live groundspeed reading, a hopper low level warning and records acreage. Flotation tyres, mudguards and new automotive-style LED transport and work lighting come as standard.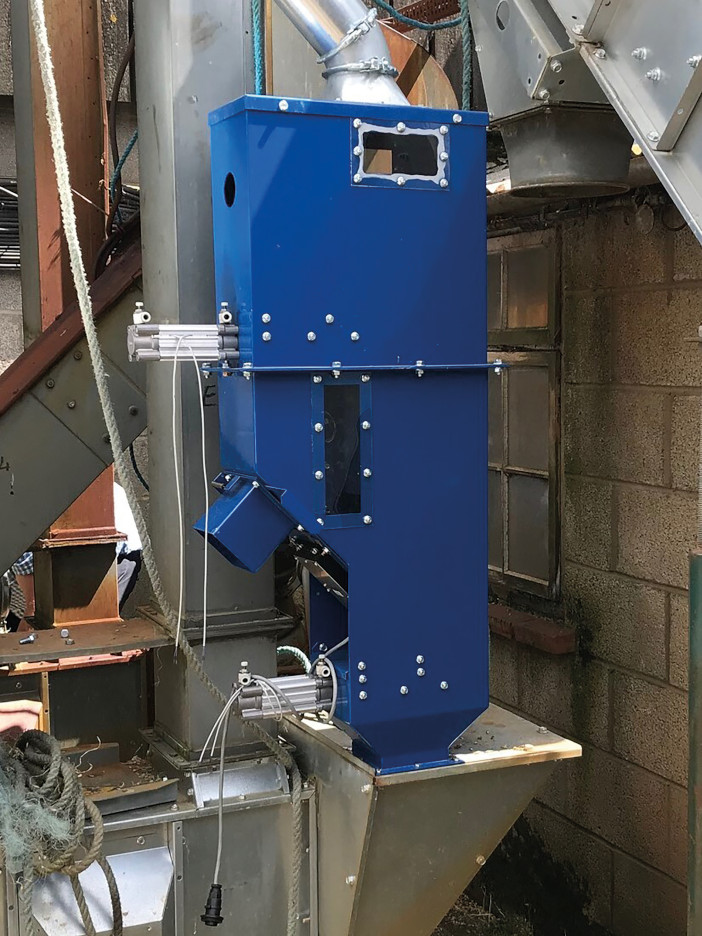 BDC Systems – www.bdcsystems.com
For the first time in the UK, BDC Systems demonstrated Grain Balance – a new post-harvest software application which runs on any smartphone. Grain App, allows farmers to measure, in real time, the loads of grain arriving on farm to go into storage, the field in which it was grown and the yield per hectare. Also being showcased will be the latest developments to BDC's System's Moisture Monitoring System (MMS), a 5-tonne Svegma continuous flow drier and Skandia Elevators next-generation H-Line elevators.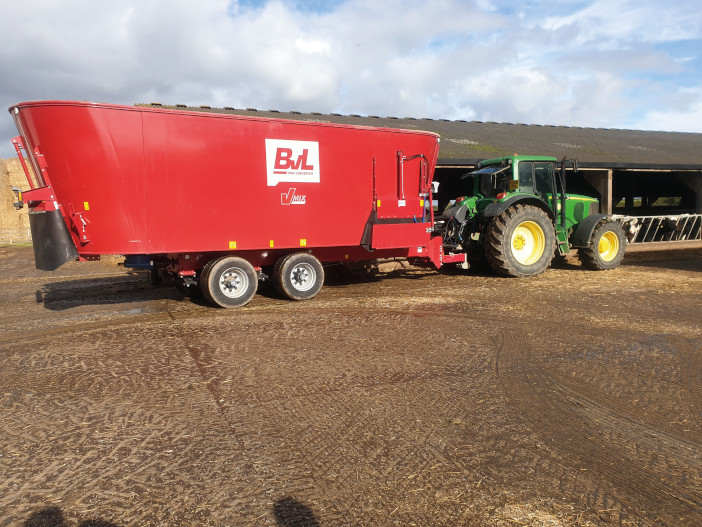 BvL – www.bvl-farmtechnology.com
Centre stage on the BvL stand was the 33m3 V-Mix Plus 3S, and 12m3 single auger machine. As on all BvL feeders, at the heart of the triple-auger 30-3S feeder are the powerful mixing augers, with Hardox leading edges and adjustable knives. BvL will also be sharing information about the Dairy Feeder Go app, which is the new entry-level version of the cloud-based BvL V-Connect Dairy Feeder system – an aid to feed consistency which will be free for customers ordering a new machine.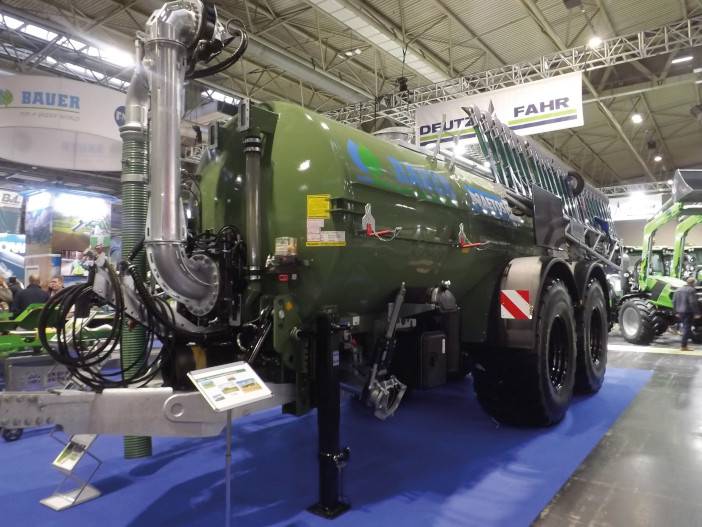 Bauer – www.bauer-at.com
Lamma was one of the first opportunities for farmers to see the latest Aetos Pro range of slurry tankers, available in a range of sizes and specifications, with single, tandem and tridem axles, polyester or steel tanks and the choice of either a vacuum pump or an eccentric rotor pump. One of the key benefits according to the company, is the modular design of the units, allowing for pumps to be replaced, options to be fitted at the time of order or be retrofitted, as well as resulting in a lower centre of gravity than previous generations. The Aetos Pro offers capacities from 3,000 litres up to 30,000 litres.
Bobcat – www.bobcat.com
Centre stage on the Bobcat stand was the new super compact TL25.60 R-series telehandler – one of the eight models now part of the range. With a lifting capacity of 2.5 tonne and a lifting height of up to 5.9m, the new machine is the most compact in the range. Despite being compact, this model retains the full-size cab with the same dimensions as cabs on the larger models. Bobcat's R-Series telehandlers offer a state-of-the-art cab design with a contemporary interior created to ensure increased spaced and visibility. Attachments for the model include grapples, augers, sweepers and snow blades.
Also displayed on the Bobcat stand was the CT2535 Compact Tractor, part of the 2000 series, which offers a variety of attachments. At the show, the tractor was fitted with a front-end loader and a bucket as well as a tiller attachment. Other compatible attachments include pallet forks, utility forks, utility grapples, mid-mount mowers, backhoes, box blades, rakes and seeders. Front, mid and rear connections and power take offs can also be added and the Bob-Tach system comes as standard on all front-end loader platforms. Options are available on transmission type and customers can also choose between open canopies and cabs.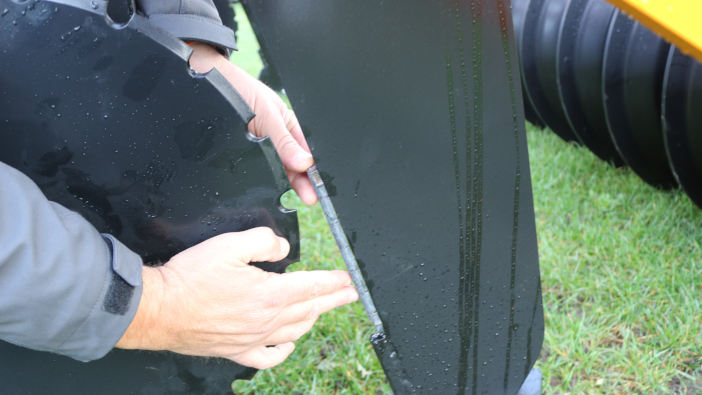 Bourgault Tillage Tools – www.bttuk.com
Bourgault showcased Maxlife – an infused tungsten carbide treatment that protects ground-contacting parts and extends their working life, helping users reduce their wearing metal costs. Extensive field testing showed that the product can extend the life of parts by between 300% and 800%. The heat-applied weld pool containing solid chunks of tungsten carbide is spread evenly across the wearing part, providing a cost-effective alternative for high wearing applications. Bourgault promoted the product as having proven success on harrow tines, sweeps, spikes, shanks and disc scrapers.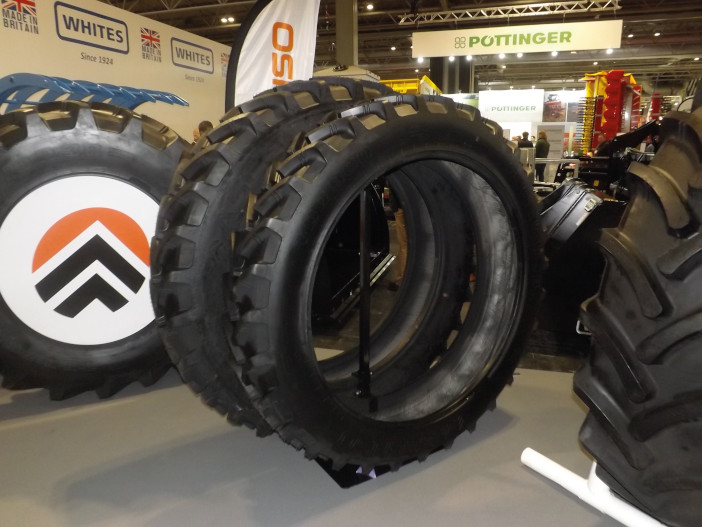 Bush Tyres – www.bushtyres.co.uk
Bush Tyres highlighted the Ascenso brand of agricultural tyres. The comprehensive portfolio includes a range of tractor and implement tyres. It was bolstered last year with the introduction of the TDR 900 radial row crops, available in a wide array of sizes, starting at 270/95 R32, with a high load capacity and the company's Mud Breaker Technology where the vertical cleats on the lugs act like a lever to push mud away, aiding with the self-cleaning characteristics. Notably, all radial Ascenso tyres come with a seven-year warranty for peace of mind.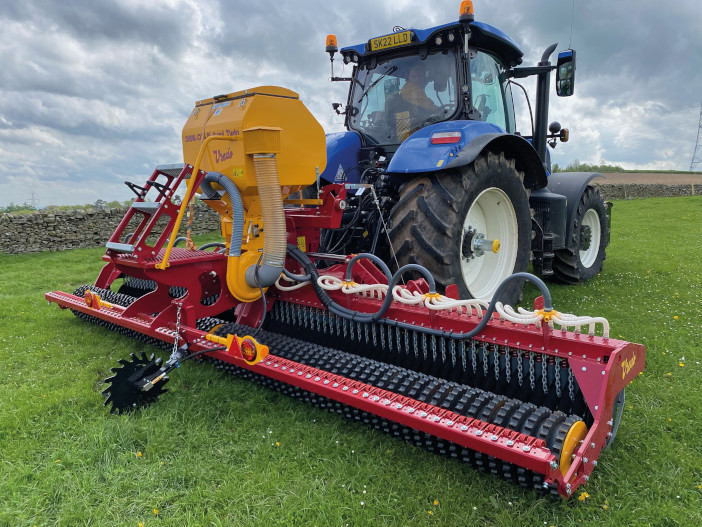 Campey Agriculture – www.campeyagriculture.com
Campey Agriculture brought along the latest FJDynamics autosteering technology to Lamma. This GPS guidance system is designed to deliver precision farming for increased efficiency and profitability. It works in a straight line or in curved modes, guiding machinery with precision (operating to within a 2.5cm accuracy) with multi-sensor integration to accommodate all field shapes, sizes and operator working preferences. The technology has an online coordination platform which helps with decision-making by synchronising information to boost efficiency, yields and revenues. The grassland specialists will also be displaying grassland rejuvenation solutions through a range of machines from Vredo overseeders and Evers harrows.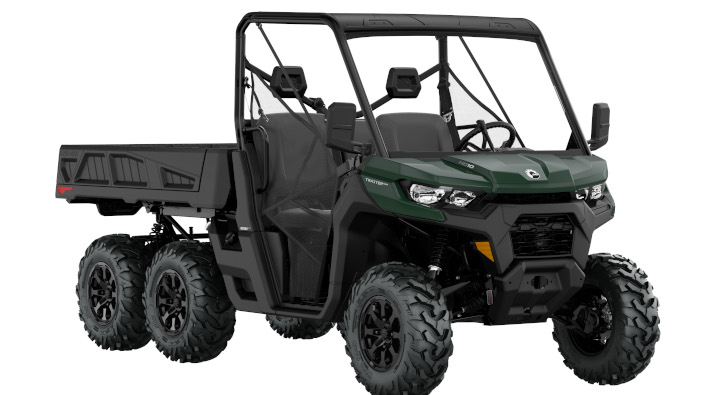 Can-Am – www.can-am.brp.com
Making its debut at the show for Can-Am was the Traxter 6×6 DPS HD10; a vehicle able to handle everything from hauling machinery to transporting workers and equipment to job sites. With an 82hp V-twin liquid cooled engine, this model benefits from a longer wheelbase and triple axel design. Integrated design elements include the LinQ quick-attach system, built in anchors, tie-down points and recesses for easy box separator solutions. The SSV's cab has been designed to maximise comfort and functionality with an open-dash configuration and a truck-inspired Versa-Pro bench seat.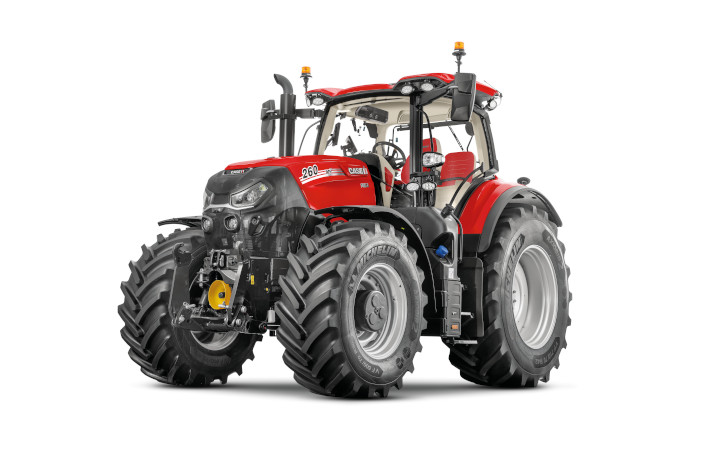 Case IH – www.caseih.com
Sharing stand space with Bednar, Case IH put the latest Puma 260 centre stage. Boasting a larger, quieter cab, the new tractor delivers an 11% increase in power with a host of smart tech to boost performance. A 15% larger fuel tank within the fuel-efficient FPT NEF six-cylinder engine is rated at 260HP with a maximum, unboosted, output of 280HP. With Engine Power Management, this can reach 302hp for PTO, hydraulic and transport applications. The Case IH AFS Connect system with its 1200 touch screen monitor, AFS vision Pro operating system and AFS Vector Pro receiver allow users to manage data remotely. This is built within the same compact design as the current model.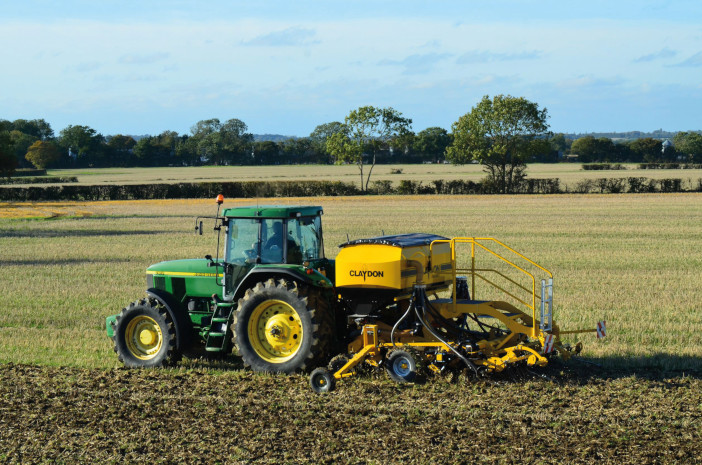 Claydon – www.claydondrill.com
Claydon showcased four of the company's latest products. Focussing on the new range of Evolution mounted drills, the 3m seed and fertiliser version will be exhibited alongside a 4m Hybrid T4 trailed drill, a 7.5m Straw Harrow and a 4m TerraBlade inter-row hoe. Each product is designed for drilling direct but can also be used after consolidation in ploughing and min-till scenarios. Features on the drills include hydraulically controlled seed depth adjustment and front-mounted discs, multiple seed tool options and a quick-change facility.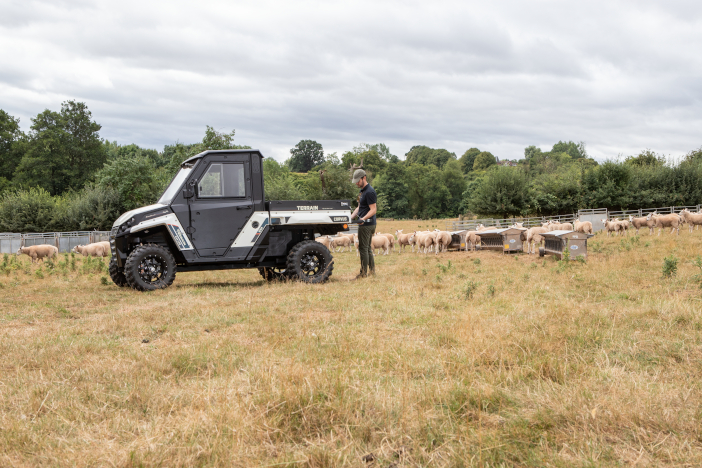 Corvus – www.corvus-utv.com
A new electric work vehicle with off-road capabilities was presented at the Corvus stand. The Terrain EX4 offers high load capacity of up to 620kg, lower maintenance costs and longer vehicle life. The UTV has been designed with a 13kw electric motor giving the power to transport or tow large loads, and a 15KwH lithium-ion battery which allows for fast charging. The Terrain EX4 boasts a large storage and load capacity of up to 620kg and has a capable and durable design. The 309mm ground clearance enables it to safely overcome obstacles and benefits from on-demand 4×2 or 4×4 traction with a rear differential lock.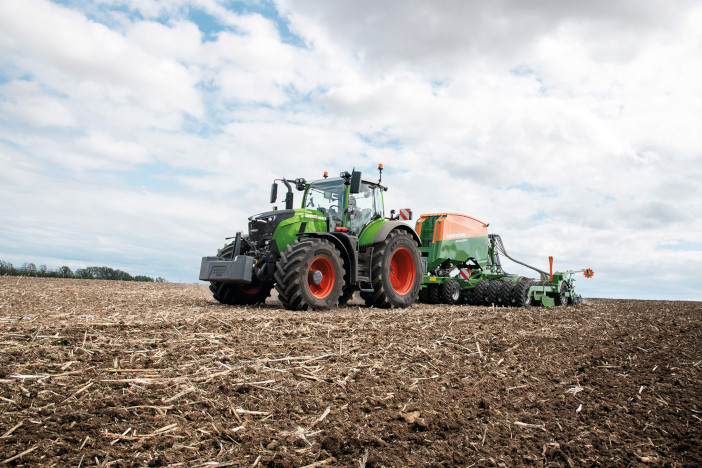 Fendt – www.fendt.co.uk
Fendt returned to Lamma with a range of new machinery and technology to showcase. Available for visitors to view was the new Fendt 700 Vario Gen 7, which features a new 7.5-litre AGCO Power engine, alongside the Tigo VR Forage Wagon and the Rotana round baler. Other grassland machinery will also be on show including the Cutter, Slicer, Twister and Lotus, together with larger machines including the new Katana 850 forage harvester and the latest Ideal combine. The FendtONE onboard/offboard concept will be available for attendees to experience, demonstrating how data collected in the field can inform operational decisions.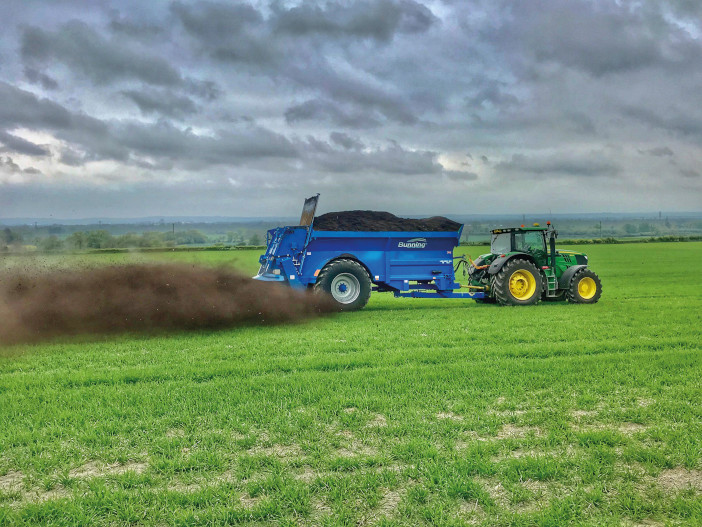 G T Bunning – www.gtbunning.co.uk
Bunning exhibited three new machines. The Lowlander 120 HY HBD features a set of Alliance 580/85 R42 IF tyres, offering a longer tread pattern and bringing the machine's overall width down to 2,820mm. It features the wider spreading design from the larger models, said to improve the shredding of manure for greater accuracy, and weigh cells for rate control. Two further models will also be displayed – a 120 HY TVA, that features the recently redesigned large diameter bottom spreading blades for increased accuracy, and a smaller 105 TVA, aimed at smaller farms wishing to utilise their own manures.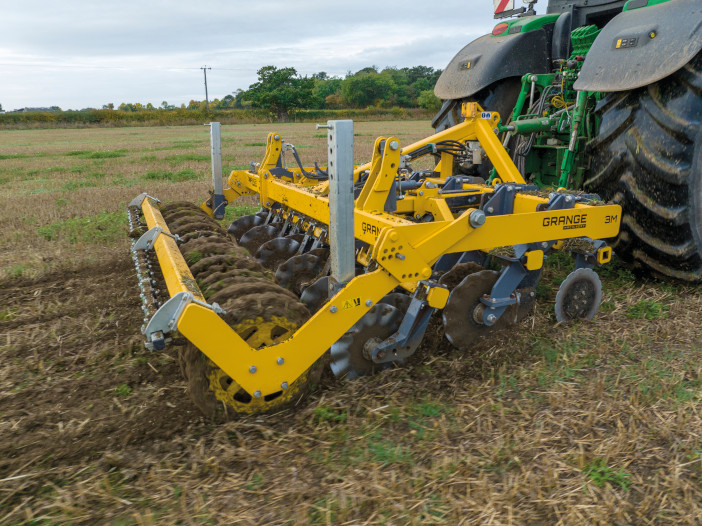 Grange Machinery – www.grangemachinery.co.uk
Grange Machinery highlighted the new Strip-Till Preparator. The machine has a particular cultivation layout that has been developed over the last three seasons. Three independent rows of hydraulically adjusted cultivation discs work alongside the low disturbance tine and point allowing for a cultivated row ready for planting.  A zonal Guttler prism roller ring is the final part of the cultivation pass to breakdown any clods that have flowed through the system. Available in 3m, 4m and 6m, the Preparator also offers the option of applying either granular or liquid fertiliser.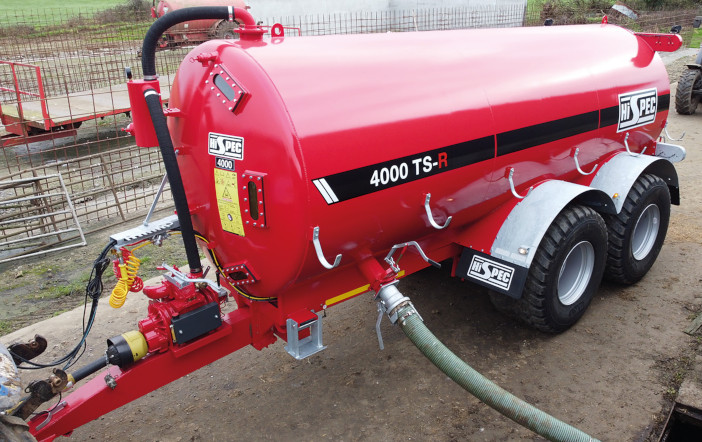 Hi-Spec Engineering – www.hispec.net
Ireland-based Hi-Spec Engineering brought along a range of products to exhibit. The new Hi-Spec TS-R tanker, available in a range of capacities from 9,000 to 18,000 litres, will be on display alongside the Hi-Spec SA-R (single axle recessed) tanker. The tanker offers capacities on the six-model SA-R models from 6,000 to 13,500 litres and is fitted with commercial brakes. Also being showcased will be the Hi-Spec XCEL 1250 rear discharge spreader which uses a combination of a shredded rotor fitted with 22 heavy duty chains with 12mm Hardox flail heads.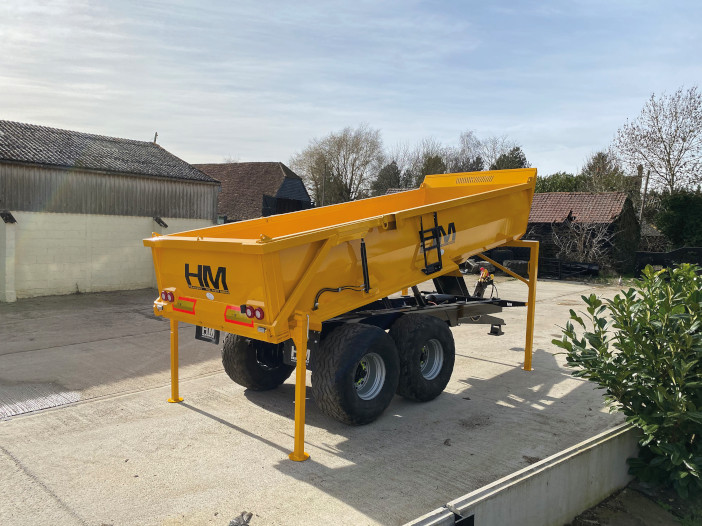 HM Trailers – www.hmtrailers.co.uk
A trio of trailers was showcased by Essex-based manufacturer HM Trailers at Lamma 2023. On display were a pair of Hook-lift trailers in HL-16 and HL-20 designs with the former sporting a new Half-Pipe rock body, alongside a body prop version of its HM 1517 grain trailer. The body prop on the HM 1517 grain trailer allows the body to be removed without the need to mechanically lift it off the chassis, while the smaller of the two Hook-lift models will display the HM10 Half-Pipe Rock body, aimed at users requiring a dedicated unit for carting bulky materials.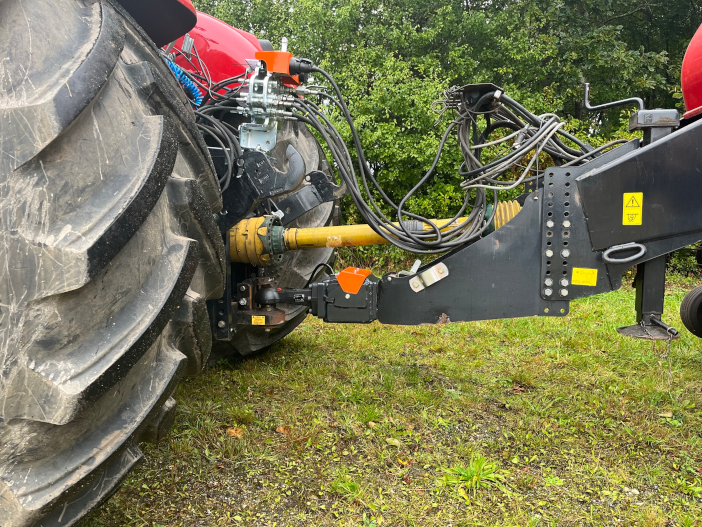 KRM – www.krm-ltd.co.uk
KRM continued to promote the Siwi range of quick release hitches, designed to increase efficiency when one man is handling multiple aspects of a task – loading a muckspreader and then spreading for example. The Combi Hitch combines the pickup, PTO, electrical connections and hydraulic connections and can hitched or unhitched from the cabin. For the harvest season, when using a baler, Siwi has developed the FireSafe quick hitch, adding a ball hitch to the typical design to enable drivers to quickly unhitch the baler in the case of a fire.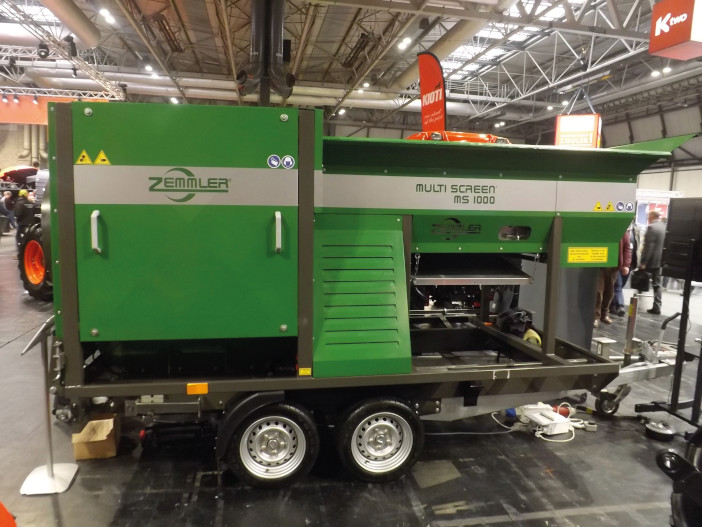 Kioti – www.kioti-uk.com
Offering opportunities to those diversifying into land reclamation, Kioti UK highlighted the Zemmler MS1000 and MS1600 mobile rotary screeners – with hourly outputs of 20m3 and 30m3 respectively. Capable of screener a wide range of material between 2mm and 80mm and separating into two or three fractions, both are electrically driven and able to be towed to the site by a pick-up truck or van. The angle of the trommel can be adjusted from an on-board control panel, as can the speed of the conveyor belt to adjust the screening effectiveness.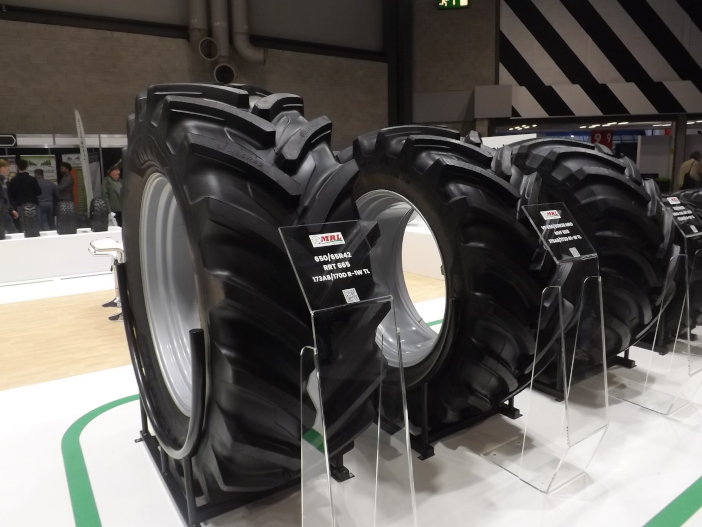 Kirkby Tyres – www.kirkbytyres.co.uk
Alongside its established brands, UK importer and distributor Kirkby Tyres showcased a new range of tyres from Indian manufacturer MRL. This included the MVF 600 VF series – a steel-belted very high flexion tyre for combine harvesters and tractors offering 40% increased load at a standard pressure, or a comparable load at 40% reduced pressure. There was also the Farm Xtreme RRT 665 heavy-duty radial tyre – a 65 Series style tyre rated for 65kph, with a deep R1 tread and a cut and heat resistant compound.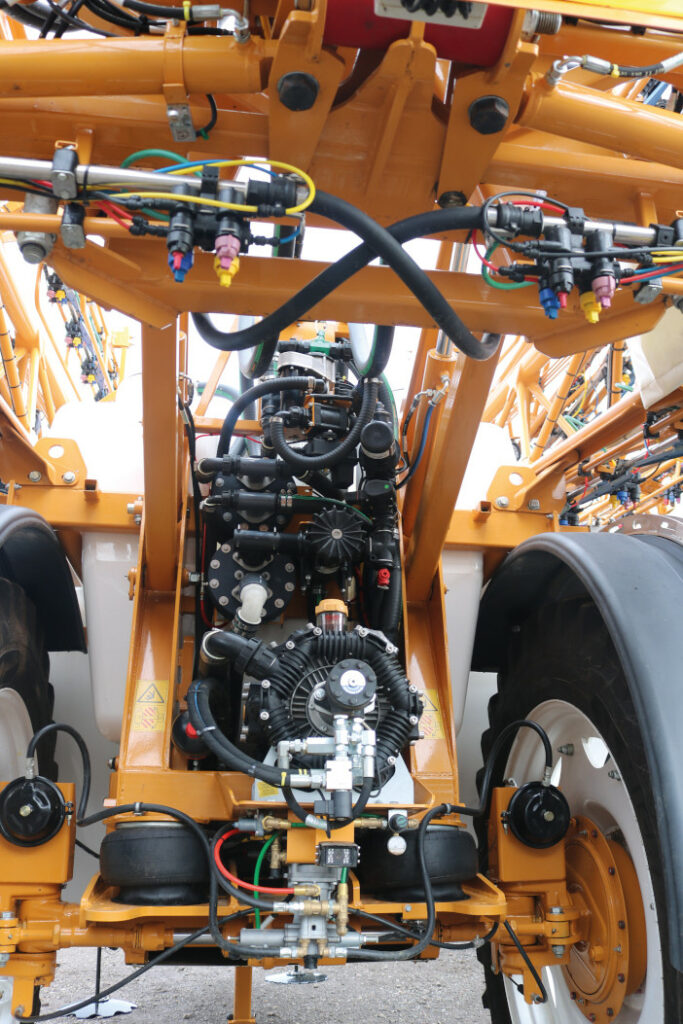 Knight Farm Machinery – www.knight-ltd.co.uk
Knight Farm Machinery had two new products on show: Vario Select and Active Rinse. The Vario Select control system enables users to achieve an even spray application when working on awkwardly shaped field margins and around fixed in-field obstructions. The Active Rinse system, offered as optional equipment on its entire sprayer range, supplies fresh water to key parts of the machine. This helps to ensure totally efficient use of chemicals by eliminating spray solution in certain parts of the sprayer and actively cleaning other parts during spraying. It keeps the system as clean as possible, making it safer for road transport.
Krone – www.krone-uk.com
Lamma was the first opportunity for many to see Krone's latest multi-purpose moving floor trailer. The GX is available in capacities of 44m3 and 52m3, on tandem or tridem running gear respectively. Cargo is unloaded by a chain-driven fabric belt, with unloading speeds of either 8m or 16m per minute. The floor can also be reversed to load the trailer from the tailgate. The GX is completed with Krone's ExactUnload rate control, enabling the operator to enter the length of the unloading area, with the GX automatically controlling the unloading rate based on the forward speed.
A front mower, the EasyCut F 400 CV, is part of the package. With the world's widest folding cutter bar at a working width of 4m, the machine can save up to 25% cutting time and deliver up to 33% increased efficiency. The wide working width also prevents the tractor running on cut grass and strips of uncut grass. The mower is designed with SafeCut technology, meaning it offers maximum wear-free driveline and folds to a 3m transport width, making it viable for travelling on UK roads. The folding system is hydraulic and is easily activated from the cab.
Also part of the grassland package on show was the double-arm EasyWrap 165 T bale wrapper – a machine designed to save time and reduce operator risk thanks to its fully automatic road-to-field set up. Ideal for harvesting small fields, the large rollers allow for heavy bales of up to 1,650kg and 165cm in height to be effectively and efficiently wrapped at a speed of 40RPM. An optional cab-operated bale turner feature is available with the possibility to automate the entire wrapping cycle. The low-slung chassis of the machine ensures stability and LED lights allow for use at night.
Krone's largest development on show was the BiG X 980 forager. Powered by a Liebherr V12 engine, the machine was developed to address global demand in the 900hp to 1100hp sector. The model features a modified PowerSplit which allows the user to select the engine power most suited to the requirements of the task. Also available are engine output options of Eco-Power mode and X-Power mode – technology which boosts efficiency and gives greater fuel economy. The OptiMaxx 305, CornConditioner, six pre-compression rollers and a large chopping drum are other developments unique to the 980.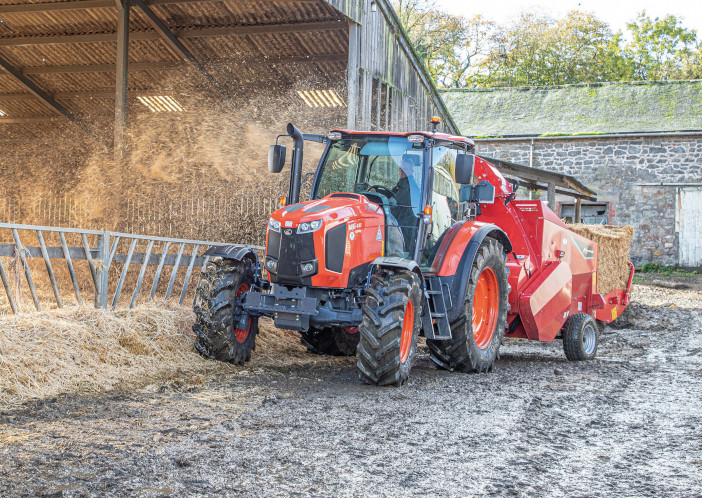 Kubota – www.kubota-eu.com
Kubota is rolling out more options for the 104-143hp M6001 Utility tractor series as it focuses on improving comfort, versatility and efficiency. These options now include the introduction of front axle suspension, front linkage, and front PTO. The linkage comprises a Cat IIIN format with a 2.8-tonne lift capacity. The use of fold-up lower link arms simplifies integration with a loader. The series has an improved exhaust after-treatment package that contributes to lowering the cost of ownership. M6001 Utility models also benefit from Kubota's portal front axle with bevel gear drive, offering generous ground clearance and a 55-degree steering angle.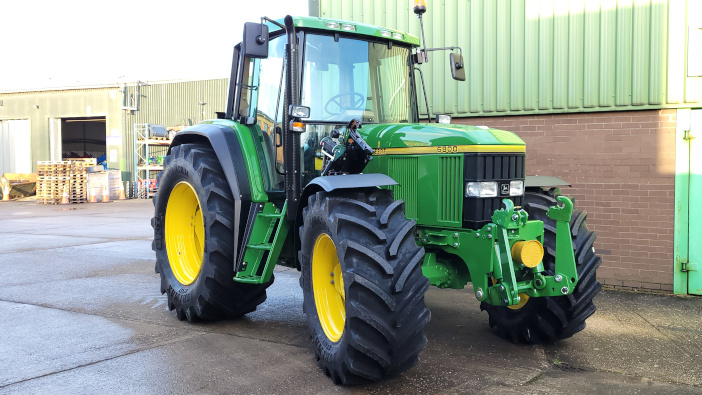 Lynx Engineering – www.lynx-engineering.co.uk
An almost 30-year-old John Deere 6800 was on show at the Lynx stand. The machine had been fully refurbished by Lynx Engineering and equipped with the latest add-on technology, including a new Stoll front loader and a new Zuidberg front PTO. Lynx also replaced the original viscous fan with a new Flexxaire reversing cooling/cleaning fan. The project was undertaken to mark the company's 30th anniversary and to demonstrate how older tractors can be restored to a standard which means it would still be effective for modern farming.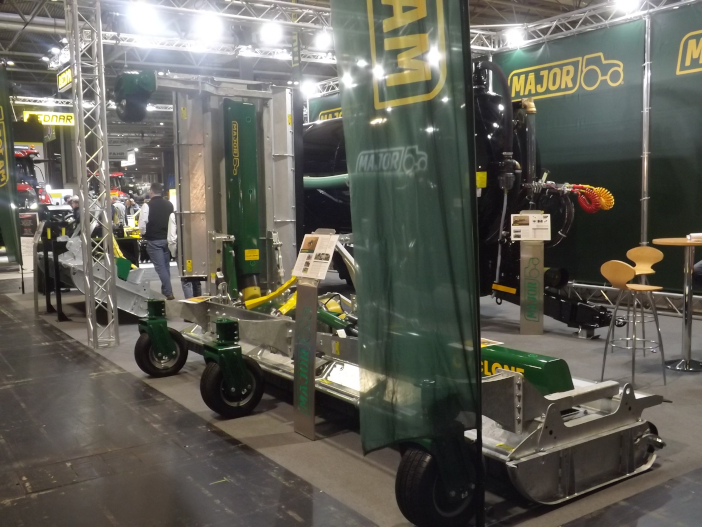 Major – www.major-equipment.com
A highlight on the Major stand was the front-mounted variant of its Cyclone heavy-duty mulcher. Available in 6.2m and 7.3m working widths, it enables cover crop destruction in one pass, when combined with a rear-mounted implement, and protects the tyres of the tractor by mulching sharp stubbles or brush before driving over it. Built identically to the rear-mounted units, the front-mounted machines feature front wheels to follow the terrain. As with other machines in the portfolio, QR stickers are included in the design, linking to setup and installation videos.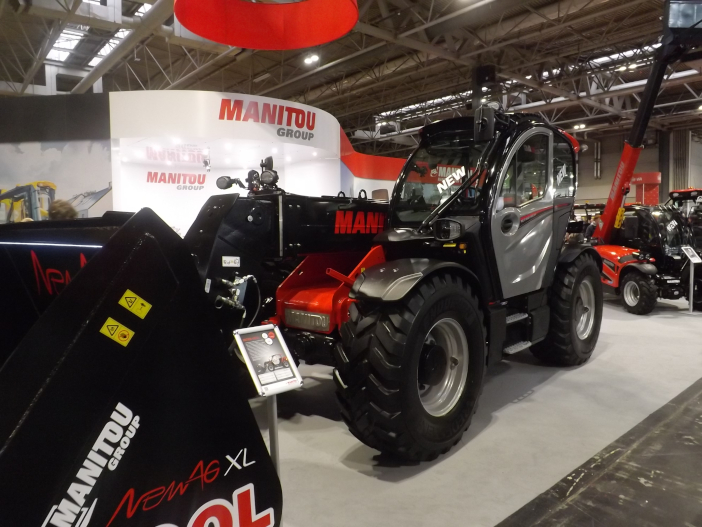 Manitou – www.manitou.com
Extending the high-capacity NewAg XL range, Manitou showcased the MLT 850-145 V+ machine. It offers a lifting capacity of five tonnes, up to 7.6m, and is designed for intensive use and bulk handling. Power is put to the ground via the M-Vario Plus continuously variable transmission, and the hydraulic flow is rated at 200 litres per minute. The high-capacity machine offers torque levels of more than 600Nm and a breakout force of over 8,760daN.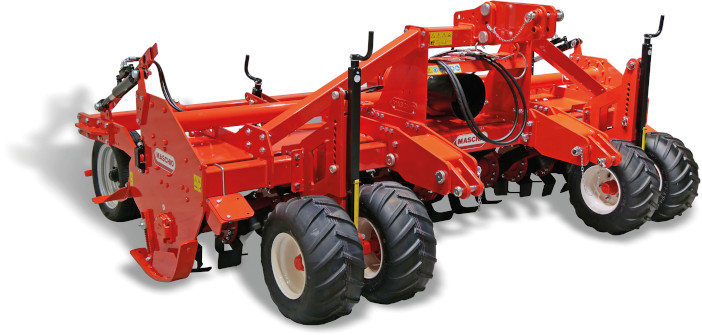 Maschio Gaspardo – www.maschio.co.uk
Maschio introduced the SC Pro-Bio rotary cultivator to target cover crop incorporation culminating in improved soil organic matter.  Suitable for tractors between 110hp and 170hp, the SC Pro-Bio is equipped with 6 'L' type blades per flange and can be set at 540rpm or 1,000rpm with a rotor speed of up to 300rpm. To guarantee the same depth across the whole working width 2.8m or 3.1m, the SC Pro-Bio has four depth wheels to ensure optimum stability and uniformity when doing shallow work. Modifications can be made to the bonnet adjusters hydraulically from the tractor seat to aid aeration and allow for control of soil mixing.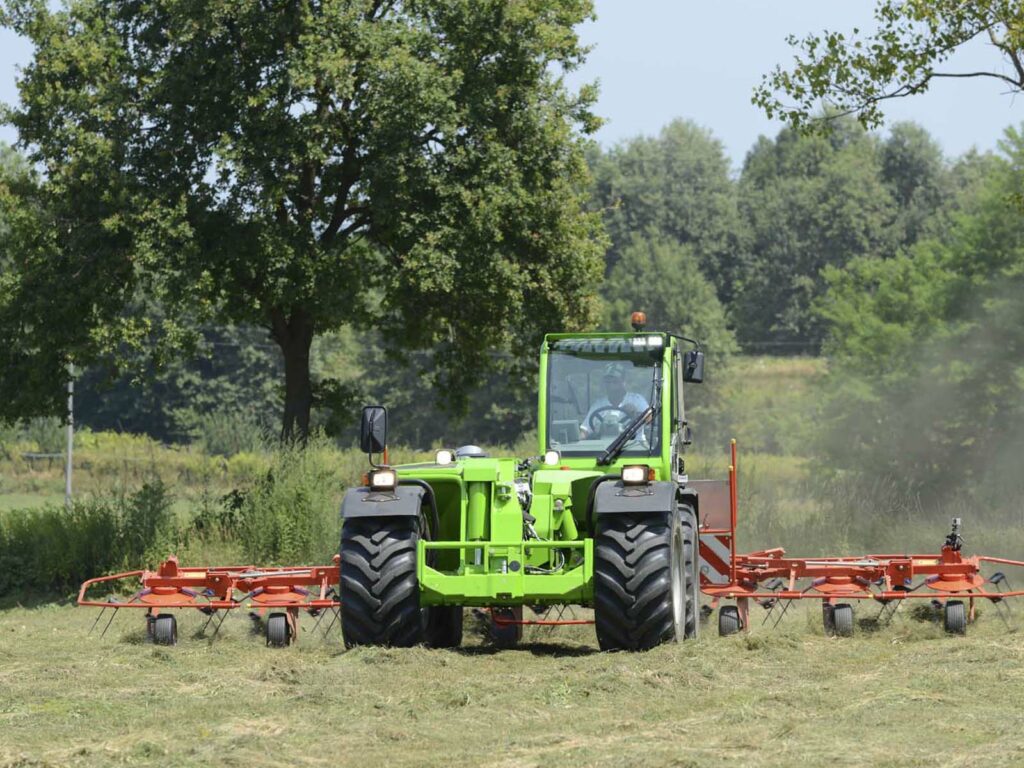 Merlo – www.merlo.co.uk
On the Merlo stand was the latest Stage V Multifarmer 44.9 telehandler, offering a 4.4-tonne capacity and a 9m reach. Hydraulics are rated at 150 litres per minute, with load sensing and flow sharing technology, while the engine produces 170hp put to the ground through the CVTronic transmission. Notably, the Multifarmer is not just designed for handling operations but comes with four rear spool valves and a seven-tonne hitch to handle general fieldwork as well.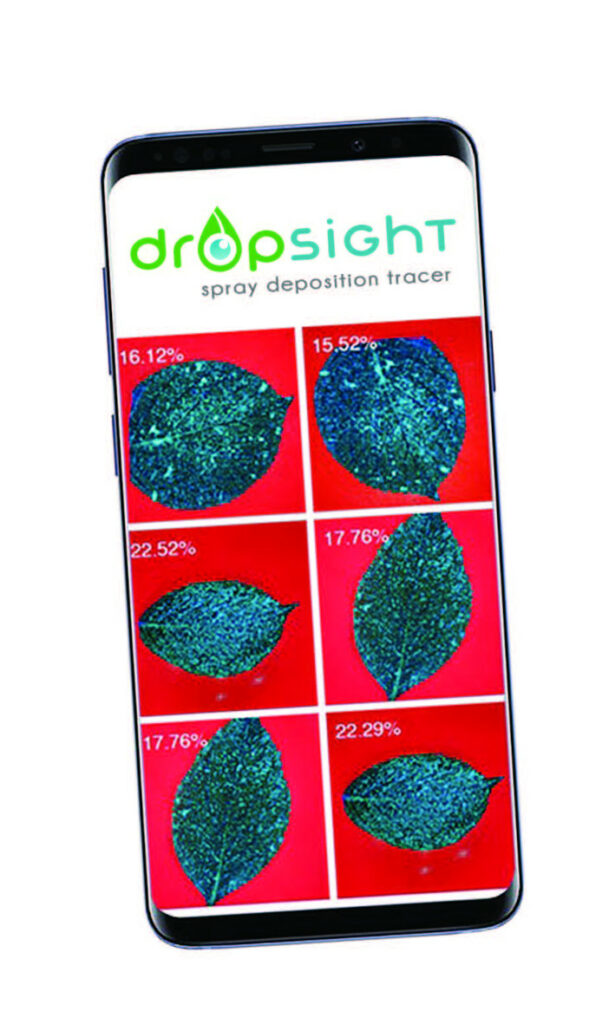 Metos UK – www.metos.uk
Metos UK introduced a spray coverage tool, called DropSight®, which works with a mobile phone to give spray operators instant information on the spray deposition efficiency of the sprayer. The product helps to improve crop protection performance while reducing the risks of spray drift, run-off, exceeding MRLs and crop and sprayer damage. Crops are first sprayed with a solution visible under UV light, then leaves are selected and photographed using a mobile phone. The DropSight® software recognises and quantifies the deposition of solution on each leaf, and measures and calculates the deposition efficacy of the spray application.
By checking spray deposition during sprayer set-up, operators can optimise nozzle selection and calibration, water volume, adjuvant selection, boom height, and sprayer speed, for best results.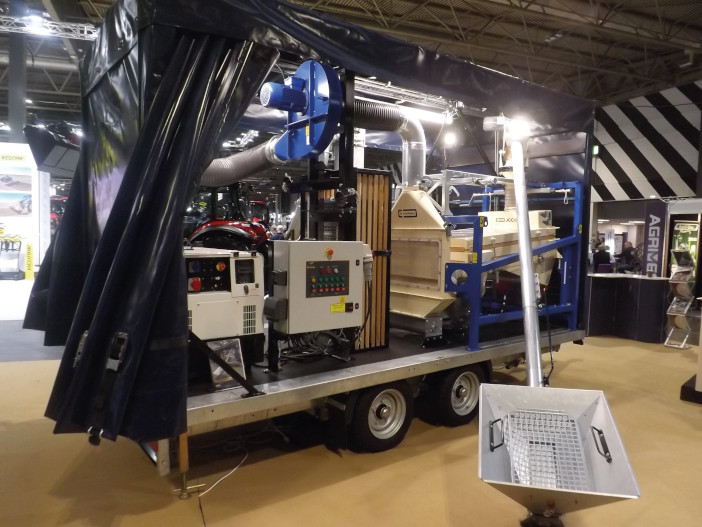 McArthur Agriculture – www.mcarthuragriculture.co.uk
The new trailer-mounted seed cleaning unit was the focus of McArthur's stand. The mobile system has been designed to ensure that the whole unit can be set up, operated and packed away by one user. With a fine cleaning capacity of up to five tonnes per hour and a pre-cleaning capacity of up to 15 tonnes per hour, gentle yet intensive vibrations mean that less force is directed onto the mounted structure. The unit combines high capacity and a small footprint and is suited to fine cleaning applications, such as cleaning for seed, removal of admixture and dressing to meet contract specifications.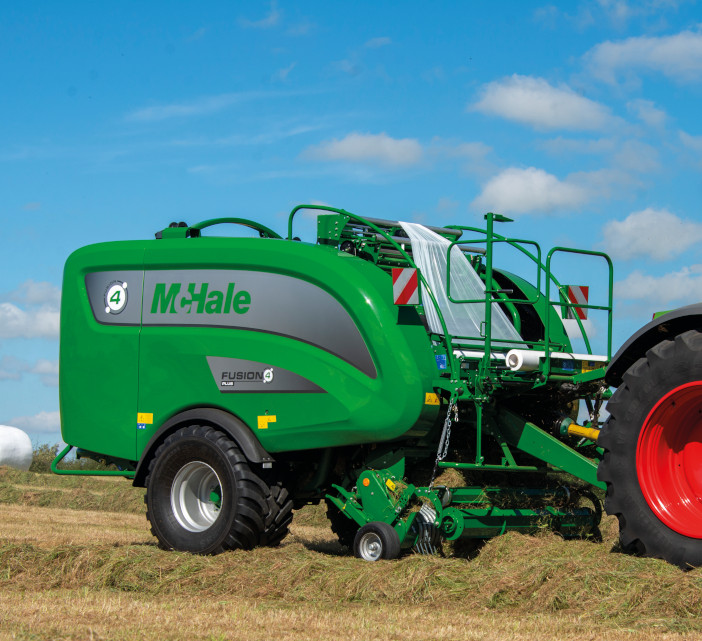 McHale – www.mchale.net
The latest generation of the Fusion baler/wrapper was launched at the event. The fully automatic Fusion 4 retains the company's patented bale transfer system and the vertical wrapping ring and comes equipped with a 25-knife chopping unit, automatic greasing system. McHale has fitted the Profi-Flo pick-up, available as a cam-track or camless unit, with a tapered feed channel and Adaptive Intake to adjust to uneven swathes. Pro and Plus models come with automatic unblocking of the drop floor, an external control panel and bale fill indicator, while all models come with ISOBUS control.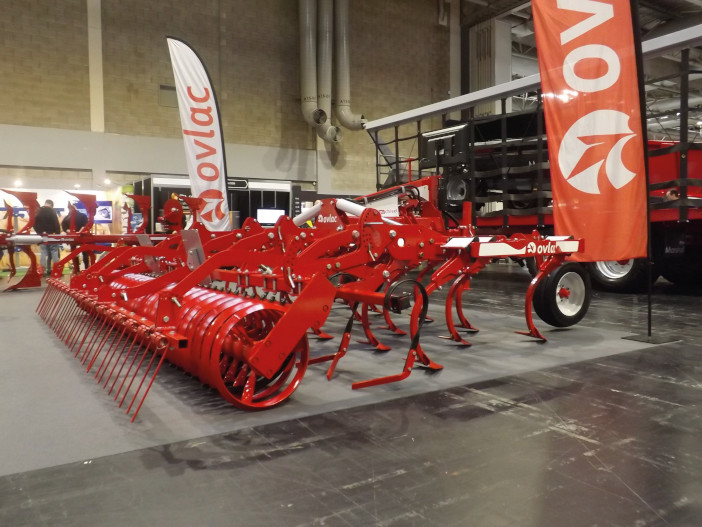 Ovlac – www.ovlac.com
Evolving its popular Minichisel range of tine cultivators, Ovlac exhibited the XLander, available with two or three rows of offset tines to handle high volumes of trash. Working widths run from 2.5m up to 7.35m for mounted machines, or 7m to 10m for trailed units, all available with a wide range of options including levelling boards, notched plate or cahe rollers, and up to three rows of following harrows to suit conditions. Power requirements start at 70hp for the smallest model, increasing to 260hp minimum on the largest trailed machine.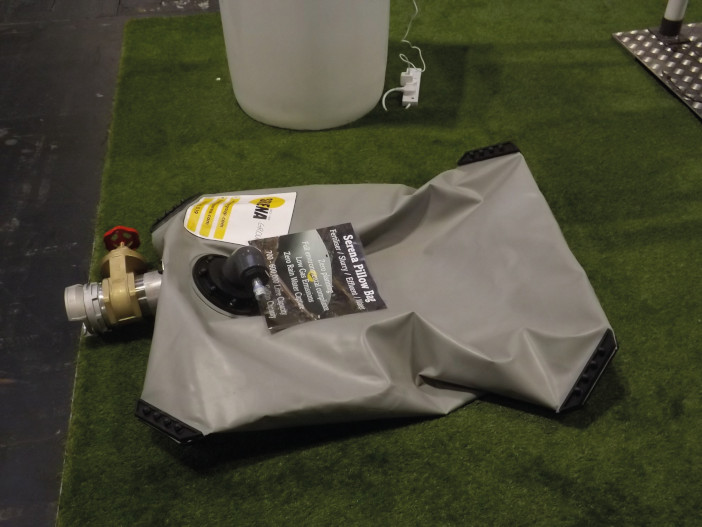 Profitable Farming Company – www.pfc-eu.com
Providing temporary storage for water, silage effluent, liquid fertiliser and slurry, PFC offers the Serena Pillow Bags. Ideal for those looking to maximise slurry storage, the bags offer capacities from 300 litres up to 600,000 litres and can hold slurry for up to three months. This can be extended to a maximum of nine months by mixing the slurry by pumping in and out on a loop with an umbilical system. The Serena Pillow Bags are offered with a range of inlet and outlet connectors to suit different setups.
Quicke – www.quicke.uk.com
Quicke used Lamma 2023 to share the latest offerings from Rockinger. Alongside health and safety considerations, the latest hitch has been designed with thought given to sustainability, longevity and longer-term affordability for the user. The design includes a plastic insert in the joint which is suitable for up to 1200 hours of use. The benefits of the insert are that the need for maintenance on the unit is reduced, grease is not needed to lubricate the coupling and there is no wear on tear on the main unit. This leads to the entire hitch having a much longer shelf life.
Visitors to the Quicke stand had the opportunity to view the latest Silocut M+, L+ and XL+ designs. Various options are available on the models to align to the user's requirements, ensuring the customers' needs are met. Both the L+ and XL+ models are available with additional items: a bale wrap handler which makes it possible to grab the wrap and net and retain it after the bale is split, as well as a push out mechanism which can be attributed to the profile cut 'tufftine' versions. Bolt on back screens are also available as additional accessories and all models boast excellent wear capabilities.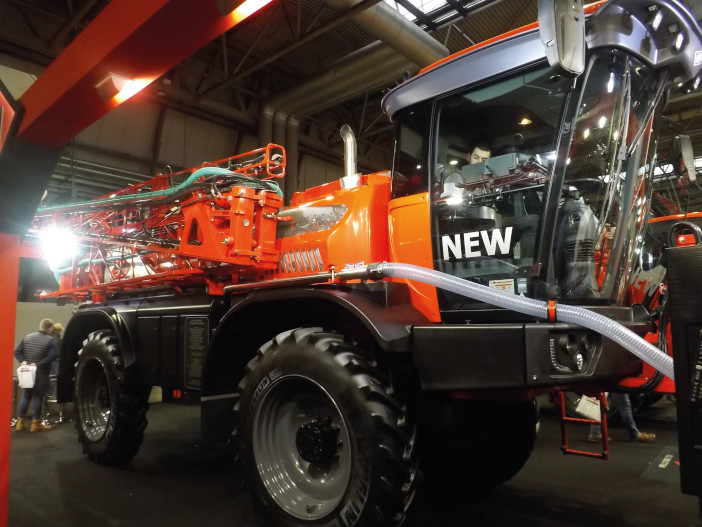 Sands Agricultural Machinery – www.samsprayers.co.uk
The Sands Agricultural Machinery stand showcased the latest 5000l Infinity self-propelled sprayer. With a turning circle of 7.6m it is easily manoeuvrable and can be adapted to suit the work in hand. Options include maximum turn, true tracking, speed-related switching, and spray on/off engagement. The new design has a stainless-steel tank featuring a larger sump and all pipes plumbed straight into the tank, ensuring short and fixed pipework. Track width can be adjusted from 1.8-2.2m and the Stage 5 Deutz six-cylinder engine produces 242hp. The cab boasts high visibility and a range of in-cab controls for effective and comfortable use.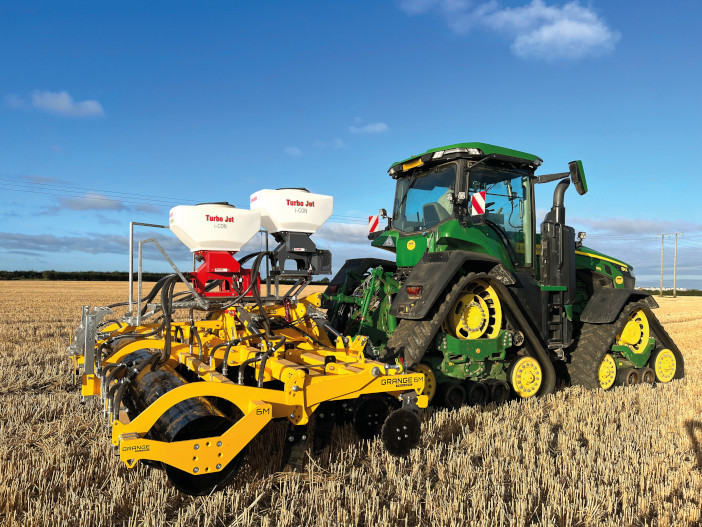 Stocks Ag – www.stocks-ag.co.uk
Responding to customer interest in applying multiple products in one pass, Stocks Ag has extended the capabilities of its ISOBUS i-CON control system. Now up to four applicators, including the Turbo Jet, Fan Jet Plus, Fan Jet Mini and Rotor Meter, can be connected to a single terminal, with each unit working to a pre-set application rate and available with on-the-move adjustment. According to the company, this gives the user greater flexibility, applying small seeds, granular fertiliser, and slug pellets in a single run. As an example, up to four applicators could be mounted onto a cultivator, or two applicators onto a drill (which typically uses two ISOBUS channels).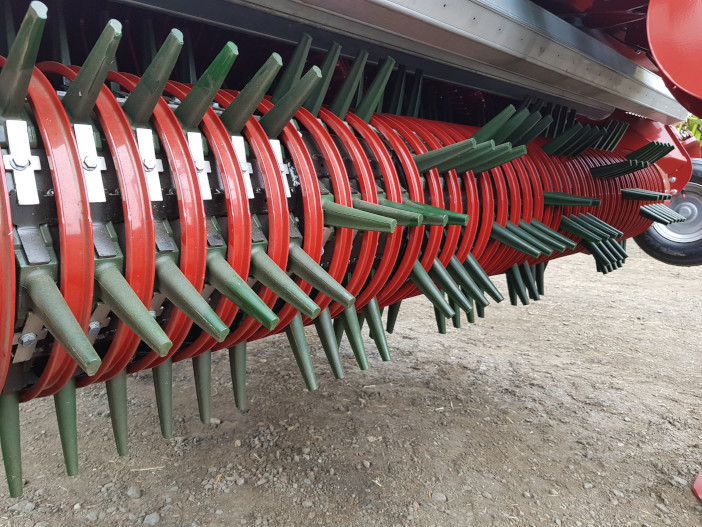 Strautmann – www.strautmann.co.uk
Flex-load was on display on the Strautmann stand, having been rolled out across the range. It is available as an option on all forage wagons and is fitted as standard on all Magnon machines. Flex-Load tines are made from a flexible durable polyurethane plastic meaning they adapt to ground undulations, rather than penetrating the ground.  This reduces the likelihood of soil and stone contamination into the cutting unit. The Flex-Load is also ideal for all crop conditions. All Strautmann forage wagons are designed with camless pick-ups which allows flex over the working width and reduces wear and downtime and saves on fuel.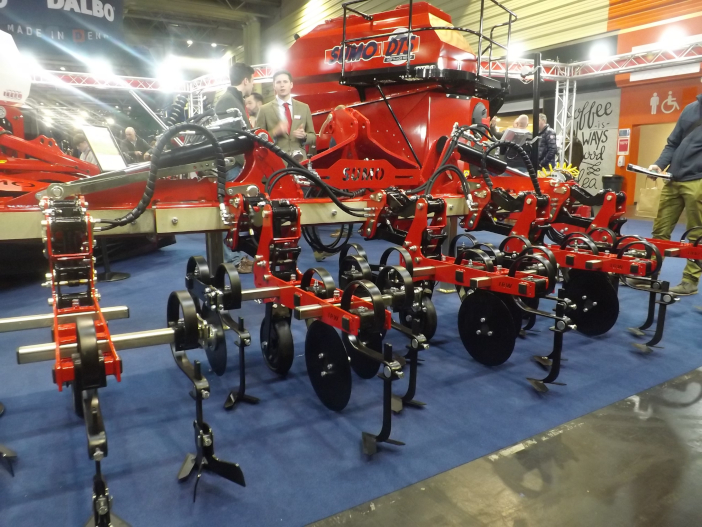 Sumo – www.sumo1.com
Developed by Harper Adams student Charlie Harvey, Sumo showcased a prototype of its IRW inter-row weeder. It features 300mm front cutting discs, which can cut through heavy crop residue ahead of the flat slicing tines, which cut the root of any weeds just below the soil surface. It's modular design enables angled tines and a ridging tool to be equipped depending on the requirements, and the IRW can be equipped with camera guidance. Sumo will be running field tests of the IRW throughout 2023.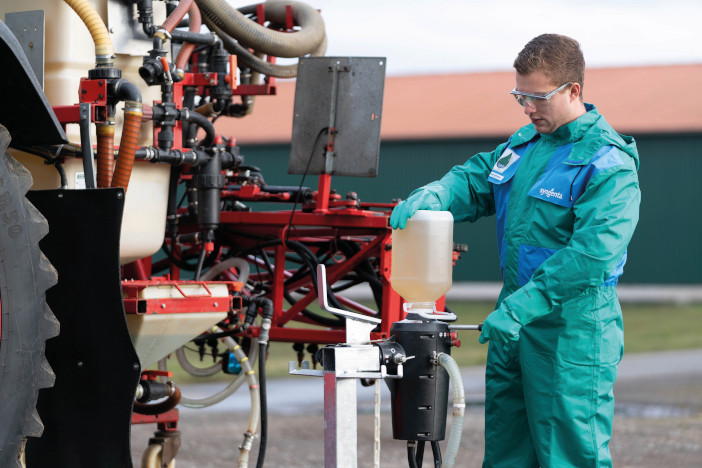 Syngenta – www.syngenta.co.uk
Syngenta unveiled a range of new products at Lamma 2023. The new EvoPac product packaging will be on show for the first time, alongside the GranuPac which has been developed specifically for Nemathorin granules. Syngenta will also use the show to launch developments in the company's digital agronomy toolbox to advance precision crop management and further help operators work more effectively and efficiently.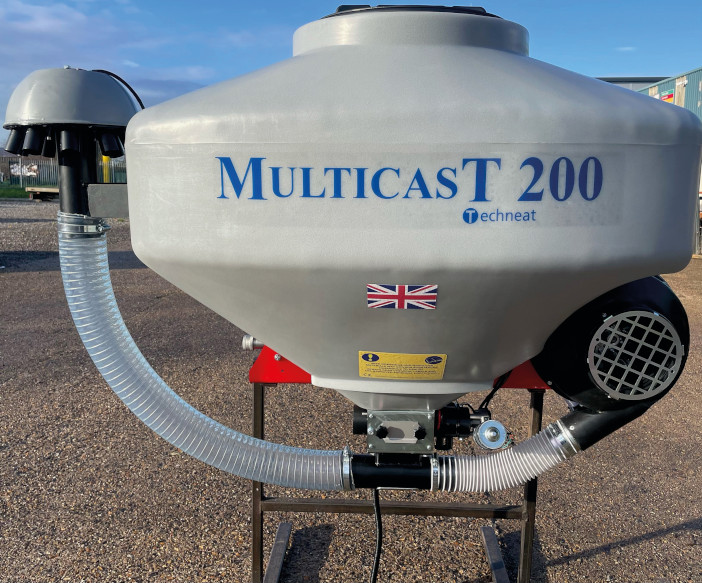 Techneat Engineering – www.techneatengineering.co.uk
Cambridgeshire-based manufacturer Techneat Engineering showed its new Multicast Applicator which combines the roles of the Autocast V2, Terracast V2 and Avacast GR models. Designed to simplify the existing applicator range, the Multicast is a multi-purpose seeder unit that can apply most types of products including Avadex granules, cover crops and grass seed, by changing the applicator's single metering cartridge. Using a hydraulic-driven fan and a Garmin GPS speed controller, each product is applied through a distribution head which is available in many different configurations. All Multicasts come complete with wiring kit, outlets, and a coil of hose.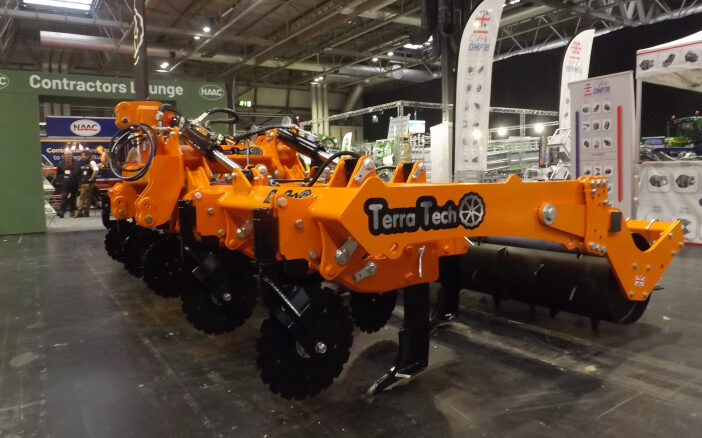 TerraTech – www.terra-tech.co.uk
British manufacturer TerraTech introduced the TerraLift low-disturbance subsoiler, running from a mounted 2.5m, three-leg unit up to a 6m, 12-leg trailed machine. A full range of points and shins are available, following individual notched discs which cut into the soil to minimise disturbance and make it easier for the machine to handle corners and bends in the field. All models fold down to 2.6m for transport and come complete with a range of packers.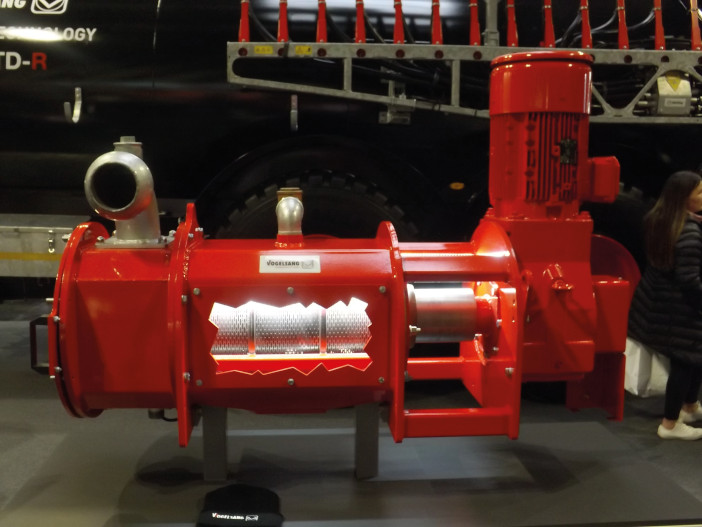 Vogelsang – www.vogelsang.info
Visitors were able to see the new XSplit separator from Vogelsang. Suitable for dry matter contents up to 40%, it separates solids (which can used for bedding) and liquid (which is nutrient rich and can be spread like slurry) with a possible output of 50m3 per hour. Vogelsang has adapted the traditional press screw design, positioning the drive behind the solid matter outlet, eliminating the need for additional seals to minimise maintenance costs. To suit variations in the product separated, a wide range of sieves are available.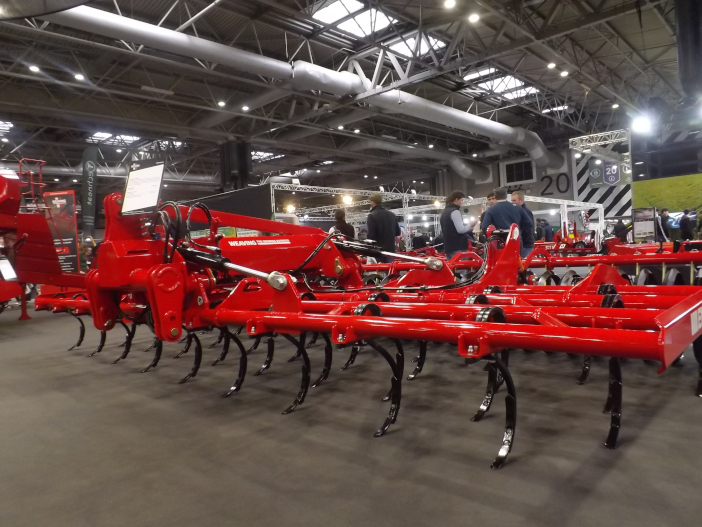 Weaving Machinery – www.weavingmachinery.net
Weaving extended its range of stubble rakes, now available in 7m and 9m working widths. The design has been uprated, using rounded tube box sections to increase the overall strength, as well as new valve blocks. Working speeds up to 18kph are possible, with five rows of heavy-duty 16mm tines, hydraulic tine angle adjustment and an accumulator system for cushioning. As an option the Magnum Seeder can be fitted to establish cover crops and small seeds. Elsewhere, the company's Energiser tine cultivator features 36 heavy duty tines, spread across four rows with 167mm leg spacing. Capable of working down to 15cm, it requires 180hp up front and can work at 12kph.