With sustainability and cost-effective farming at the forefront of the needs and wants of UK farmers, New Holland Agriculture's latest offerings will spark interest across the sector. At the Arizona-based CNH Industrial Tech Day on December 7 and 8, the world's first Liquefied Natural Gas (LNG) and electric-powered tractor prototypes were presented to visitors for the first time.
New Holland has long advocated and developed methods for alternative fuels for farming and has become an expert in this field. The next step on this journey saw the release of the T7 Methane Power LNG and the T4 Electric Power tractors.
T7 Methane Power LNG tractor
As the world's first Liquefied Natural Gas (LNG) tractor, the T7 allows high horsepower machines to deliver excellent performance as well as allowing for lower emissions and operating costs. The LNG power solution allows for more than double the autonomy whilst increasing farm sustainability as methane delivers four times as much fuel storage capacity compared to compressed gas.
New Holland's brand president, Carlo Lambro, believes that the tractor is the best of its kind, he said: "This prototype shows the world that our commitment to sustainability is here to stay. Farmers still need powerful tractors, this is why we are offering all the benefits of this solution to our customers on our high horsepower tractors above 200hp."
He explained that improvements to autonomy have further extended with the T7 Methane Power LNG and the product complements CNH Industrial's alternative power portfolio.
Features of the tractor include the active temperature-controlled fuel system, which allows the engine to run smoothly, and the ability to be powered by sustainable Liquefied Biomethane. The fuel is sourced from manure and slurry, an approach which aligns with New Holland's start-up partner, Bennamen, whose work towards delivering clean energy allows farmers to reduce their carbon footprint.
Bennamann's approach focuses on the collection, processing and storage of excess methane and can reduce the carbon footprint of a farm, as well as limiting the use of CO2-intensive chemical fertilisers. By doing this, opportunities to monetise and repurpose waste can be explored, including selling off the excess gas, generation of natural fertiliser and conversion of excess methane into electricity.
Oscar Baroncelli, head of tractor and telehandler product management at New Holland shared his pride in the new product: "Sustainability is at the core of everything we do, and the new T7 Methane Power LNG tractor is our latest step towards a truly energy-independent farming future."
T4 Electric Power
An industry-first all-electric utility tractor was also modelled by New Holland at the event. This tractor is well-suited to lower horse-power operations and was developed by CNH's US and Italian teams, focusing on battery run time and emission reductions. This model is a key product on the company's journey to electrification.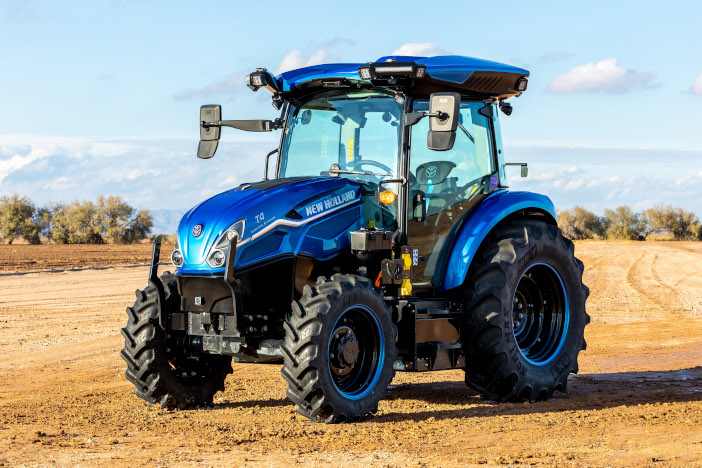 Mr Lambro said: "The T4 Electric Power is the result of our extensive research and investment focused on electric solutions in agriculture, supported by CNH Industrial. With this new multipurpose tractor, we add an important piece of the puzzle to our full liner strategy, providing our customers with the ideal electric tractor for lower horsepower operations: a highly cost-effective, carbon-neutral solution perfectly suited for mixed farms, livestock, municipality, orchard and speciality applications."
Always important for any fully electric product is the battery run time, and the T4 is said to offer up to one full day of use and the ability to be recharged in just one hour, the machine can also be used to provide energy for implements and can be used as a backup power source for other devices. Another useful feature of the T4 is the ability for it to be utilised for nighttime operations due to the noise level reduction and the dampened vibrations. This also leads to improved livestock well-being.
Technology
Both new products from New Holland boast the latest precision technology features, including the PLM intelligence suite of solutions in the T7 and automated sensor-guided cameras on the T4. Both allow for cost-effective, efficient and advanced levels of farming.
During the two-day event, New Holland presented automation technologies which allow for increased productivity, improved tractor fuel consumption and greater operator comfort. Also available for attendees to view was the Intellisense™ system which pre-empts the best action to optimise harvest.
Mr Lambro said that New Holland is committed to developments in sustainable agriculture and has been leading the way since the establishment of the Clean Energy Leader Strategy in 2006. He said: "We believe that investments in research and industry partnerships are the way to provide our customers the tools to optimize their work, enabling them to be more efficient, more in control and more able to make sustainable choices. What we showed at the Tech Day event is the tangible outcome of our approach to Carbon Neutral Farming."