Ten McCormick models will be on display at this year's Agritechnica, with a focus on parent company Argo Tractor's investment in technology and digital services.
These include the McCormick Farm, a mobile app that enables wider farm management and agronomic decision-making, and which integrates with other tools such as telematics and remote diagnostics.
Among the other innovations is a new cabin for the flagship X7.6 and X8 machines. The Clever Cab has been designed and built to offer more space and comfort. There is a new LED headlamp system to improve visibility when working at night, while new glass panes – developed by Saint Gobain – are said to improve thermal insulation.
For operator control, the controls have been redesigned to be easier to reach, while the dashboard and digital interfaces have been enhanced. The new cab is completed with an automotive-style plastic trim.
X5 P3-Drive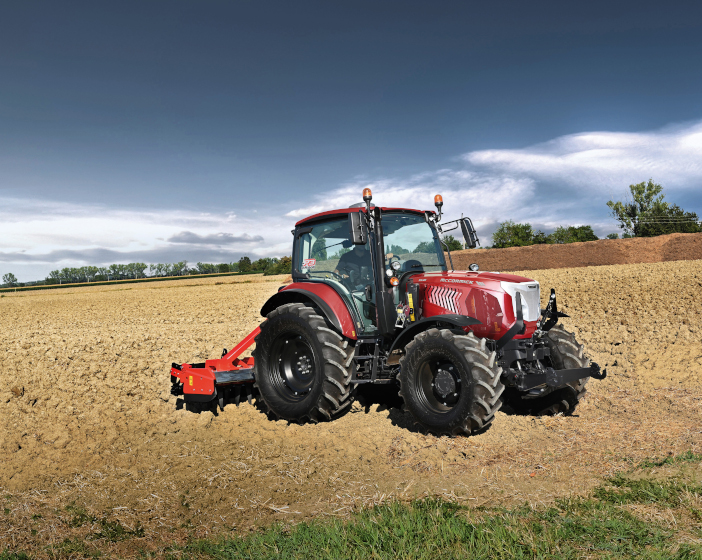 One of the finalists for the Tractor of the Year Best of Utility 2024 awards, the new X5 range features the newly designed P3-Drive transmission.
The powershift transmission offers 36×12 gears, or 48×16 if a creeper box is equipped, and has been manufactured in-house by Argo Tractors. It comprises three powershift stages, with four robotised gears for each range, all of which are controlled using the SmartPilot joystick with Auto Powershift functionality.
The joystick is housed in the new armest, which includes controls for the rear hitch and PTO.
Powering the range is a 3.6-litre, four-cylinder FTP F36 engine, delivering between 95hp and 11hp, with torque levels topping out at 460Nm. The overall wheelbase is just 2,354mm.
Introduced for the first time is the Advanced Driving System+ (ADS+), which automatically controls steering functions. Features include automatic wheel realignment in Road mode and progressive stiffening of the steering system as speed increases.
Open-centre hydraulics offer 82+32 litres per minute, feeding five spool valves. The rear hitch has a 4,500kg capacity and can be combined with a front hitch and PTO system, offering a 2,200kg capacity. The M20 loader can also be fitted, and controlled with a dedicated joystick in the cab.
The company highlights the reconfigurability of the X5, available in the proven Premium and Efficient specifications, as well as two new versions: Cruise and Cruise+. These are designed for uses where entry-level specifications will suffice. High Clearance setups are also available for Efficient machines, with different transmission and hydraulic fitments.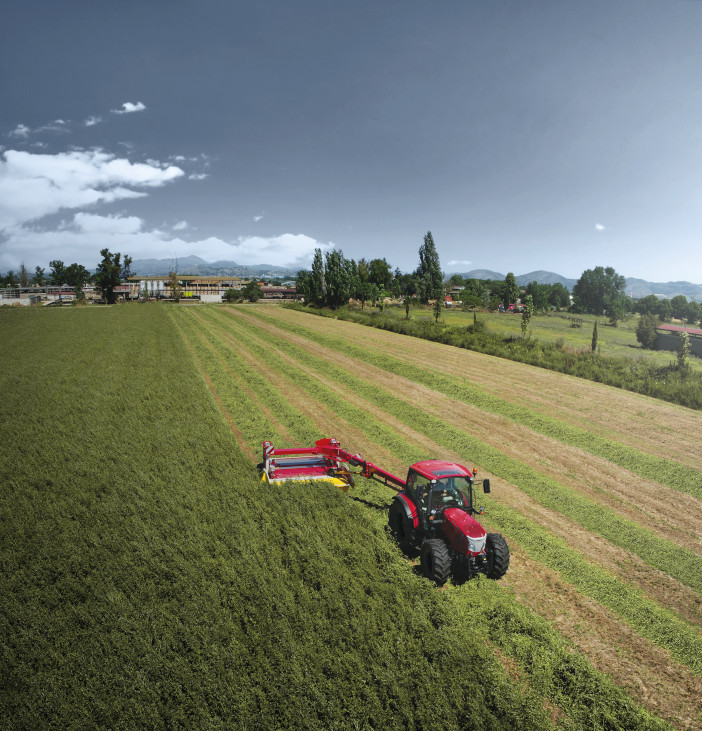 X5.085
Positioned between the X4 and X5 ranges, the X5.085 is powered by a four-cylinder, FPT F34 engine providing 75hp and 375Nm of torque. Like the new X5 range, this model is also fitted with the P3-Drive transmission, as well as ADS+.
Hydraulic power comes from an open-centre dual pump, offering 56+32 litres per minute, with a 3,900kg rear hitch and the option of a 1,700kg front hitch. It can be completed with the M15 front loader system.
X7.6 VT-Drive
The company's six-cylinder X7 machines offer power outputs up to 240hp, put to the ground through the continuously variable, four-stage VT-Drive, which has now been upgraded with the Smart Power Zero to keep the tractor stationary even with the reverse shuttle engaged.
Maintenance has been reduced thanks to the introduction of the Central Grease System, which handles all 38 grease points on the tractor by supplying lubricant every two to three hours.
Additional features include the electronically handled parking brake and the EazyGrip system that can remotely manage tyre pressure. Key to this machine is the new four-pillar Clever Cab, which has a FOPS-approved roof with a transparent opening hatch, semi-active electro-hydraulic suspension and a new air-conditioned swivel seat.
For greater operator comfort, the new audio system is compatible with AppleCarPlay and Android Auto, with four speakers for excellent sound, according to the company.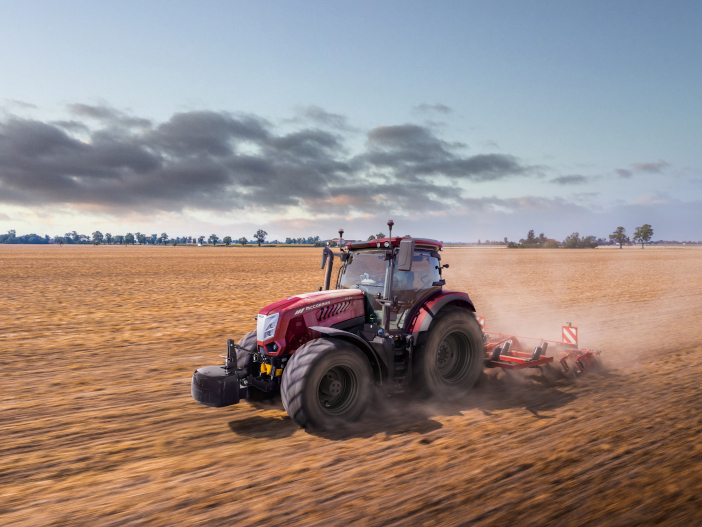 X8 VT-Drive
Two models of the X8 VT-Drive are available, with outputs of 272hp and 313hp. Both machines can be specified as Efficient or Premium, both offering a dedicated hydraulic circuit for the VT-Drive transmission which can be set for 40kph or 50kph.
Closed-centre, load-sensing hydraulics offer 160 litres per minute, with the option of a 212-litre system, while an electronically controlled steering pump produces 115 litres per minute. There are six rear spool valves and three ventral electro-hydraulic spool valves, with a three-way diverter valve with dedicated quick couplers.
The rear hitch can handle up to 12,000kg, while the optional front hitch can lift up to 5,000kg.
X6.4 P6-Drive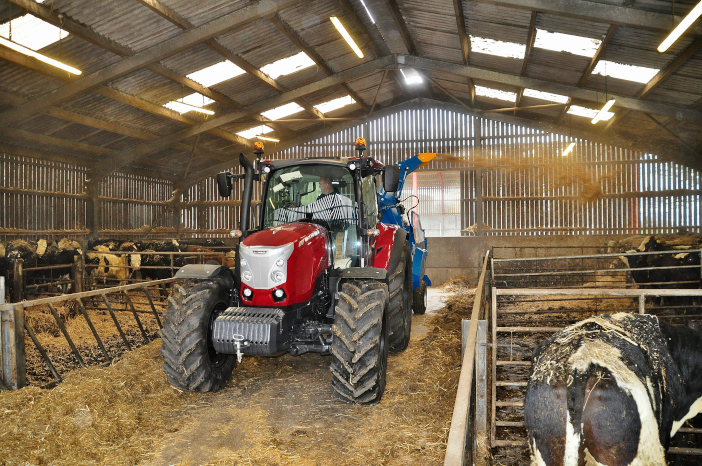 Winner of the Best of Utility category in last year's Tractor of the Year competition, the X6.4 P6-Drive heads to Agritechnica, with a wheelbase of 2,560mm and engine outputs between 135hp and 155hp, put to the ground through the P6-Drive powershift transmission.
Closed-centre hydraulics offer 114 litres per minute, supplying up to seven electro-hydraulic spool valves and is fully controllable with an in-cab joystick. The cabin also features an all-new FOPS panoramic roof, which enables easy loading when fitted with the M40 loader.
X4 TF-TM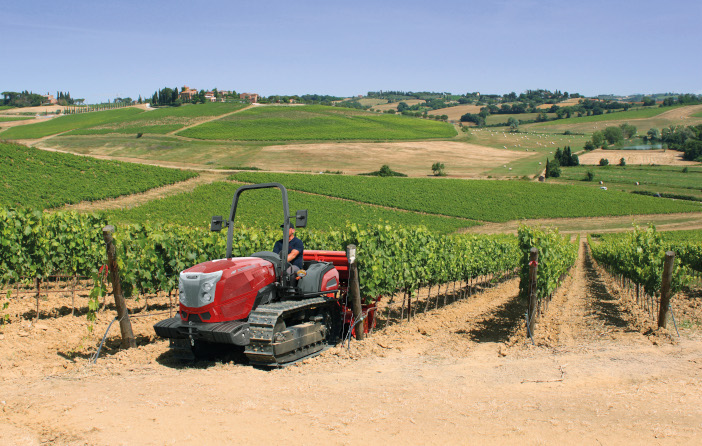 Rounding out the McCormick stand is the X4T range of crawler tractors, ranging from 75hp up to 112hp and available in TF (orchard) or TM (steep ground) variants.
Cab or platform versions are available, each with a 16×8 transmission with a synchro reverse shuttle, the option of overdrive for 15kph speeds or a creeper box for speeds as low at 300m per hour.
Hydraulic systems are 28.5 litres for the steering and 42 litres for hitch and spool valve management, with 3,150kg rear lift as standard or 4,500kg when optioned with additional cylinders.
For more information go to www.argotractors.com