Friends of Ferguson Heritage are planning a 75th anniversary tribute to the TE20 at the Newark Vintage Tractor and Heritage Machinery Show on the 13th and 14th of November. The club is hoping to have as many tractors from the first days and weeks of production in 1946 present at the event, according to chairman Rob Sowden.
Among them will be the Number 33 from Colin Taylor in Northern Ireland, which has been restored using almost all parts from its year of manufacture in 1946. Mr Taylor said that the only parts not dating back to 1946 are the fuel, oil and battery.
Also crossing the Irish Sea will be Raymond Browne's newly restored Number 6, which rolled off the line in the first week of production. The vehicle was found in 2019 buried in brambles and its visit to England will be the first since the restoration was completed this year.
"It is a fantastic and rare opportunity for visitors to see two of the oldest Ferguson tractors which have been restored close to original production line spec," Mr Sowden explained.
Club secretary Peter Mitchell says the vehicles offer an insight into a war-torn Britain, dogged by supply lines and material shortages. For example, both TE20s on show have 20hp Continental engines because the planned Standard version was not available in time to meet the production schedule.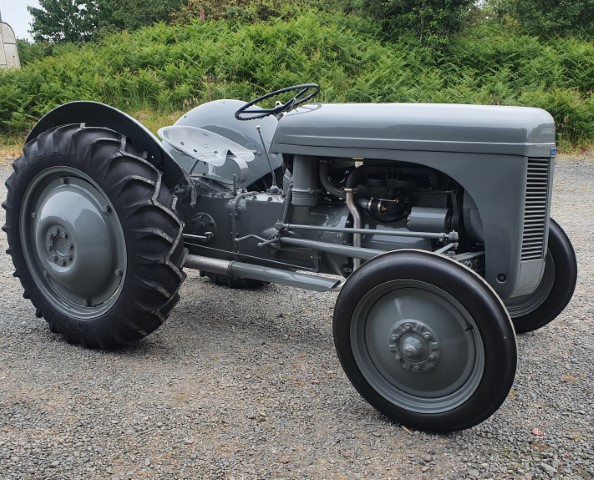 Facts like these, and others about the achievements of found Henry George (Harry) Ferguson will be displayed alongside the vehicles.
Aside from the TE20s, there will be examples from every decade from the Ferguson stable. "We hope to have more than 100 exhibits on the stand in the John Eastwood buildings, grouped in order of model and year of manufacture," said Mr Mitchell. "Along with the early greys, we know of 35s, 135s and 165s which are planning to make the journey to the show."
The club is still finalising entries and would like to see vehicles like the iconic 1200s from the 1970s. Many people have a soft spot for this articulated tractor despite its unconventional hydrostatic steering system, pivoting between the two axles. "It was a modern design for the UK market which took its styling cues from the big American tractors of the era so it stood out," explained Mr Mitchell.
Finally, to bring the whole exhibit range up to date, the club is in discussion with local Massey Ferguson dealers to bring a large current tractor to the show. FOFH says the inclusion of the modern vehicle will provide contrast and will probably be located just outside the main shed due to its sheer scale.
For information go to www.newarkvintagetractorshow.com.