Returning to the traditional January dates at the Birmingham NEC, Lamma 2023 promises to have plenty on offer for new and returning attendees. Must-see features include the Lamma Torques seminars, new product launches and the Demo Arena.
Nichola Bell, Head of Events for Agriconnect, who organise the show said that the line-up for this year's event is 'superb': "With more that 600 exhibitors, lots of product launches and exciting new features, Lamma fans are in for a treat."
New Products
There will be plenty of new products and innovations for arable farmers to explore, including Agrifac's 6,000 litre Vanguard sprayer (Hall 9, stand 9.250) which is specifically manufactured to ensure minimal environmental impact. Also on show will be BDC System's Grain Balance (Hall 8, stand 8.410), featuring new technology designed to save time and utilise smartphone technology allowing for easy and accurate grain measurement post-harvest from field to storage. Cailbre Control's Falcon grain sampler (Hall 8, stand 8.130) with be showcased, demonstrating its wireless technology allowing for optimal and precise grain sampling.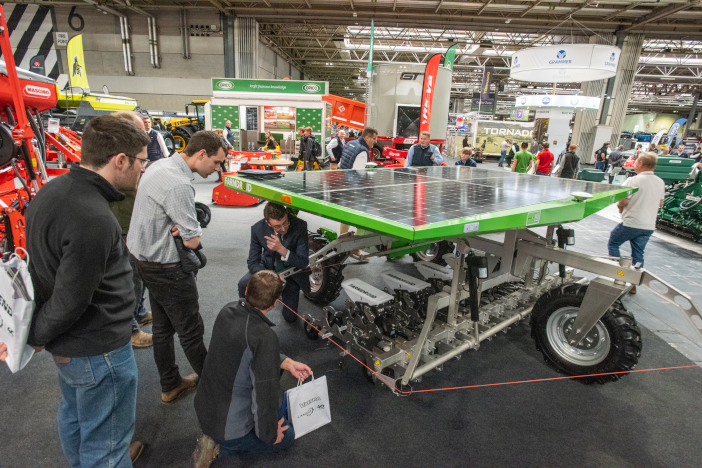 With efficiency high on the agenda for the industry, this is also the focus of many new launches, including JM Agri-Design's TR range of bale handlers (Hall 9, stand 9.436) which enjoys 155% greater efficiency over conventional loader mounted bale handlers. Attendees will also be able to see the McHale Fusion 4 range which will introduce the most advanced pick-up featuring enhanced throughput, increased bale density and faster wrapping speeds (Hall 10, stand 10.130).
A New Product Guide, outlining what's new, and where you can find it has been created by the organisers to allow visitors to seek out the products most suited to their needs.
Lamma Torques and Future Farming Trail
The Lamma Torques (based in Hall 6, stand 6.740) boast a full programme of seminars and discussions led by industry specialists and will allow farmers to consider topics such as carbon, where might a biodiverse approach fit in your business and top cost saving tips for machinery efficiency.
The Future Farming Trail will demonstrate the latest in technology and innovation, including SwiftDetect – the molecular diagnostics test to support decision making – and Omnia software systems from Hutchinsons. Also included in the trail is machinery manufacturer, Merlo UK; ag-chem use with Syngenta; soil analysis from UK Gaigo and software solutions with Farmplan and Fox Robotics.
A full list of participants and a trail map can be found in the Lamma 2023 Showguide.
Contractors Lounge, Demo Arena and Wellbeing Zone
Other features at this year's event include the National Association of Agricultural Contractors' (NAAC) Contractors Lounge which is available over both show days. Sponsored by Fendt, the lounge (Hall 12, stand 12.460) allows for networking opportunities and enables access to a wide range of information and support, such as safety and transport and the Assurance Standard for Contractors.
A show-first, the Demo Arena (Hall 18, stand 18.400) will play host to live demonstrations of a range of newly launched products, including tractors, ATVs and the latest kit powered by alternative fuel.
Personal health MOTs for farmers are one of the many offers available in the Health and Wellbeing Zone, along with signposting and support organised by the Farming Help charities (Hall 9, stand 9.530). Members and representatives from Addington Fund, the Farming Community Network (FCN) and Forage Aid will be on hand to offer advice and will be holding panel discussions on both afternoons. Health checks and 'flu vaccinations will also be available from NHS Agri-Health Matters on the first day of the show.
For more information on all event features and to book your free ticket and access discounted parking rates, visit www.lammashow.com