A total of 27 young service technicians have formally graduated from the John Deere Ag Tech, Parts Tech and Turf Tech advanced apprenticeship programmes, which are run in partnership with national training provider ProVQ.
With no way to hold a traditional graduation ceremony in 2020, which would be attended by students, parents and dealer representatives, John Deere's training team came up with an alternative. Each graduate had their own individual ceremony at their employing dealership, where they were presented with a specially created hamper and their certificate.
There were additional prizes awarded to four top apprentices. The Tech Apprentice of the Year award went to Matthew McPherson from John Deere Forestry, Carlisle, receiving a crystal plaque and an iPad. Runners-up were William Anderson of J&S Montgomery, Beith and William Smith of Tallis Amos Group, Bibury, who each received high street vouchers worth £250.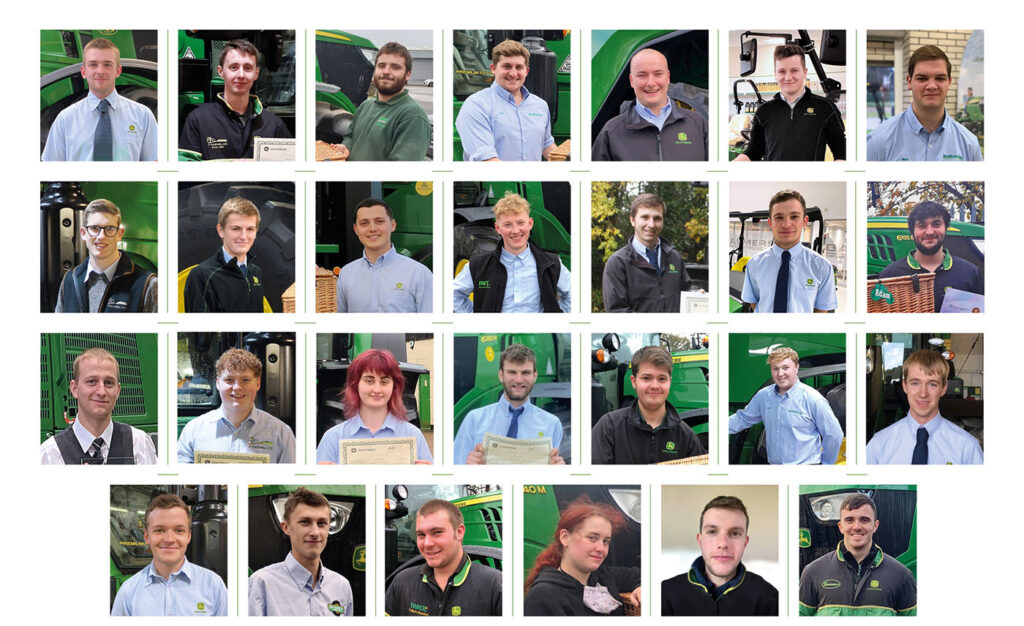 Parts Tech Apprentice of the Year was awarded to Corey Pilcher from Farol, Midhurst, who received a crystal plaque and an iPad.
These annual awards are based on the trainees' consistently high standards of work, both at their dealerships and at the training centre, over the three years.
"Successfully completing an apprenticeship is an achievement that deserves proper recognition and we were determined that these graduates should not miss out," said John Deere Limited training centre manager Allan Cochran.
John Deere's three-year Ag Tech and Turf Tech and two-year Parts Tech apprenticeships involve students being trained in engineering, electronics, hydraulics, diagnostics, communication skills, computing, sales and marketing. The programmes lead to IMI Level 2 & 3 Diplomas in Landbased Engineering and Vehicle Parts Competence, and registration at LTA Intermediate level in the industry's Landbased Training Accreditation scheme.
New student intakes are in September each year; apprentices need to be resident in the UK, sponsored by a John Deere dealer and aged 16 or over. The standard programmes include on-the-job training and assessment as well as eight weeks each year at the John Deere Apprentice Training Centre, when possible. Further details of the various programmes can be found at https://apprenticeshipfinder.co.uk/john-deere.