Keith Rennie Machinery Ltd (KRM) has announced a new distribution agreement with Danish manufacturer SIWI, making the company's full range of products available in the UK.
"We are very proud to work together with KRM." said Steen N. Jensen, sales and marketing director at SIWI. "The SIWI Combi Hitch is a reliable and strong product that is known in the market for its high quality and excellent service. The product line from KRM already consists of several other high-end Danish products, and that's why we pride ourselves in joining this family of strong brands."
The SIWI Combi-Hitch is said to speed up the connection between the tractor and the implement, with hydraulic couplers, pneumatic brakes, PTO drivelines and many electrical systems, including ISOBUS, all accommodated for.
"Hooking up a tractor-implement combination can be time-consuming, tiring and poses a potential risk to the operator," pointed out KRM's managing director, Mike Britton. "But this innovative technology is taking the job from minutes to seconds and leaves the operator safely in the tractor seat. The hitch is all about safety and efficiency, it's a fully automatic system where you can reverse back, hook up an implement without leaving the tractor at all."
KRM and SIWI state that is now possible for a farmer or contractor to work alone in the field with the highest possible level of comfort. For example, a lime spreader can be unhitched in seconds and the same tractor can be used to load the machine, before hitching back up and continuing the spreading operations. A customer in the UK has already purchased two systems and claims a 25% increase in efficiency, even being able to remove an additional man and tractor from some operations.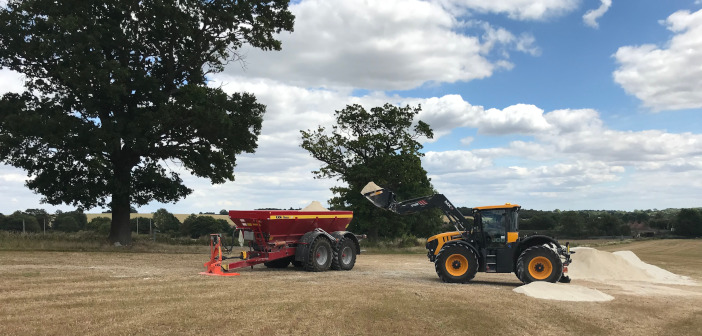 The history of SIWI
SIWI was founded by Rasmus Helms in 2012, specifically to market the Combi-Hitch system. Mr Helms grew up on one of Denmark's largest organic dairy farms and it was this experience that prompted the idea of a hitching system that did not need the operator to leave the cab.
Trained as an engineer, Mr Helms developed the first generation of the Combi-Hitch, primarily used for pulling trailers behind a forage harvester or tractor. As the system gained popularity, customers began asking for a version that could also connect a PTO shaft, which was introduced in 2018.
Now the company exports its products across the world, including Sweden, Belgium, Holland, France, Spain, England, Poland, Latvia, Ukraine, Canada, USA and Japan. The SIWI Hitch systems are produced in Denmark and the head office (Silkeborg, Denmark) consists of an assembly and test facility.
"We have customers with disabilities who want to return to their jobs despite missing legs or suffering from paralysis," Mr Jensen said. "These operators are very grateful that a product like ours can help them continue farming even after serious injuries."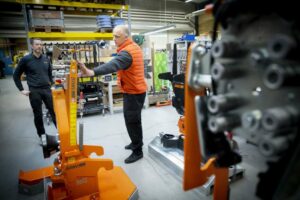 A Combi-Hitch system includes a carrying module that is mounted on the tractor and an attachment module that mounts on the implement or trailer. The tractor module fits the standard three-point hitch and can accommodate up to eight hydraulic couplers and two seven-pin power plugs for trailer lights. At the same time, there is a multi-electrical module that can be specified to accommodate ISOBUS connections, cameras and different control boxes.
Mr Jensen continued, "Our typical customers are farmers and contractors, where they want to be more effective and save money while being able to do a lot of jobs with one tractor and one operator."
Mr Britton concluded: "We have enjoyed an excellent working relationship with several Danish suppliers over many decades and have already been impressed by the quality and attention to detail of the SIWI products. Contractors are always looking for opportunities to increase output and/or improve efficiency, and the SIWI product does just that".
For more information go to www.krm-ltd.co.uk