As herd numbers continue to grow and farmers look to maximise their margins, there's been a clear increase in not only the size of feeding equipment but also the level of technology available. Automatic systems, weighing scales and the ability to fine tune rations to suit the group being fed has driven development in recent years. We take a look at the latest machines available on the market
Abbey's Diet Feeder range supports farmer needs from compact introductory machines to larger, industrial-size machines to better improve feed management systems, herd health and the bottom line. The range consists of 17 vertical auger diet feeders, from eight to 35 cubic metre capacity. The feed systems provide a unique low auger profile and an elevated top knife for improved bale processing and mixing. Abbey's long counter knife comes further up the feeder from the floor, aiding a faster breakdown process of material and the doors allow for an even discharge of material. Abbey is now offering a cable control changeover for 2-speed gearboxes on vertical diet feeders. Standard on all feeders is the new 2810 Digi-Star Weighing System, an intuitive management tool to access and analyse feed data. The system helps optimise TMR inputs through precision loading, improving profitability. The system includes a free mobile app for in-cab control.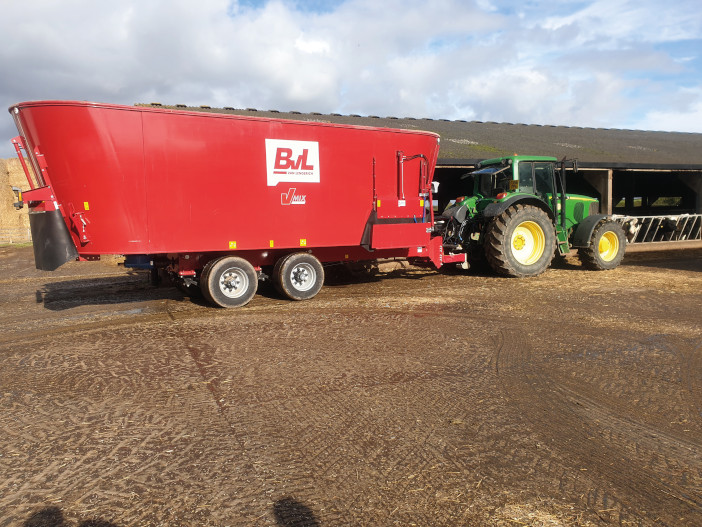 At the heart of the BvL V-Mix Plus triple auger mixer range are the powerful mixing augers, with Hardox leading edges and adjustable knives. The mixing chamber incorporates mixing wedges for a thorough and consistent mix, while the patented EDS (Exact DosingSystem) ensures an even forage discharge. To reduce load on the tractor and make the V-Mix easier to drive, BvL offers a Powershift gearbox which incorporates a reduction gear with integral hydraulic clutch. This allows the V-Mix to be started in a low gear and forPTO speed to be increased under load up to full mixing speed, so reducing strain on the drive train. BvL has also introduced the Dairy Feeder Go app, an entry-level version of the cloud-based BvL V-ConnectDairy Feeder system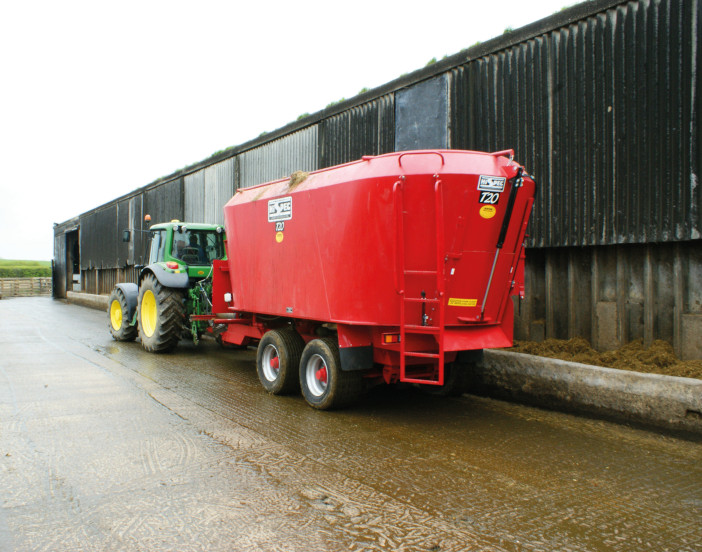 One of the main selling points of the Hi-Spec vertical f feed systems is the build, with 8mm body wall, 20mm floor and 20mm augers available as an option (15mm as standard). The mix produced is consistent and even, with all ingredients well incorporated into the mix. The feed-out elevator option folds within the width of the machine for transport and improves safety for a customer who needs to travel via road between mixes. Multiple feed-out options are available to suit any building/setup.The Mixmax paddle feeders are ideal for clamp silage and pure blend mixes. Using the feed-flo paddle system, they move the feed along the full length of the body and incorporate each ingredient thoroughly within the mix. They have low horsepower requirements which reduces the fuel and wear costs on the tractor.
Hustler promotes a rethink of feed systems, opting for a range of simple, hydraulically driven feed out machines including the Combi, which can handle round or square bales, silage, root crops and any other desired feedstock. It requires just 50-70 litres per minute oil flow and comes with an in-cab joystick. Product is loaded into the trailer, hydraulically pushed towards the front where it is fed out via a side elevator equipped with tine bars that break up bales and silage. Rounding out the range is the EzFeed machine, suitable for bulk silage, featuring a roller chain design said to limit the amount of maintenance and adjustment. It features TwinFeed for distribution to the left and right, is hydraulically driven and can be equipped with weighing and automatic functionality.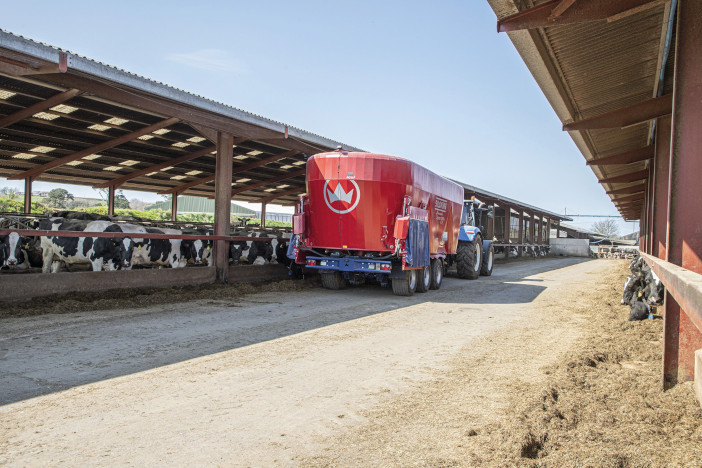 Kverneland's Siloking range include larger capacity trailed machines as well as self-propelled premium feeders. In the trailed range, all models are equipped with SILINOX wear protection and the robust square-bar frame, together with the powerful four-planet gearbox, ensures high operational reliability. Models fromTrailedLine 4.0 Premium 3022-26 upwards are equipped with a tandem axle, with steering axle or steering axle with positive steering as option. The self-propelled range of diet feeders have hopper capacities up to 32m³. The low models, Compact 12 and 13, are suited for low barn passages and are equipped with a 105kW Volvo 4-cylinder turbo diesel engine
Kuhn offers a range of feed systems featuring cross-conveyor feeding and triple vertical augers. The Euromix 3 CL/DL series includes four models with hopper capacities of 28m3to 45m3. Augers are designed with a continuous spiral and are fitted with seven knives with asymmetric teeth that have a self-cleaning effect. All models include an anti-overflow ring, increasing the height of the hopper to help prevent the loss of coarse and fibrous fodder during the chopping phases. Feed distribution is via a 1.2m door at the front and a 1.1m door to the right or left of the machine. Mixer wagon models have programmable weighing as standard, allowing pre-set mixing times, storage of ingredients and rations in the system memory.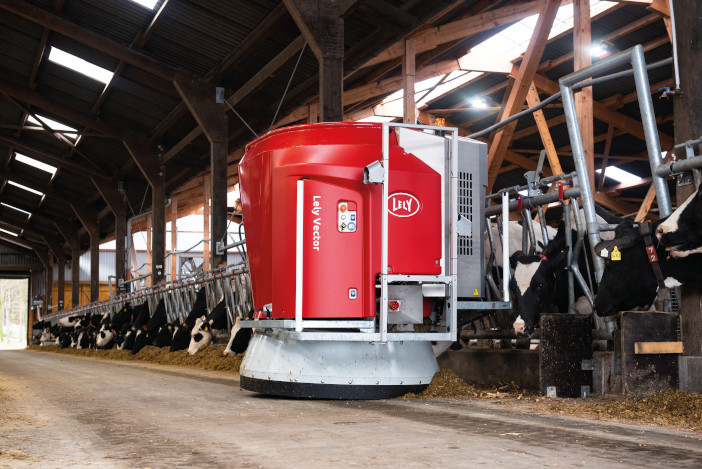 Lely's Vector setup is automatic feed systems tailored to each individual farm that monitors feed levels at the fence and can mix specific TMRs based on user-inputted recipes. It follows a specific path through the farm and can distinguish between cattle groups to ensure the right ration is fed. The company states an accuracy rate of 95-98% and as food is only delivered when required, and pushes up feed to the fence, waste is reduced to a minimum. When the system is installed, a 'kitchen' is fitted on farm where ingredients are stored. The Vector can then automatically mix and deliver exact TMR portions. A smartphone app enables monitoring and system control, in addition to the Lely Horizon Management programme, which can assist in daily management tasks.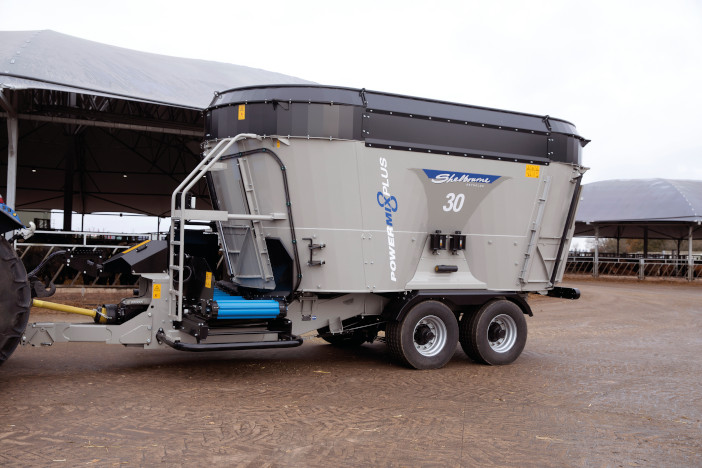 The Shelbourne Reynolds range features a central auger, which carries out both the chopping and mixing functions by lifting the ration ingredients up the centre of the mixer from where they move to the outside to be drawn back down to the bottom to begin the cycle again. The PowerMixPlus Wide Body is available in four models from 22m³ – 30m³ and boasts twin auger and tandem sprung axle machines with a short chassis for manoeuvrability. Compact models are available from 16-22m3 and feature either single axle or tandem axels. ThePowerMix Pro Side Door range comprises of four models with a single vertical auger and have a capacity from 9m³ – 15m³. The front mounted express conveyor is available as a fixed frame design where the feed can be discharged either to the left or right.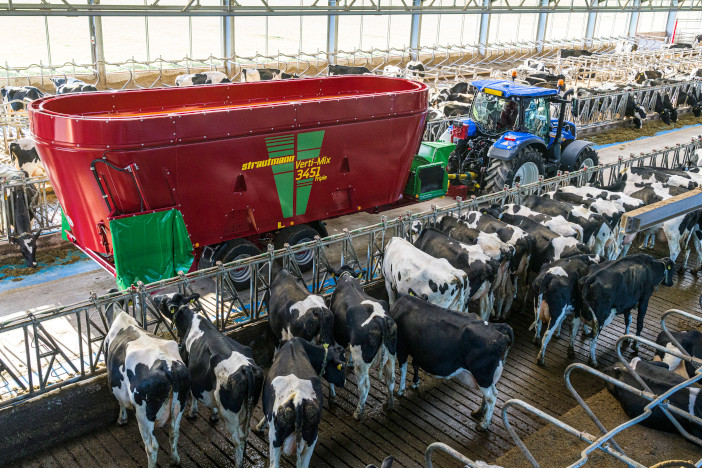 All Strautmann diet feeders come fitted with IMS (intensive mixing system) augers which have a unique 'stepped' flight design which tumbles the ration, giving a more homogenously mixed ration faster, this speeds up mixing time, reducing labour and tractor running time. HD 20mm augers can be specified, giving a 50% longer service life. For extra wear protection, Innodur stainless steel wear plates can be fitted to reduce corrosion between mixes. The conical, stepped design combined with the front and rear walls of the wagon at an angle of 17° enables faster and precise mixing at slower auger speeds to increase efficiency. Additionally, the IMS auger is matched to each tub size. Most tubs can be fitted with an extension. All Verti-Mix wagons are delivered with PTM HL50 programmable weighing as standard.