On the 11th June, Pöttinger opened its fourth production plant in St. Georgen near Grieskirchen, Austria. The company owners, the management team, employees and a small group of invited guests.
The 6,300 square metre site was completed in just one year, following an investment of 25 million Euros and the company will produce its round baler and large rakes there. Due to high levels of orders and limited space at the main plant in Grieskirchen, the company also held a groundbreaking ceremony, marking the start of construction on the second expansion pahse.
With another investment of 45 million Euros, the fourth site will be doubled in size to accommodate a paint shop, with a Cathodic dip, that is said to be environmentally friendly and provide a longer service life.
"We are pleased with the positive development of our business and want to use the momentum of current demand to achieve sustainability by expanding distribution and introducing new products. This development will be supported in the best possible way by these expansion phases," said Gregor Dietachmayr, spokesperson for the management team, delighted with the ongoing expansion work.
According to Pöttinger, the focus has not only been on developing machines with the best working results, but also the maximum conservation of resources. Sustainability has been a priority during the development of the new buildings:
Wood has been used throughout as a renewable building material;
Pöttinger has implemented a green roof to reduce the effects of soil sealing to a minimum;
Underfloor heating has been installed to make use of the residual heat from production processes;
Energy saving measures such as LED technology, thermal insulation and heat recovery are already part oft the company's philosophy.
The exterior also promotes biodiversity, with a 6,000 square metre flowering meadow in front of the plant and several beehives.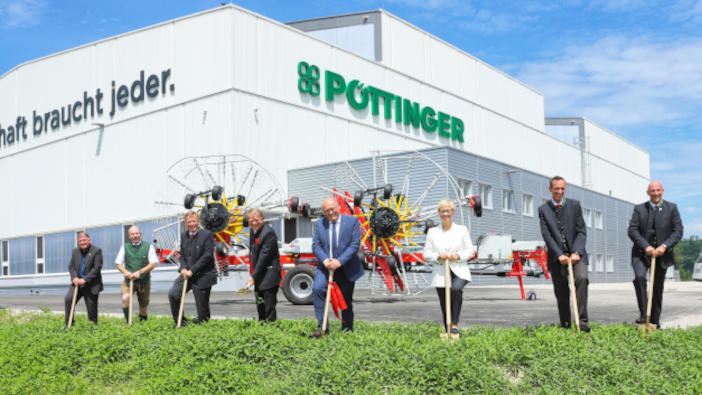 "The natural outdoor environment features wooded and lawn areas as open spaces for employees to enjoy during their breaks," explained Jörg Lechner, the managing director responsible for the construction project. He went on to say: "The new building will create additional value in the region as we once again strengthen our roots in Austria; a production location with high quality standards."
Around 60 employees will start assembly the Impress round baler and Top large rake ranges, with an ergonomic workplace.
"When the additional building has been completed, we will be able to offer another 30 to 40 people a high-quality workplace here," said Mr Lechner.