One of the largest UK manufacturers of farm machinery have been awarded for their muckspreaders and the backup they provide to customers.
Throughout 2021, Ktwo has been recognised by several industry bodies. The most recent award wins include BUILD Magazine's Construction & Engineering Awards 2021 Best Trailer & Muck Spreader Manufacturer (following a win for UK Leading Innovators in Agricultural Machinery in 2020), SME's British Made Awards 2021 Best Agricultural Trailers & Muck Spreaders Manufacturer and EU Business News Agriculture and Farming Awards 2021 Best International Trailer & Muck Spreading Machinery Manufacturer.
Robbie Polson, Ktwo managing director, said: "We pride ourselves on our innovation and quality, and we are very proud to be recognised as the Best Trailer & Muck Spreader Manufacturer in the UK and internationally. We continue to improve our products around our customer needs, and our improved MK5 versions of our Ktwo Bio and Ktwo Evo spreaders have been very well received by customers which is a credit to our fantastic team."
The company's range of Bio rear discharge muck spreaders with twin horizontal beaters are designed with the most accurate applications in mind. They're joined by the Evo range of vertical beat models, which are said to handle the most demanding conditions.
Both ranges were updated to MK5 in 2020 and the improvements were focused on increasing volumes and the ease of emptying. These have so far been well received by farmers and contractors.
"We received our new Ktwo Bio 1600 in 2020," explained Adrian from Thoresby Farms in Nottinghamshire. "We love it due to the high output and spreading accuracy. One of the key features for us was the hardened beater tips and wear plates due to spreading pig muck which has a high stone count."
He was also very pleased with the support from the Ktwo team. "The machine is very reliable, and we have good support from Ktwo on wearing parts. Ktwo supported us all the way in getting 100% output of the machine, all the time."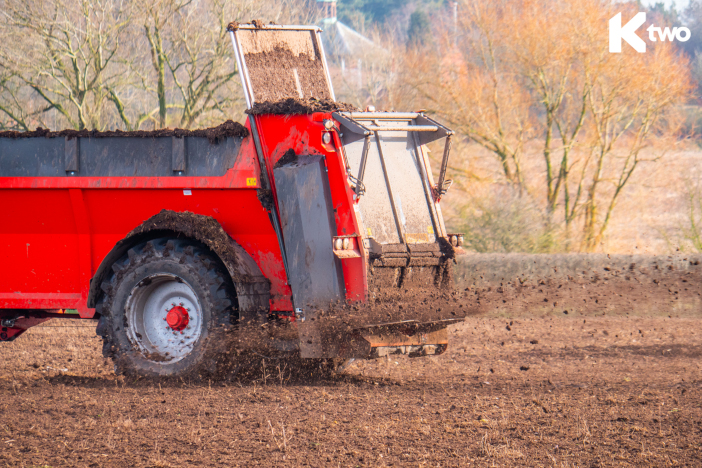 Robinson Contract Services, who were the first to receive the new MK5 Ktwo Bio's in 2020, have always recommended Ktwo both for their machines and as a company. Their general manager explained: "We have always had excellent backup from the Ktwo team regardless of whether this has been for parts, advice or joint head-scratching when problems have arisen.
"The Ktwo Bio's spread pattern and distance remain consistent across all manure types, enabling us to operate at the most common tramline widths without the need for lots of extra wheel marks and compaction in between – which is always a bonus with the customer! The Ktwo spreaders are also liked by the staff at Robinson Contract Services due to their ease of use (always a bonus when using seasonal staff), their ability to handle all products we've put through them and the fact that we can maintain them easily, to a high standard, in-house."
Will Green of Green Agricultural services said: "Having run Ktwo Bios in the past I have switched to Evos due to a change in workload. I have always found the support from Ktwo fantastic. The machines have always been brilliant, the build quality and spread patterns are outstanding. I would recommend them to anyone, not only for the machines but for the support Ktwo provide. These spreaders are a cornerstone of my business and will continue to be so for many years to come."
The company's spreader range also includes the versatile Duo muckspreaders and the lightweight Eco series. All models are available with a series of options to suit most operations.
For more information visit www.ktwo.co.uk