Article by Roger J. Stirnimann, Dipl.-Ing. agr., Dipl.-Ing. Wirtsch., executive MBA, University of Agricultural, Forestry and Food Sciences, Zollikofen
Agritechnica is regarded as the world's most important platform for innovations in agricultural machinery, not least because of the 'Agritechnica Innovation Award'. Once again, manufacturers have publicised a range of new products in advance and have registered many of these world premieres for an innovation award. The following contribution provides an overview of the most important tractor trends.
Diesel engines are constantly being evolved
Tractor development continues to be extensively influenced by exhaust emission legislation. In Europe, the final grace periods for 'transition engines' expire at the end of 2021, after which manufacturers are only permitted to supply tractors with exhaust emission stage Euro V engines from 2022 onwards.
Common rail fuel injection, four-valve technology, turbochargers, charge air cooling and electronic engine management remain the engine technology mainstays for being able to meet the requirements of power output, consumption and emissions. With exhaust emission stage Euro V, the diesel oxidation catalytic converter (DOC), diesel particulate filter (DPF) and selective catalytic reduction (SCR), exhaust gas after-treatment systems are also crucial, from an engine output of 56 kW.
Conversely, the use of exhaust gas recirculation (EGR) as an internal engine technology for reducing nitrogen oxide formation remains a 'philosophical question'. Some swear by EGR, others tend to reject it. When the engine ranges are looked at more closely, however, it is noticeable that the majority of manufacturers are pursuing a 'mixed strategy'. Below 56 kW, the nitrogen oxide limit values can be adhered to without SCR, which is why the maximum outputs of entry-level models in the compact class often lie just below this threshold (e.g. Deutz-Fahr 5080D Keyline or McCormick X5.085). Due to the tighter limit value for the particulate mass (0.015 g/kWh) and the new upper limit for the number of particles (1×1012/kWh), there is no getting around closed-loop DPF systems in exhaust emission level V engines (19 – 560 kW output classes).
Some manufacturers are attempting to avoid the term 'particulate filter' in their sales literature and are instead using designations such as 'soot catalytic converter'. However, this should not belie the fact that DPF systems are also involved here. The sole difference is the special coating of the filter honeycombs, which fosters passive regeneration at exhaust gas temperatures over 250°C. The number of active DPF regeneration processes undertaken by subsequently post-injecting diesel into the combustion chamber or through direct injection into the exhaust system can be reduced as a result.
Many tractor manufacturers are equipping their models with a boost function. So far, simple criteria such as 'minimum vehicle speed' and 'minimum output at the power take-off shaft' have usually been taken into account to release the additional output. Two years ago, Fendt introduced a power-boost concept called 'Dynamic Performance' in which the boost kicks in variably, depending on the power needed by ancillary consumers (fan, alternator, air conditioning and air compressor). The aim of this is that the same output should always be available at the actual power take-offs (wheels, PTO shaft, hydraulic system).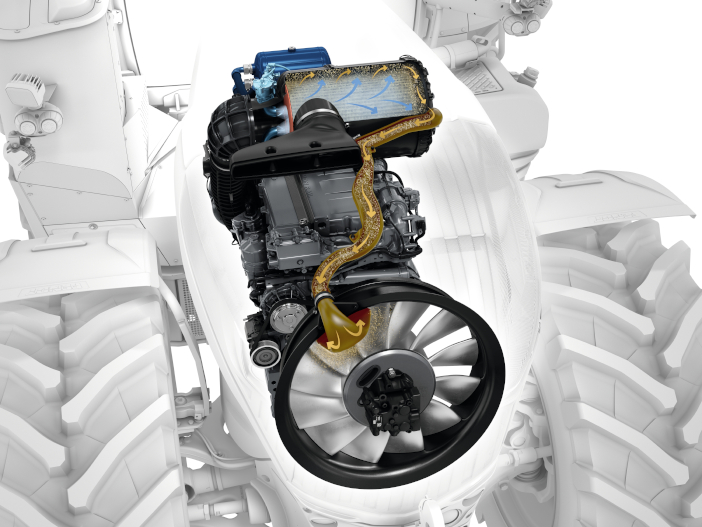 John Deere is also making its 'IPM' (Intelligent Power Management) system 'smarter' in the new 6R model series, and now also takes the hydraulic output into account. However, the 'Hydraulic IPM' system does not operate according to the black-and-white principle, but instead measures the effective power demand of the hydraulic pump and then provides exactly this additional power. This comes into play, for instance, in seed drills with hydraulically driven blowers, because the usual release criteria are not usually fulfilled in this case.
Viscous fans enable needs-based, energy-efficient engine cooling and have already been in use for decades in tractors. However, the classic solutions with bimetal springs that bend depending on the cooling air temperature and actuate the clutch valve are increasingly being replaced by viscous electric fans. Thanks to electromagnetically actuated valves, the engine electronics can be used to control when and what quantity of silicone oil flows from the reservoir into the working chamber, thus enabling active adjustment of the fan's rotational speed.
Fendt is now offering automatic air filter cleaning during operation for the revamped 900 and 1000 model series. A sensor measures the vacuum in the intake air system and triggers a cleaning cycle as required. The hydrostatically driven fan increases its rotational speed ten seconds before blowing out actually takes place, after which an electromagnetic pulse valve generates two short but powerful blasts of air inside the air filter elements. As a result of this, the dust is blown 'backwards' out of the air filter and is sucked out of the housing at the same time by the fan. The air required for this comes from a separate compressed air reservoir (10 l / 12 bar). The system functions under all operating conditions including full load. If necessary, cleaning can also be triggered manually.
Tractor engines are increasingly being equipped with automatic systems for valve clearance adjustment, to reduce maintenance effort. The engine oil change intervals are also becoming increasingly long: the previous benchmark of 750 hours of operation has now been increased to the 1,000-hour mark. The trend towards lower rated and idling speeds is continuing.
Gas and electricity as alternatives?
The debate surrounding CO2 is also shifting alternative fuels and drive systems into focus in the agricultural sector. New Holland is benefiting from the lengthy experience of its Group sibling Iveco and is the first manufacturer to launch a series production tractor with a gas engine in the form of the T6.180 Methane. The 6-cylinder engine operates according to the spark ignition principle and can therefore be powered exclusively with gas. According to the manufacturer, the vehicle's maximum output and torque values are identical to those of its diesel counterpart. The methane is carried along in the form of CNG (Compressed Natural Gas) in seven integrated pressure tanks (185 l / 32 kg); a so-called range extender with a further 270 l / 47 kg can be optionally mounted at the front of the tractor. Depending on the application, this energy store should be sufficient for three to six hours of work. Processed biogas with a methane content of at least 83% can also be used, which should make the tractor particularly interesting for farms with their own gas production/processing facilities.
Electric drive systems continue to remain on the sidelines in tractors. While studies and prototypes equipped with them have been presented time and again in the recent past, hardly any vehicles that are ready for series production have materialised so far. Battery electric vehicles are likely to make it past the line first. These are mainly suitable for light and medium-duty applications or for periodically recurring work in which sufficient time is available for intermediate charging. Often, however, conditions such as these are only met by small farmyard tractors.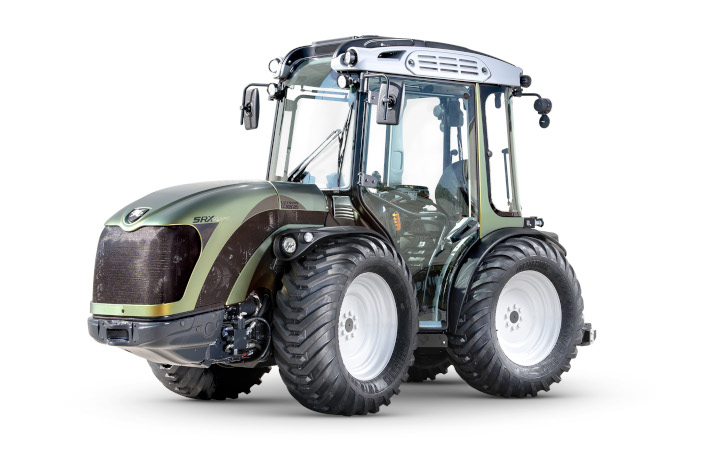 (R)evolutionary further development of stepless gearboxes
Stepless gearboxes with hydrostatic/mechanical power split have now been in use in tractors for around 25 years. While they were only available for standard tractors in the medium and upper output classes at first, they have also become established in large system tractors and articulated vehicles as well as in smaller tractors in the output range around 75 kW / 100 hp (incl. narrow-track versions) in recent years.
The most recent developments indicate a trend towards holistic drive concepts that go beyond the previous diesel-engine-with-gearbox systems. These include the VarioDrive concept from Fendt, which has also been used in the 900 model series for the past two years. Driving the front and rear axles separately enables the achievement of permanent and strain-free all-wheel drive at vehicle speeds up to 25 kph. Another example is the eAutoPowr gearbox from John Deere, in which electric motors are now used to steplessly adjust the gear ratio rather than a hydrostatic system. These generator/motor units are dimensioned so that they not only supply the drive but can additionally provide up to 100 kW of electric power for external consumers. If this power is used for the electrically powered driving axles of large trailers, for example, it leads to a multi-axle drive system that extends beyond the tractor. According to the manufacturer, the first 8R models with this gearbox should be available in Europe from the beginning of 2022 (8R370 and 8R410 top models).
Stepped gearbox development work in full swing, too
Powershift gearboxes are able to score points with their good full-load efficiencies and longevity, making them a good option particularly on farms with high levels of heavy haulage work. The tractor manufacturers have therefore continued to present new or extended partial and full powershift gearboxes in recent years.
The latest examples are the Dyna-7 and Dyna-E-Power powershift gearboxes from Massey Ferguson. The former is a 7-fold powershift gearbox with four synchronised ranges that is based on the previous Dyna-6 gearbox. The Dyna-E-Power has the same basic structure, but range changing under load takes place using dual clutches in this case, resulting in a full powershift gearbox with 28/28 gears (F/R). Very small stage jumps of around 1.09 can be achieved here in the speed range from 5 to 20 kph thanks to 'staggering' the two middle ranges. With the Dyna-7, the range of partial powershift gearboxes currently available on the market now has a 'consistent' number of powershift stages from two to eight.
Tractors with powershift gearboxes are increasingly being equipped with comfort functions that were previously reserved for their stepless counterparts: accelerator pedal/joystick modes, driving with the brake pedal without clutch pedal actuation, automatic actuation of the optimum engine operating points at partial load, etc. By doing this, the manufacturers are attempting to combine the advantages of stepped gearboxes with the operating comfort of stepless gearboxes.
Deutz-Fahr is implementing a special 'mix' of a stepped and stepless gearbox in its 'RVshift' for the new 6C model series (max. outputs from 126 to 143 hp). It will be positioned as a full powershift gearbox between the stepless TTV and the partial powershift gearboxes with two or three powershift stages. The basis for this is a further developed version of the company's own power-split TTV gearbox with new, automatic shifting of the basic mechanical stages, 'normal' and 'heavy duty'. A total of 20 gears (hard-coded gear ratios) are available for the usual field work and for on-road transport, whereas a stepless 'crawler gear' is available for working at speeds between 0.02 and 5 kph. In the interest of good efficiencies, four of the 20 gears are consciously set at the operating points at which the engine's power is transferred purely mechanically. The basic stages are shifted depending on load, which can take place between the first and the 15th gears.
Nowadays, achieving maximum vehicle speeds at reduced engine speeds is standard with both stepped and stepless gearboxes. The majority of tractor manufacturers offer three rotational speeds at the rear PTOs, with some offering no fewer than four (540/540E/1000/1000E). So that the advantages of the eco PTOs can also be exploited in front/rear combinations (e.g. with mowing attachments), two rotational speeds are also increasingly being offered at the front (1000/1000E).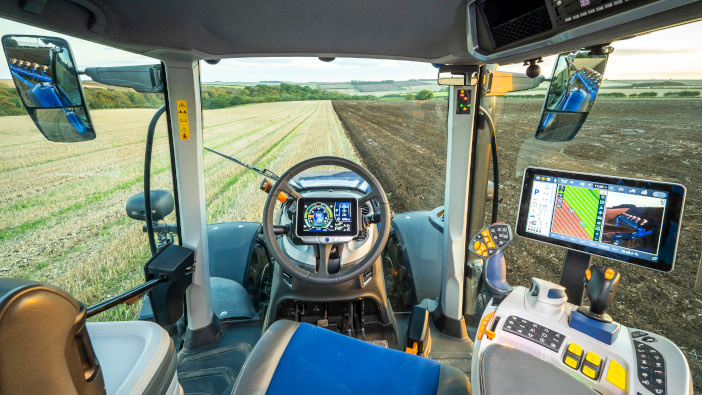 Digitalisation is making its mark on cab development
Driven by digitalisation, the past few months have seen a number of manufacturers presenting new model series, whose new features are found mainly in the cabs. Operator and display terminals with touch screen function and additional shortcut buttons or rotary/pushbutton actuators are intended to improve the interaction between the tractor and implement, and to make networking with the farm office easier. This enables work instructions and field data (field boundaries, guidelines, application maps, etc.) to be prepared anywhere on a PC or a mobile end device and then simply called up on the field. The number of clicks required in the cab can therefore be reduced and the machines can be adjusted quicker. Several terminals over which the displays can be distributed as required are also available in some cases. Some manufacturers additionally enable these to be transferred to commercially available tablets (e.g. Deutz-Fahr XTEND). The buttons on the control levers, armrests and additional joysticks can also be increasingly allocated as desired. Fendt is now also offering its FendtOne operating concept for the 200 V/F/P Vario narrow-track tractors and has additionally integrated seat adjustment in it (including memory functions for different drivers and operating situations).
The dashboards in front of the steering wheel are either digitalised or relocated in their entirety to the right-hand A-pillar. The new Case IH Optum / Steyr Terrus / New Holland T7HD, John Deere 6R, Massey Ferguson 8S and Valtra N/T model series are several examples of the latter variant. New Holland offers a fixed, digital display in the steering wheel as an option for the T7 HD models. The audio and mobile telephony systems, the electronic theft protection systems for cab doors and ignition locks and the integrated camera systems are now on a par with those found in cars. Variable steering ratios, in which the number of steering wheel turns needed to move the front wheels from full lock to full lock can be determined by the driver, have become increasingly widespread in recent years. Modern tractor cabs are fitted with mechanical, hydropneumatic or purely pneumatic suspension systems. To further increase comfort, these systems are increasingly being linked to those for the front axle and to the vibration damping system for the rear linkage.
 
Tractor/implement
Optimum interaction between the tractor and implements/trailers can help to increase productivity and safety. The manufacturers are therefore offering numerous assistance systems and automatic functions. Examples of these include the 'E-Loader' and 'Precision Lift&Load' front loader systems from Massey Ferguson and Valtra respectively. These include functions such as swing arm position return, horizontal tool return and 'shovel shaking' as well as a weighing system. Based on its CEMOS assistance system, Claas is now also offering a direct display of the soil compaction risk under current operating conditions. In order to calculate this, parameters such as the soil type/condition, dynamic axle loads or tyre pressures are linked with Terranimo®, a tool used to simulate soil loading and load bearing capacity that is recognised throughout Europe. Red-coloured pressure bulbs on the CEBIS terminal, for example, indicate a high risk of compaction, enabling the driver to then either abort the planned operation or implement suitable countermeasures.
To increase safety during transport work, several manufacturers (Claas, CNH, Deutz-Fahr) are now offering automatic anti-jack-knife brakes. This is aimed at preventing the trailer from pushing onto the tractor too excessively when the tractor is only decelerated using the engine's drag torque and the gearbox (without actuating the service brake). This situation is detected using various signals and the electronically regulated trailer control valve then automatically outputs pneumatic pressures of up to around two bar over the brake line. As a result, the tractor/trailer combinations are 'partially stretched' and unstable situations can be defused.