Rather than extend the existing silos, Lincolnshire farmers David Casswell and Boo Parkes have invested in Sukup grain drying silos, supplied by McArthur Agriculture. These units combine the capability to dry, cool and store combinable crops with minimal labour and, potentially, no re-handling.
"Needing more grain storage, I originally looked at extending my existing grain store but looking at the figures it worked out as an expensive option. Especially when trying to get quotes for the steel, we were told that we would have to pay the price that it was on the day of delivery!" explained Mr Casswell, who has a family farm of nearly 2,000 acres growing wheat, barley, OSR, sugar beet, vining peas, onions and spring beans, at South Kyme in the east Lincolnshire Fens.
He then looked at using silos and saw that the Sukup range would deliver more flexibility, enabling him to store and condition grain for long-term storage, as well as being used as a batch drier in wet weather.
"I talked to the McArthur team and they came across as being very professional and very well organised. Importantly, they gave us the confidence that they would deliver what they said, when they said," continued Mr Casswell. "It was also very helpful that they were able to take us to look at an existing local Sukup installation."
Installation of the 4207 Sukup, which is filled by an auger, was much quicker than he had expected. Once the groundwork had been completed, the installers started work on a Sunday and finished the following Thursday night.
"From first contact, both McArthur Agriculture and Sukup did an outstanding job", he said. "Importantly, support has been readily available as required during our first harvest with the new system. We now have approximately another 700t of additional storage and currently have 500t of spring barley in the Sukup, where it will stay until it is sold."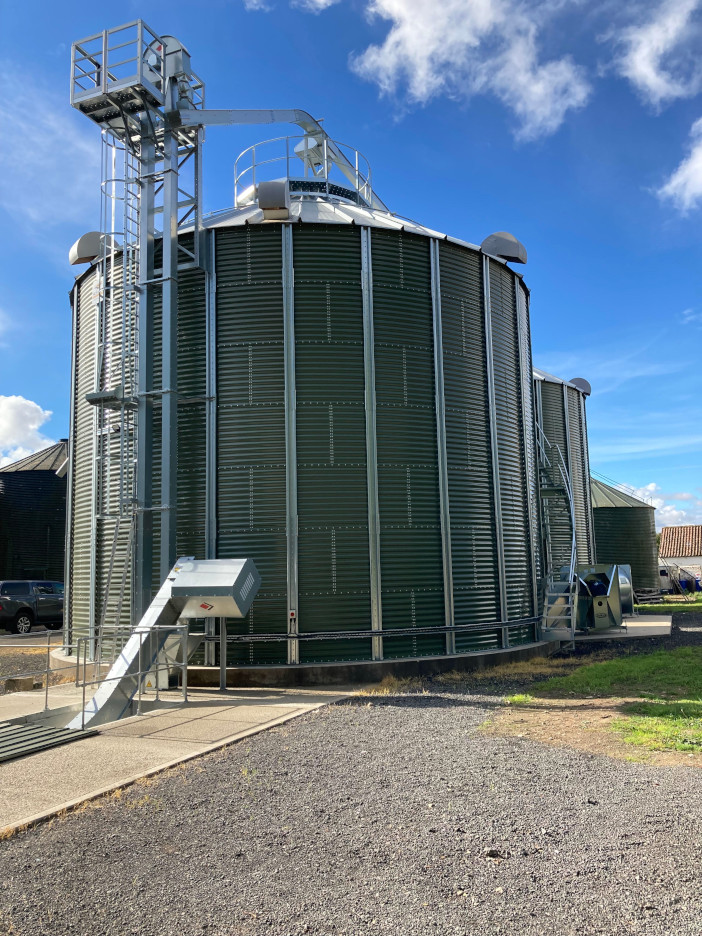 Boo Parkes, who farms 520 acres of spring barley, winter barley, spring beans, wheat and OSR, in Grimsby, was an existing McArthur Agriculture customer.
"Needing additional storage and drying capabilities, I first looked at installing a drier and grain handling kit in one existing shed and then upgrading the underfloor drying system in another shed. On looking at the costings they were very similar to purchasing two Sukup drying silos which would provide the extra storage I needed," said Mr Parkes.
Two 3607 Sukup drying silos, providing an additional 1,000 tonnes of storage were supplied. As the farmyard is not large, they are fed by a Skandia trench intake, rather than an auger which would have tied up a tractor and meant that it was a two-man job.
"My two Sukup silos are overall very cost-effective. They have greatly reduced wear and tear of machinery previously used to handle grain, particularly my telehandler, plus help to maximise my time," continued Mr Parkes.
"For example, previously when grain left the farm, I had to spend time using the telehandler to load the lorry. This meant the telehandler was heavily used and tied up my tractor. If I was using the tractor for something else, like drilling, I had to stop to load the grain. Now the lorry driver can press a button and the grain is discharged without me having to be in the yard."
Once harvested, grain is put in the top of the silo and distributed evenly using a spreader. Once the grain is 0.5m to 1m deep, the farmer can start the fan and begin the drying process. Air is heated to 40-45 degrees and enters from the base. Stirrers mix the whole area and once dry, the unit switches to a controlled cooling stage.
"The Sukup drying silos are a great fit for me and delivered the extra storage and drying capacity I needed and they easily meet the additional demands of a larger combine. In a word they are brilliant!" concluded Mr Parkes.
For more information go to www.mcarthuragriculture.co.uk