Waitrose has become the first UK supermarket to use manure produced on its own farm to fuel on-site tractors.
Leckford Estate sits within 2,800 acres of idyllic Hampshire countryside and is the only supermarket-owned farm in the UK. The Waitrose Farm produces arable crops, apples, pears and grapes which it utilises in bespoke Leckford and Waitrose-branded products, and it is also home to a 500-strong herd of cattle. The by-product of this herd is the focus of an exciting new project launched as a partnership between Waitrose Partnerships, New Holland and Cornwall-based clean energy experts Bennamann.
The project forms part of the Waitrose & Partners' aim to reach net zero across its own operations by 2035 and across its entire supply chain by 2050 and it sees the brand's own farm utilise cattle by-products to create fuel, powering it's purpose-built New Holland T6 Methane tractor.
How does it work?
The contribution of cattle to greenhouse gas emissions is well known, and the aim of the system at Leckford Estate is to capture the methane released by manure and harvest it to power machinery, reducing the site's diesel reliance and improve its carbon footprint.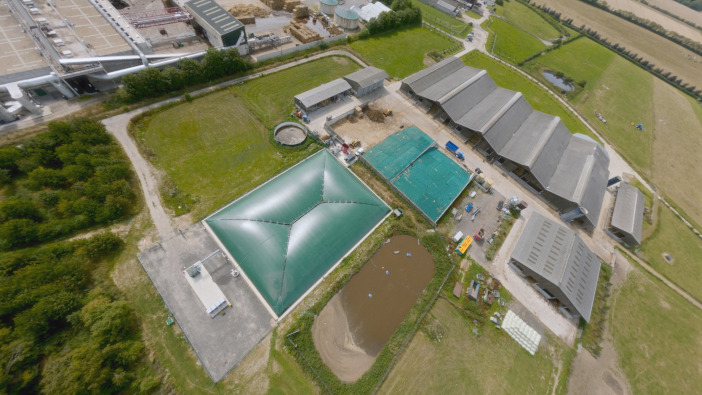 At the on-farm facility – the largest of its kind in the UK – the manure and organic waste from the farm is deposited into the purpose-built covered lagoon, built to the size of two-and-a-half Olympic swimming pools. The fluid which enters the lagoon emits gases, including methane. As the decomposition process happens, these are trapped, cleaned and upgraded in the system to biomethane gas, in turn this is used to power compressed natural gas (CNG) tractors.
In a truly cyclical process, the solid by-product is extracted as a nutrient-rich digestate and can be used as a natural fertiliser which is pumped directly back onto the fields to support the land on which the cattle feed is grown.
The plant was designed and built by Bennamann who aim to support farms of any size to establish energy independence and improve business profitability through reduced energy and fertiliser costs. Michael Simpson, Bennamann chief executive officer said: "This partnership and investment into cutting-edge farming practises like our bespoke biomethane facility, has enabled the development of our next generation retrofit methane capture ecosystem.
"Our new retrofit slurry cover and methane capture technology, makes it even more affordable to the small to medium sized dairy farmers, who can generate additional revenue or cost savings through the sale of excess biomethane or making their own 100% natural fertiliser as a byproduct. The fuel can also be converted into electricity for powering their farms, charging electric vehicles or powering dairy equipment."
Pleased by the work of the partnership as a whole and the impact this could have industry-wide, he continued: "This partnership demonstrates bold leadership by one of the UK's most iconic retailers of how we can get to net zero, showcasing agriculture as the solution and not the problem."
Net-zero – leading the force for change.
Waitrose & Partners has committed to reaching net zero across its operations by 2035, and this project shows a significant step towards that. James Bailey, executive director of Waitrose, said: "Two years ago we challenged ourselves to use Leckford as an experiment in farming best practices, to pave the way for genuine solutions to help conserve our soil, air and water for the future generations, and our biomethane lagoon does just that. An innovative example to help our farm and hopefully other farms, reach net zero."
Andrew Hoad, head of Leckford Estate, said: "Reduction in use of fossil fuels and capturing fugitive methane are an important part of us becoming Carbon Net Zero as a farm, ahead of our 2035 Partnership goal.
"This sits as part of our wider move to regenerative farming and our ambition is to make Leckford a centre of excellence for regenerative farming practices where we can innovate, learn and share with others to help others adopt practices that help nature's recovery and mitigate the impacts of climate change.
"We are working as three British based businesses to deliver industry leading research and development into more sustainable ways of using farm animal waste and are excited about this technology and its potential to help farmers become more energy independent, pave the way to becoming carbon neutral and support net zero targets."
The partnership's investment into advanced farming practices is a demonstration of the company's desire to be an industry leader at the forefront of innovation of this kind. It hopes to provide a platform to support others in the farming community to take similar steps. The facility at Leckford Estate has been designed to meet the requirements of the Slurry Infrastructure Grant which may help livestock farmers interested in adopting the technology on their farms.
In addition to the work being done at Leckford Estate, Waitrose are tackling the issue of fuel within the firm's delivery fleet, with 400 out of the 520 Waitrose trucks on the road now running on biomethane fuel.
Defra Minister Lord Benyon was on site at the official opening of the new facility, he said: "Waitrose's new biomethane facility really showcases the power of British businesses coming together to unlock innovative ways of helping to reduce carbon emissions in farming and tackle climate change.
"It is pioneering projects such as this, alongside the government's continued investment in the development of new technology, robotics and automation, that will drive positive change across the sector and lay the groundwork for a more productive and sustainable agricultural industry that delivers for farmers, the economy and the environment."