AGCO Parts has announced the prize winners of the six month Vin to Win competition, including the lucky recipient of the Ultimate Refurb – a money can't buy Massey Ferguson tractor restoration.
The competition ran from March to September, inviting customers to tell AGCO about their machines in exchange for access to monthly online games. There were 7,665 entrants with over 123 winning instant prizes of branded overalls worth over €70 and model tractors worth over €50.
Each game played gave the customer a golden ticket for the Grand Prize Draw in September, increasing their chances to win one of the main prizes.
Robert Bowyer, who entered on behalf of his family including father Nigel, from the UK, was revealed as the Ultimate Refurb winner. The family's MF 5455 will be treated to a full refurbishment later this year, with the export team at the Beauvais factory restoring the tractor to factory condition using genuine AGCO parts.
Robert said: "I had literally just stepped off my MF 5455 after a long day when I received the call about winning the Ultimate Refurb for it from MF. Honestly, I thought someone was pulling my leg at first, but I'm delighted to have won! This tractor has been a gem – we've had it since new and spent 18,000 hours working with it so winning this prize will give it the new lease of life it deserves."
Also announced were two of the three winners of a 412-piece workshop trolley – Anthony Finnegen from Ireland and Nicolas Greselle from France, with one lucky winner still to be confirmed. These winners each received an MF branded Efficient trolley, worth over €3,200 and stocked with high-quality tools designed to last.
Other prize winners include Denis from Dungiven, Northern Ireland, who won an MF 7726 worth over €50.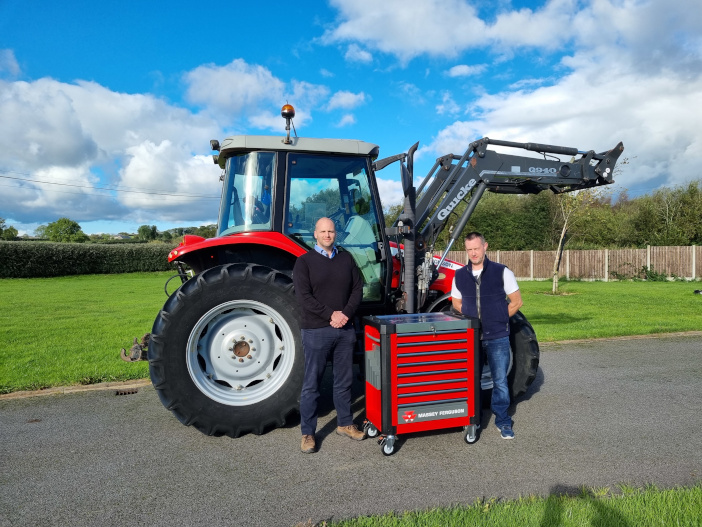 Jen Reid, AGCO's aftersales marketing manager, said: "We've loved getting closer to our farmers with Vin to Win, and it's brilliant to announce Robert as the winner of this once-in-a-lifetime prize. We've got an amazing team of technicians, and partners like Michelin and Quicke, who are gearing up to make this the Ultimate Refurb of Robert and Nigel's tractor. We can't wait to share our progress over the coming months on social media and our webpage.
"We hope Anthony and Nicolas will be very happy with their workshop trolleys, too – hopefully they'll never need to buy a tool again!
"Vin to Win has been a six-month initiative designed to build and strengthen relationships with Massey Ferguson owners, and I feel it's been a real success. Thank you to everyone who entered, played the instant games and spread the word", she concludes.
"We are always delighted to promote and support new initiatives that bring value to our customers, allowing them to maintain their machines at peak efficiency. This can take the form of bringing new life to their Massey Ferguson, as with the Ultimate Refurb," said Jerome Aubrion, marketing director Massey Ferguson, Europe & Middle East.
"When a farmer chooses a Massey Ferguson, she or he is not simply buying a machine like any other. Our customers appreciate the benefits of reliable products that become the ideal partners for highly productive working days. They also enjoy the comprehensive range of MF services and share our passion for creating machines that last.
"These machines will earn heritage value that can be passed on to the next generation – value that's clearly at the heart of the Vin to Win initiative."
The refurbishment process will be documented online through the AGCO Parts EME YouTube channel.