Lobbying for policy change on behalf of contractors and providing day-to-day support makes up a full workload for the NAAC.
We often think of contracting as a more modern development of agricultural work. Something that, in the last fifty or so years, has become more prominent as farm margins are squeezed and machinery increases in price. It may come as a surprise then to find out that the National Association of Agricultural Contractors (NAAC) has existed in one form or another since 1893.
"It was originally the Traction Engine Association," explained Jill Hewitt, chief executive of the NAAC. "And what's interesting is that minutes from those meetings show a lot of the same issues that the NAAC is lobbying for today."
At the turn of the 20th century, a key issue for agricultural workers was road legislation – a contentious issue even now as weight and width limits do not reflect modern farming equipment. Like the NAAC in 2021, the cost of membership to the Traction Engine Association was based on a business' turnover.
"The aims of the organisation have remained very similar," Jill said. "To provide support to contractors and lobby government for greater recognition."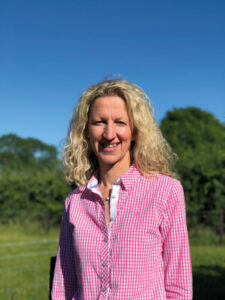 Jill has worked with the NAAC for twenty years and been chief executive of the organisation for two years. Speaking to her over Zoom – "the new normal" – she acknowledged that the last twelve months have been challenging as the NAAC has strived to maintain a high level of contact with its members even without the opportunity to meet face-to-face.
"We look at the membership as one big family, so it has been difficult not seeing them. During Covid-19, we started sending out daily emails so that contractors were aware of the changing situation and could adapt their businesses appropriately," she explained.
"One of the big aims for the NAAC is to put contractors in touch with each other. To create an environment where they can share ideas, ask for advice and keep up to date with the latest news and legislation to ensure they are always offering the best possible service. The members have my phone number and I'm always talking with them."
Linking policy with reality
A mission statement of the NAAC is to lobby government for greater recognition of contractors and to help guide policy decisions with contractors in mind. At present the membership has a collective turnover of approximately £140 million annually; a significant figure collected by operators who have historically been excluded from policy-making decisions.
Jill highlighted two significant decisions during her tenure with the organisation as 'lines in the sand' to legitimise the contracting industry.
"The memorandum on the use of red diesel in 2008 recognised contractors as farmers without land and clarified their position on the use of rebated fuel. This was absolutely vital to legitimising our industry," Jill explained. "The second was the decision to allow contractors to access grant funding, announced at the start of the year.
"Contractors are used by more than 90% of farmers and are will be keen to invest in the most up to date equipment to improve accuracy and meet environmental demands. We're currently working with Defra to help decide what technologies and machinery should be on the list to allow innovative contractors to push forward, with the first set of grants due to be available this autumn."
This decision will set a precedent, Jill continued, and make it more practical for contractors to purchase more advanced equipment. This could include the means for variable rate application of organic and artificial fertilisers, section and nozzle control for chemical spraying and technologies to reduce ground pressure and soil movement.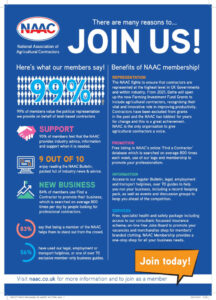 At its heart, the NAAC is focused on helping contractors prove their professionalism and promote this to potential customers through its Find A Contractor search engine, which displays contractors by region and service. According to Jill, this gets over 800 hits each week of hits a month, with users not just searching for broad acre work but also amenity operations, snow clearance and corporate work.
"Since we joined forces with the Land Drainage Contractors Association, we have been able to broaden our remit and function as the only land-based contracting trade association in the country," Jill explained.
The guidance to maintain a level of professionalism not only includes telephone and online consultations around legal obligations and health and safety management. The NAAC keeps its members informed about policy changes, can offer support regarding business decisions and, since the impact of Covid-19 has organised webinars to cover broad topics such as employment, precision technologies and government policies.
"It started as a way to make up for the lack of face-to-face meetings, but we've seen a real value in them," Jill said. "For one, they are not as time-consuming for our members because they do not have to travel but allows them to continue networking and sharing ideas, as well as starting to think about systems that may play a significant role in their businesses going forward.
"We're constantly revaluating what we can do to help our members and I think this will be something we continue to offer, as well an increased social media presence and a focus on the mental wellbeing of contractors. Agriculture is a solitary occupation and can come with huge financial burdens. We feel a commitment to not only help improve businesses but also provide a level of support."
Additionally, Jill said that the unprecedented circumstances now have, in some ways, helped the NAAC to be more prevalent on a national level. "I have been able to attend a lot more consultations and represent contractors across a range of issues because these meetings are held online."
Benchmarking and communication
As farming looks to a very different future, Jill believes that the NAAC will have a crucial role to play. "By putting our members in contact with each other and providing a central hub of information we can help them to adapt. Farming will be more of a partnership going forward, with landowners being more reliant on the knowledge and investment of contractors."
In this regard, the NAAC's costings will play a huge role. Jill explained that the industry is not a race to the bottom and that contractors, more than ever, need to carefully justify their expenditure and ensure their businesses are profitable.
"Machinery and precision technology is a substantial expense, and our members should not be ashamed to make money. There are clear variations by region but by benchmarking certain costs and staying connected with contractors we can hopefully change mindsets. All while representing our industry at a government level."
A worthwhile investment
To find out more about what the NAAC does on a day-to-day basis and to hear more about its value to contractors across the UK, we approached four businesses for their views on what they get for their monthly fee.
Matt Redman, of Matt Redman Agriculture, Cambridgeshire, now acts as chairman of the NAAC but has been a member of the organisation for nine years.
"I joined within six months of starting my own business," he said. "It was an opportunity to get advice from my peers and to set myself apart from local competition, and I really benefitted from the various templates available to ensure my paperwork was up to date. When you compare what it could cost to hire someone to get that side of the business in order, the monthly fee, especially for a new business, is a small price to pay."
Mr Redman also highlighted how important it is to have a trade association fighting for contractors. "Because of the work we've done in the past, Defra now consults with the NAAC about future policies, instead of us having to make our voices heard. As the organisation has grown, so has the voice of contractors across the UK."
Similarly to Mr Redman, Chris Gardner of Mill Farm Ashorne, Warwickshire, joined the NAAC shortly after establishing his contracting business and saw it as an opportunity to network and learn from established operators. He added that the NAAC is like a family, keen to help each other and work together.
"It isn't just the list of assured contractors that brings in additional work. Members are friends and talk regularly to offer advice. If there's a job that another member is equipped for, we pass on their details," Mr Gardner said.
He noted that the last twelve months have been difficult because of the lack of face-to-face communication but praised the team at the NAAC for maintaining a high level of contact. He further added that the organisation is streamlined, meaning that it's easy to get the information you need.
"Whenever I've had a query, Jill and the team have been able to get me the answer I need. They are on the ball and it's good to have a voice on a government level. With more members, the NAAC will only gain more momentum," Mr Gardner concluded.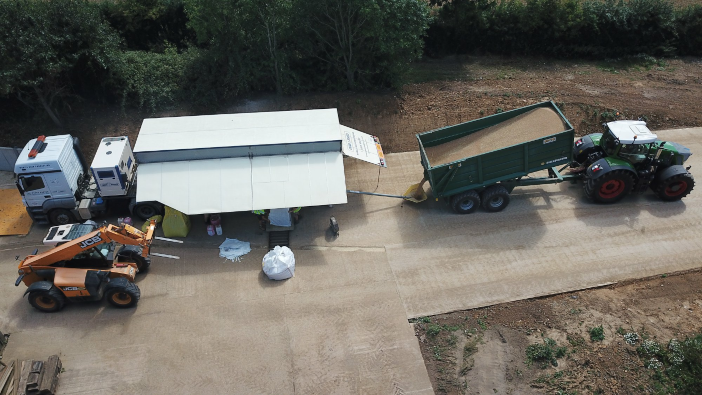 According to Rob White, of seed processors, Evans & Pearce, Dorset, one of the NAAC's greatest achievements is the implementation of a royalty system for farm-saved seed – meaning that plant breeders could continue to offer cost-effective alternatives to certified seed companies.
"Our system is so robust that we're the envy of the world," Mr White said. "It's balanced so that the farmer can still make a profit but so can the breeders, and without farm-saved seed there would be no competition in the market so the whole industry would lose out."
He added that the Verified Seed scheme ensures that mobile seed processors are held to a professional standard and offer a product free from contamination. "It's important to have an element of control. It's good for the end-user and the companies themselves. Again, the NAAC has such a comprehensive system in place that we can confidently say we are fifteen years ahead of certified seed companies and this gives the farmers confidence in our product."
According to Jonathan West, of FGS Agri, Kent, the key benefit of being a NAAC member is having the voice of contractors heard at a prominent level, not just in government but also in commercial situations. He highlighted the recent issues with biodiesel causing blocked filters and that the NAAC were able to speak to fuel suppliers to find a solution.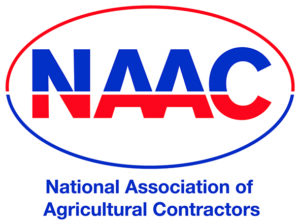 "A single contractor on their own wouldn't have that kind of sway but together we can be recognised," he said. "You only have to look at the continued use of rebated fuel, something that is vital to contractors and yet would possibly be a thing of the past without the intervention of the NAAC."
More details about the NAAC is available at www.naac.co.uk