I.F. Jackson & Son, headed up by Ian and Tom Jackson, made the decision to invest in a new grain drying system to increase their temporary storage capacity for wet grain, as well as to increase the level of automation around drying crops before storage.
They opted for an electric, automatic Mecmar SSI 28T mobile drier, delivered by McArthur Agriculture. "We purchased our previous Mecmar from DMI Mechanical Engineers, now part of McArthur Agriculture, in 2016 and it served us extremely well," explained Ian Jackson, who with son Tom and another joint venture, farm 1,000 hectares in and around Bowsden near Berwick upon Tweed. Cropping is split 60/40% between winter and spring crops.
"When we took the decision to invest in a new 5,000t grain store to house a small grain drying plant which would allow us to add further automation features, we capitalised on the initial investment by refreshing our existing Mecmar with a new Mecmar SSI 28 T, electric, automatic, mobile drier with aspirator cleaner. We were entirely satisfied with our previous Mecmar and could find no reason to change either the drier or the supplier!"
"The new grain store gave us the space to increase our capacity for the temporary storage of wet grain. We already had one 30t hopper and we purchased a second, enabling us to hold 60t of wet grain in front of the drier," he continued.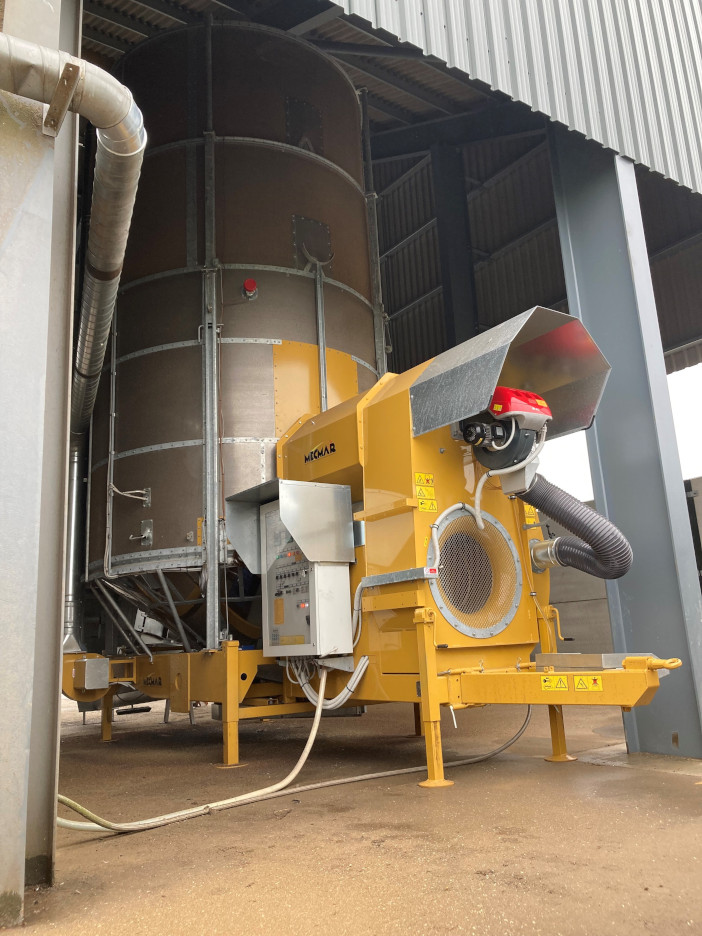 Both hoppers are filled using the farm's loading shovel, with a three-tonne capacity toe tip bucket. The original hopper feeds directly onto the Mecmar loading auger, while the second uses a new eight-inch auger to transfer grain across automatically as the first hopper empties.
When the Mecmar and both hoppers are full, the Jacksons can dry and cool 84 tonnes of grain without intervening, saving man hours during harvest time.
Initially, the machine was situated at the gable end of the new store and was open to the elements. Due to losing some days during harvest due to poor weather, the Jacksons added an open-sided extension to provide protection from the weather.
As well as drying the grain, the system also conditions it as it is constantly moved during the drying and cooling process, which improves the bushel weight. Once dried, grain is discharged into a heap and moved and pushed with the loading shovel.
However, plans are in place to increase automation by installing an incline conveyor to transfer grain to a top belt conveyor, taking it to the required location in the store.
"I had worked with DMI Mechanical Engineers since 1996 and had a long and trusted relationship with its senior management which has carried on without interruption with the transition to the McArthur Agriculture team. The installation and ongoing services they have delivered have been faultless," said Ian.
"The end result is that working closely with McArthur Agriculture we have a plant that exactly meets our requirements for today and which can be adapted to meet future requirements. But importantly, it is a flexible and adaptable solution, which should the farming landscape significantly alter due to the unprecedented changes that are currently taking place across the agriculture sector, we could pack-up the entire grain drying system and sell it, which would not be the case with other solutions. We really do have a plant that will allow us to take the business forward in whichever direction is necessary," he concluded.