Growers across the country will be able to obtain a detailed insight into the work being undertaken at Agrovista's flagship trial site, Lamport AgX, previously known as Project Lamport, via a virtual 360-degree online tour.
The Northamptonshire site is a major project, examining how rotations, cover cropping and regenerative agriculture practices can improve soil health, while also delivering commercially viable crops and reducing the pressure of weeds such as blackgrass.
Agrovista marketing manager Chris Okane said: "The virtual tour is open to all growers, whether they are Agrovista customers or not, and is the next best thing to visiting the actual site. It allows visitors to navigate around the various cropping systems at Lamport AgX to give a more interactive feel.
"The work we are carrying out at Lamport AgX contains important pointers as to how arable farming will evolve over the next few years, to help growers meet head-on the technical and environmental challenges that lie ahead.
"Due to the covid uncertainty earlier this summer, many growers were uncomfortable at the thought of visiting an event and we also had to restrict visitor numbers.
"This new initiative will enable as wide an audience as possible to access some of the key sector-leading findings at Lamport AgX."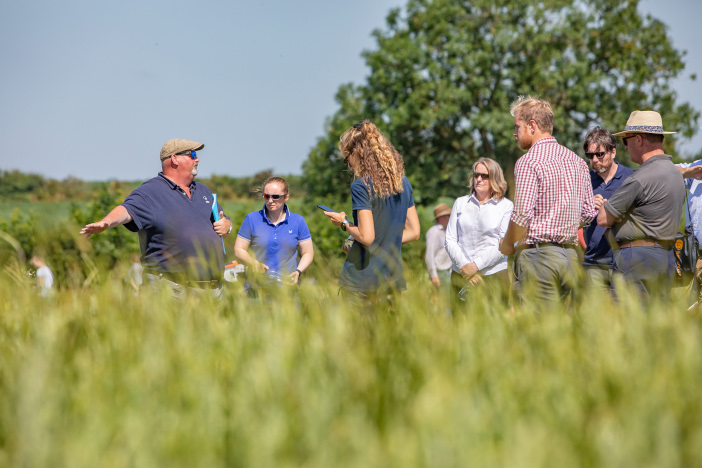 The tour kicks off with an in-depth explanation from the head of soil health, Chris Martin, who uses results from the company's Gold Soil Health report to discuss optimum soil management on the site.
Several different systems are then examined with research and development advisor Niall Atkinson. He looks at various options to reintroduce winter wheat into the Lamport rotation, which has been dominated by cover crop and spring cropping sequences over the last eight years to tackle blackgrass issues and deliver profitable crops.
A section also looks into cover crop establishment, including broadcasting seeds into a standing crop several weeks ahead of harvest, said to offer crucial additional weeks for the soil to reap the benefits. Using cultivation for conventional cover crop establishment is also covered, as well as comparisons to fallow plots.
There is also a session with technical manager Mark Hemmant testing regenerative agriculture principles in spring drilled wheat after a cover crop to see how these might fit into a conventional system. The plot, which features companion crops to condition the soil and fix nitrogen, has largely done away with conventional inputs, instead using biostimulants and the latest nutritional treatments.
The tour concludes with a review of the key findings at Lamport AgX from the last two years.
The interactive experience allows users to navigate their way through the trials at their own pace, with access to ten videos and background information on highlighted plots. It can be accessed here. For those who prefer to view the videos only, these can be found here.