RAGT Seeds has been trialling the winter wheat variety RGT Wolverine, said to be Europe's first to offer resistance to barley yellow dwarf virus (BYDV).
Speaking a recent open day, cereals and oilseed rape product manager Tom Dummett said: "It is clear to see from trials and field experience that the variety offers exceptionally cost-effective, season-long protection against BYDV.
"That's very good news for growers. It is estimated that 82% of the wheat crop area is at risk from BYDV. Yield losses in untreated crops average 8% but can reach 60%.
"But the withdrawal of neonicotinoid seed treatments has had a significant impact on BYDV management for the past couple of seasons, leaving pyrethroid insecticides as the only remaining chemical option to control the aphid vectors."
RGT Wolverine will be widely available for sowing this autumn and is said to offer protection from the day it is planted to the day it is cut. Assuming a seed rate of 175kg per hectare, this resistance trait costs just £15 per hectare.
"That is exceptional value for money, especially when you consider that neonicotinoid seed treatments, which were widely used, had been costing farmers about £23/ha for six weeks' control," said Mr Dummett.
"This was often followed by a pyrethroid to extend protection by a week or two. Including application costs, that added a further £17/ha, taking the total to £40/ha."
Now that neonicotinoids have been withdrawn, farmers facing similar aphid pressure may need to spray pyrethroids two times at a possible cost of £34 per hectare, potentially more, and often with questionable results according to Mr Dummett.
"Pyrethroids only have a relative short period of activity, which means repeat applications may be needed. In addition, resistant aphids can be found in increasing numbers across the UK.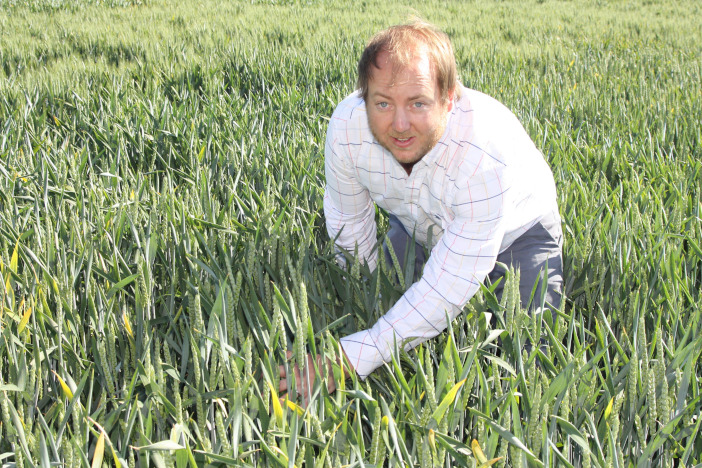 "Assuming an average 8% loss on an 8t/ha crop worth £160/t, the cost of Wolverine's genetic solution equates to a return on investment of almost £88/ha.
"It's a no-brainer, especially when you consider it also greatly eases management, removes the need to monitor aphid populations and benefits the environment. Growers who choose RGT Wolverine really can forget about BYDV control."
Put through its paces
The trials at the RAGT Seeds Ickleton site, Cambridgeshire, are designed to put varieties under extreme pressure. RGT Wolverine is a high yielding, hard feed variety which contains the Bdv2 gene to confer resistance to BYDV and has recently been promoted to the Recommended List.
It was sown during early September and inoculated with virus-laden aphids four times in the autumn and four times in the spring. Plots were assessed weekly for disease symptoms from mid-April.
Along with other Bdv2 pipeline varieties, RGT Wolverine was able to withstand infection, while several widely grown commercial wheats suffered badly, according to the company, with the worst affected showing severe stunting and yellowing.
"All 13 non-Bdv2 wheats in the trial are showing symptoms, from obvious multiple infection sites to stunting throughout the plot," said Mr Dummett. "The difference between the worst-affected varieties and the Bdv2 varieties is like chalk and cheese."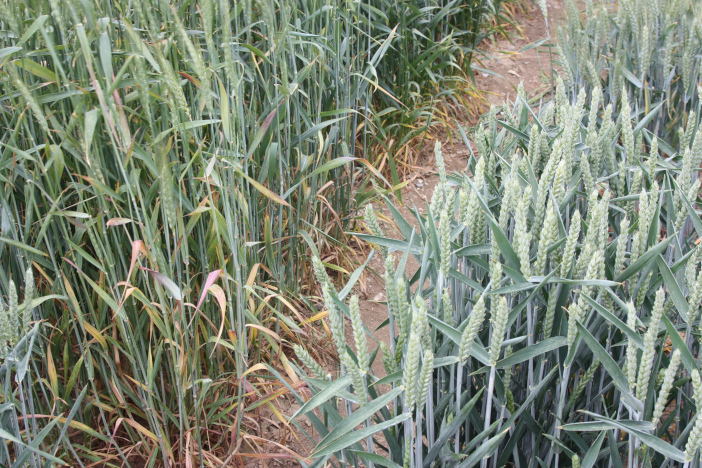 RAGT further stated that in last year's trials, eight of ten popular conventional varieties yielded between 5% and 18% less when left untreated, while the Bdv2 varieties did not suffer a yield penalty.
Mr Dummet concluded that growers could expect as good a yield as any hard Group 4 variety on the Recommended List.
"Growers will not be penalised for growing it in low-BYDV years. RGT Wolverine has very early sowing potential, is stiff strawed and has good bushel weight.
"It performs consistently well across all regions of the UK, so it makes a good choice for any grower, wherever they farm."