A new day begins at Scaglia Farm, the agricultural business in Turin that has been breeding Piedmontese cattle for two generations and whose vehicles have been relying on BKT tyres for some years.
Managing 400 head of cattle requires a versatile machine that can handle the day-to-day hauling and lifting tasks. This is why Graziano, Paolo and Mauro, have equipped the Scaglia Farm with a Merlo TF30.9 telehandler.
The model offers a 3,000kg capacity and reportedly has the largest cabin in its category.
The choice of tyres fitted to these vehicles is also fundamental, due to the wide range of tasks handled. For their Merlo telehandler, the Scaglia brothers chose BKT Con Star, designed specifically for handling vehicles such as telehandlers and wheel loaders.
This tyre is said to ensure great performance in any condition thanks to the strong grip provided by the wide lugs that increase the contact area with the underlying ground. The "Cut-and-Chip resistant" compound also guarantees resistance and durability, while the diagonal design prevents lateral slippage even when fully loaded, which is a fundamental feature for this type of machinery. Con Star is marked with a load index of 148 in the 440/80 size, which means that it can handle loads up to 5,600kg without losing stability.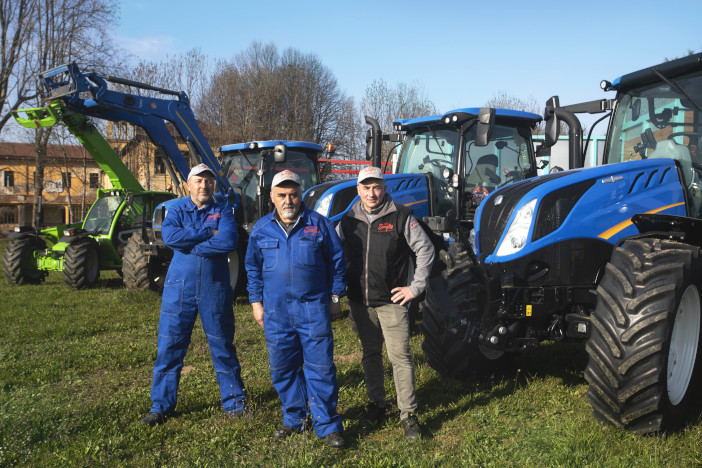 Mauro Scaglia, an owner with his brothers of the Scaglia Farm, stated: "This is our third Merlo vehicle. We used to have the standard tractor with a front loader, but switching to a telescopic handler is a completely different thing. As for the tyres, they must be comfortable when driving on the road, but also robust and must withstand a good oscillation, especially when we are handling heavy loads at high heights. By choosing BKT we noticed a big positive difference in terms of sliding; for example, when we move materials in the stable, we feel a stronger grip and greater safety".