Following 18 months of virtual machinery launches, Amazone is taking full advantage of the return to live exhibitions – bringing with it a host of new innovations to Cereals 2021.
Pantera 4504 self-propelled sprayer
In what will be a first-ever public showing, the latest generation Pantera 4504 features a new in-house operating system, modified spray agent liquid circuit and changes to the operator station.
The new SmartCenter and operator station are protected under the access cover on the left-hand side of the sprayer, with a 60-litre induction bowl. The latest twin, pressure-stable and liquid fertiliser proof AR piston diaphragm pumps, offering a total output of 520 litres per minute, have been repositioned over the right-hand side to reduce noise levels during the filling process while still offering fill speeds of 700 litres per minute.
The SmartCenter can be specified with either Comfort-Pack, combined with the TwinTerminal 3.0, or Comfort-Pack plus which features the TwinTerminal 7.0 touchscreen instead of tap controls. With the high specification option, the sprayer adjusts automatically to the function selected and features a one-touch automatic cleaning process.
Elsewhere, the easily accessible fuel tank can hold up to 290 litres for greater autonomy, with a 20 litre AdBlue tank conveniently fitted next to it.
In the cab, the latest AmaDrive 7.0 terminal has been integrated into the armrest, clearly displaying all machine-specific functions and offering touchscreen operation. The new operating system can be displayed on a range of consoles, including the eight-inch AmaTron 4 or the 12.1-inch AmaPad 2 ISOBUS compatible unit.
Even at boom widths up to 40m, the proven ContourControl active boom guidance and the SwingStop boom tip swing compensation system ensure the best possible ride. ContourControl offers negative as well as positive geometry to maintain boom height, SwingStop optimises the horizontal position.
Due to the hydraulic boom guidance, Amazone states that faster working speeds can be achieved, working with the AmaSelect electric individual nozzle control – now with the added functionally of AmaSelect CurveControl, AmaSelect Row and AmaSelect Spot.
The company concludes that the new Pantera 4504 has been introduced without any price increase over the outgoing 4503.
Cenio 3000 mulch cultivator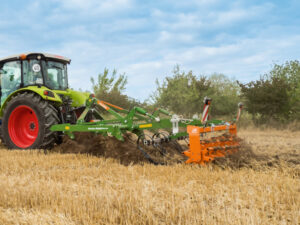 Set to be shown at Cereals, ahead of a working demonstration at Tillage-Live, the new Cenio 3000 mulch cultivator is aimed at smaller tractors, with a shorter, lighter construction. It retains the three rows of tines seen on the Cenius, but features one less tine per row and a shallower working depth of 25cm.
The tines are 30cm and following the cultivation elements is a set of rear levelling discs or paddles to back-fill the tine action ahead of the rear roller. A wide choice of roller units is available, including a simple cage, the soil on soil UW and DUW rollers, and wedge and ring units.
The Cenio is available in rigid working widths of 3m, 3.5m and 4m, with shearbolt overload protection on Special variants and sprung breakback protection and Super machines. Prices start from £13,385.
Greendrill 501 catch crop seeder
Amazone will also introduce the GreenDrill 501 universal seeder box, suitable for catch crops, fine seeds, undersowing and spreading micro-granules, pellets and micro-fertilisers when mounted on either the Amazone trailed cultivation range or the Cirrus trailed drill combination.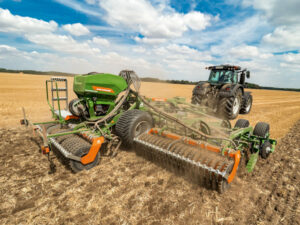 It features a 500-litre plastic seed hopper, with integrated steps and platform, and screw locking to protect product from dust and moisture. A level fill sensor is supplied and can be mounted in two positions, while a protective sieve at the bottom protects against foreign bodies.
The electric metering system can be adapted to different products with a range of rollers. Due to the electric drive, the seed rate can be adjusted via the in-cab terminal or monitored automatically with application maps. Additionally, calibration can be done at the push of a button, as can pre-metering in field corners.
A segmented distribution head is available in a range of sizes and equipment levels to suit between 16 and 48 outlets, and can also be used for tramline control. A hydraulic blower fan drives the seed to the baffle plates or sowing coulters.
Precea precision air seeder
The 4500-2CC VT, with rear fertiliser hopper, variant of the three-point linkage mounted, high-speed Precia planter will be shown at Cereals. The range also includes a wider eight-row 6000-2FCC, with greater fertilisation efficiency thanks to the FTender front tank.
Using an overpressure singling system, equipped with three stripper fingers, for precise planting. An optical sensor is also fitted to monitor the singling system and report any misses or doubles to the tractor terminal. The stripper system can be adjusted, with the option of fully automatic, electronic stripper finger control via SmartControl.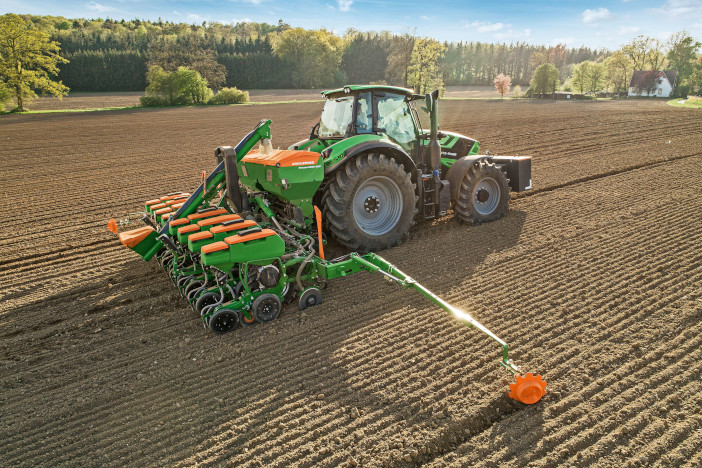 Single row shutoff is integrated into the electric drive for tramline adjustment or switch off in wedge-shaped fields. In marginal rows, higher sowing rates can be set from the tractor cab. As an alternative, non-folding models are available as Special variants, with the SheedShaft mechanical singling drive, with forward speeds of 12kph available, compared to 15kph on the full-specification units.
The newly developed PreTeC mulch seeding coulters can be mechanically loaded up to 220kg, with a hydraulic option offering downward pressures of up to 350kg adjusted from the tractor seat. Placement depth can be individually adjusted, as can contact pressure and the opening angle of the V-pressure rollers. The whole coulter unit is readily accessible and the maintenance-free bearings and bushings are protected from dust.
Seed hoppers have a capacity of 55 litres or 70 litres, with a rubber lip to protect against the ingress of dust. An additional micro-granular applicator with electric metering can also be mounted on each row. The 4500-CC and 6000-2CC can be equipped with a large rear fertiliser hopper (950 litres or 1,250 litres), with the Precis metering system, central calibration and the FerTeC double disc coulter to place the product behind each sowing row.
FTender front tank for optimum weight distribution
The latest FTender front tank is designed as a multi-purpose transfer hopper that can be used for seed or fertiliser. Capacities of 1,600 litres or 2,200 litres are available with electric metering drive and ISOBUS control. Calibration is possible at the front tank, with an easily stowed scale and folding bucket.
It can be carried on the front linkage, or pushed on the self-steering T-Pack F to balance the weight distribution and improve soil protection.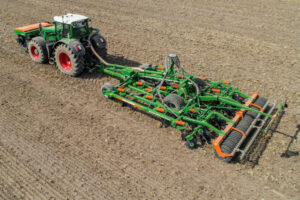 It can be used as a seed hopper for the Avant sowing combination, or as a fertiliser tank with Centaya or Cataya power harrow drilling combinations, or the Precea planter for under root placement. It's also possible to combine it with Amazone's tillage range for the sowing of catch crops or fertiliser in one pass.
The FTender-C, set to shown at Cereals, comes with twin metering units and a split hopper for simultaneous fertiliser and seed application. It will be shown in combination with a Ceus combination cultivator.
For more information go to www.amazone.co.uk