MaterMacc, best know for its range of precision planters, has developed a new pneumatic seed drill, the MSD Elektro.
Standard features include a heavy-duty seeding element, suitable for minimum tillage and direct drilling; a tough working unit with a furrow opener downward pressure up to 45kg; four metering units and four distribution heads for improved seeding uniformity and said to be able to handle large and small seeds; the X4 monitor and electric drive and a universal seeding kit.
The seeding bar design is said to be the main feature of the drill. The 45kg downforce is independent of seed characteristics and ground contours. The V-shaped furrow left by the double-disc opener has reportedly been highlighted by customers.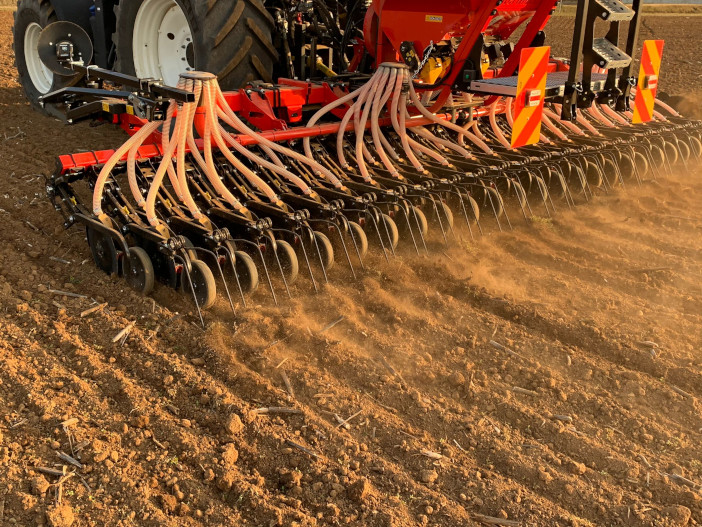 Each seeding unit can be independently adjusted, along with the integrated cover harrow and seed press/gauge wheel. This also enables operators to increase downward pressure behind the tractor wheels. It's also possible to switch-off outlets and adjust row spacings to suit different crops.
Depending on the soil preparation, working speeds of up to 13kph are possible. Seeding units are mounted across two rows, with operators having a choice of equipment:
Single disc opener with side depth limited (standard). It uses a ratchet system adjustment, which is also used for the seed covering harrow
Single disc opener and double disc opener, with rear depth control gauge wheel and the option to mount a rear covering harrow.
In both cases the main support is made of single-piece metal, press folded and drawn without welding, and the seeding rows are staggered.
For more information go to www.matermacc.it