Keith Rennie Machinery Ltd (KRM) has announced an update to its range of flail mowers, with the addition of three new models designed for heavy-duty operations including setaside, pasture topping, verge mowing and field margin maintenance.
Alongside the more modern design, the latest machines have been designed to improve the flow of material with a larger intake at the front of the machine and a new discharge system, dropping shredded material behind the roller instead of in front.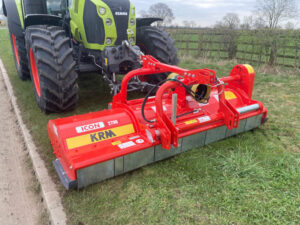 The durability has also been enhanced with the introduction of internal steel-housed roller and rotor bearings, as well as increased steel thickness used in the machine's frame. Drive to the rotor is via a central gearbox with an internal safety clutch and heavy-duty multi V-belt drive. The rotor has a 195mm diameter and is fitted with 1.6kg hammer flails, with a rotation speed of 2,250rpm, making it capable of handling material up to 75mm in diameter while also leaving a clean cut in grass.
The Grifus range of rear-mounted machines offers a 40cm hydraulic offset and comes in working widths from 1.4m up to 2.7m. Larger Icon machines can be front or rear-mounted thanks to the double headstock, comes with 60cm of hydraulic offset and is available in widths from 2.3m to 3m.
Finally, the Master Super models are fully offset, rear-mounted units can be specified to cut to the left or right. Cutting widths are from 1.6m to 2.5m and the 1,780mm offset ensures that the full width of the cutting head is set away from the tractor when working on soft banks or ditch sides.
Retail prices for the Grifus range starts from £5,500, increasing to £7,430 for the Icon series and £11,320 for the Master Super. All models are available for Spring 2021 delivery.
More information is available from www.krm-ltd.co.uk