The new UTV from Honda, the Pioneer 520, combines the benefits of side by sides and ATVs; with the safety and space found in side-by-sides and the handling and narrow footprint of an ATV. The new model slots under the Pioneer 700 and is expected to introduce a whole new market to the benefits of a compact yet capable UTV.
Following six years of evolution and development of the Pioneer 500 range, the Pioneer 520 hit UK shores yesterday (April 12th).
Within a small, four-square form, the suspension setup that sees the Pioneer 520 tackle tough ground and heavy cargo, while also helping operators thread it precisely through narrow farm gates and into spaces that traditional, large UTV's cannot.
Aiding this ability, a 518cc engine that drives two or four wheels, at the operator's discretion, via a five-speed transmission that can be manually controlled to tap into the low-to-mid range torque on hand.
Alongside the wide range of performance is the broad functionality that lends the Pioneer 520 to a variety of work applications. Riding two upfront loads up to 658kg in total can be hauled between towing and the gas-assisted tilting rear bed.
A tough and compact chassis
At just 1270mm wide, the narrow width is more comparable with an ATV than that of the Pioneer 700 and with an overall length of 667mm, handling and low-speed manoeuvrability allows the driver to operate the 520 regardless of experience.
Mounted to a steel ladder-frame chassis is a double-wishbone suspension layout in all four corners, allows for excellent dynamic behaviour across smooth and uneven surfaces alike.
The Pioneer 520 also displays 5.8 and 5.9 inches of suspension travel front and rear, combined with ground clearance of 8.5 inches allowing the UTV to tackle the roughest of surfaces and terrains.
The shock absorber damping has also been retuned for increased comfort and control, whilst the rear dampers have adjustable preload, allowing the ride height to be adjusted to match the rear bed's load.
In each corner of the Pioneer are 12-inch diameter all-terrain tyres that measure 24×8-12 upfront and 24×10-12 at the back featuring a new tread design with deeper blocks that enable greater grip on loose and wet surfaces.
The front brakes also comprise dual hydraulic callipers that grip on to 200mm discs, while the rear brake utilizes a single hydraulic calliper on a 170 mm disc to provide significant overall braking power.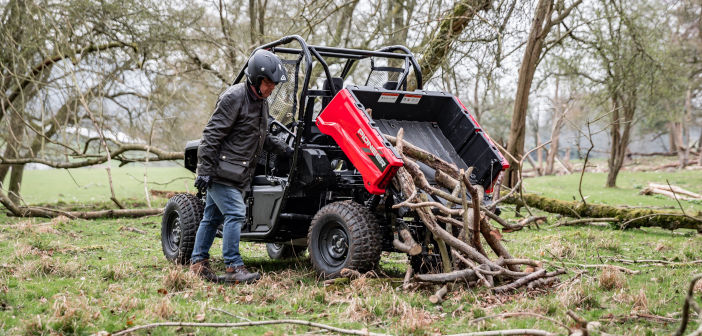 Versatile for all jobs
The 520 introduces a gas-assisted tilting rear bed, measuring 29 inches in length, 38.7 inches in width and 9.8 inches high allowing the UTV to swallow a multitude of items from multiple standard hay bales to buckets, crates and more. The ridged base design, three bed divider slots for ¾" partitions and five D-ring locations ensure the load stays secure regardless of the terrain.
Aiding this load-carrying ability is a tailgate that folds flush with the bed floor when open and integrates four cup-holders, giving the operator somewhere to sit on a work break.
In addition, the bed is designed to carry loads of up to 204kg, being both hard-wearing and with integrated taillights for a modern look. The monocoque shape and design of the rear bed weighs less than traditional steel items, aiding the 520's handling.
The capacity is boosted further through the towing capacity of 454kg combined with the Pioneer 520's overall load capacity of 658kg, a transferable tool for agricultural and commercial applications.
The cabin contains a bench-style seat aiding manoeuvrability inside the cabin, whilst the separate headrests and three-point seat belts offer increased safety and comfort, and half-doors ensure that the rough terrain stays outside of the cabin and are paired with roll-up nets for complete cabin safety and offer more convenient accessibility than a conventional ATV.
With 11 new accessories are available on the options list, which range from full weather protection to under vehicle protection. This expanded range of accessories through the addition of a roof, full-length canvas doors and a Perspex screen for increased comfort and weather protection enable the machine to be used all year round.
Controlled Power
The Pioneer 520 introduces an all-new powertrain to the UK market, with a longitudinally mounted four-stroke 518cc engine paired to a new five-speed transmission.
The fuel-injected engine has bore-and-stroke figures of 96.0 mm and 75.3 mm respectively running a compression ratio of 9.5:1 and offering increased low- to mid-range torque over the Pioneer 500, improving driveability in a wide range of speeds and situations.
By mounting the power unit longitudinally, packaging is improved as is drivetrain efficiency with a direct power transfer via driveshaft and not belt drive. This arrangement also reduces the need for regular maintenance and ensures that the driveshafts are perfectly aligned front and rear. Paired with the improved power unit is an also new five-speed automatic transmission, which offers up a number of drive modes through Traxlock switchable 2/4WD system accessible via an easy-to-reach, dash-mounted knob.
The automatic mode allows occupants to concentrate on the task at hand, whilst semi-auto offers a manual override on either down or upshift before returning to fully automatic mode.
The manual mode, operated with paddle shifters on the steering column, gives the user shifting control when conditions warrant. Compared to its predecessor, the Pioneer 520's shift mapping has been tuned to upshift at lower engine speeds, improving shift rhythm. Calibration has been adjusted to optimize shift shock, and manually overriding automatic mode is possible through a wider rpm range.
The Pioneer 520 is available to purchase now across the Honda network of approved dealers priced at £9,200 excluding VAT.
For more information go to www.honda.co.uk