The Fan Jet Duo spinning disc granular applicator from Stocks Ag can now be specified with the new TM (Twin Meter) control box, equipped with a GPS speed sensor.
The TM controller is supplied with a 4.3-inch colour touchscreen with a simple and intuitive layout, displaying the application rate and forward speed, as well as offering section control and headland management functions. It can also apply variable rates in conjunction with an application map, shown in real time on the display.
Functions are clearly laid out across four main screens; the home screen, the parameters screen, details screen and the mapping screen.
Disc speed control enables the operator to reduce the disc speed and the spread width by pressing the icon on the home screen. This can be done for both applicators either individually or together and a consistent application is ensured as the TM controller automatically reduces the rate to match the disc speed.
Headland control enables the operator to define the field boundary with the first pass around the field, using an integrated mapping system. If the spread width crosses an area that has already had product applied then the rate will automatically be switched off.
It's also possible to create and store production application information, including calibration settings. There is also a job application and export feature, making it possible to record the application history of each field task.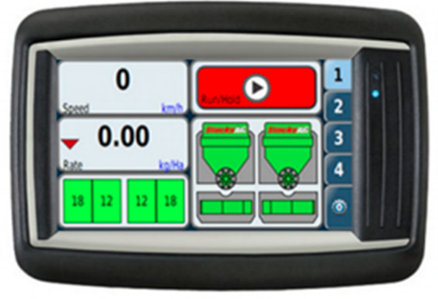 The Fan Jet Duo is normally mounted on the tractor front linkage, or on a self-propelled sprayer. An optional 24 volt power inverter is available for larger self-propelled sprayers running on 24 volt electrics. It can be fitted with either twin 65-litre or 130-litre hoppers and the contra rotating spinning discs are capable of spread widths up to 36m.
The TM controller will be on display for the first time on the Stocks Ag stand at Cereals. Prices start from £8,345.40 for a Fan Jet Duo 65 with the TM controller and GPS speed sensor.
For more information go to www.stocks-ag.co.uk