The twin-disc Primo fertiliser spreaders from Mascho Gaspardo have been launched. The flagship range offers machines with working widths from 12m up to 36m and hopper capacities from 1,270 litres up to 4,450 litres.
According to the company, the range-topping Primo EW Isotronic is equipped with innovative features, making it one of the most precise machines on the market. A twin shutter system is fitted, with one pair of sliders handling rate control, while the other shuts off fertiliser flow at the headlands.
These can work independently of the rate control sliders, enabling rapid shut-off without affecting the application rate. As the spreader reaches the headland, it shuts off quickly for no overlap. When it restarts, the shutters open instantaneously and the rate control sliders are already in the correct position, eliminating underdosing.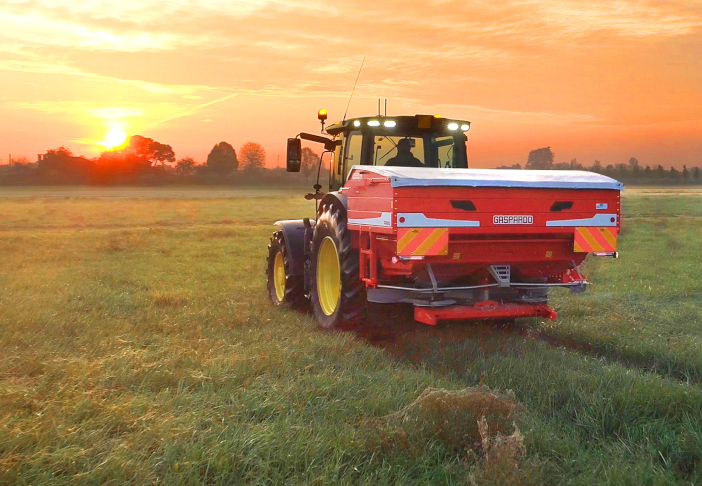 Eight or 32-section shut-off can be specified, achieved by altering the drop point on the disc via a three-lobe aperture. This also enables the machine to handle application rates up to 640kg per minute.
Isotronic machines are fully ISOBUS compatible, with operators able to manage the GPS section control and variable rate applications (when weigh cells are fitted). This system can independently adjust the rate on the left and right of the machine.
Even higher levels of precision are possible with the hydraulic disc drive, with an independent drive to each of the discs. This means that the speed of each disc can be controlled for additional accuracy, and disc speed is maintained regardless of the tractor engine speed or forward speed.
For more information go to www.maschio.co.uk