Slurry specialist Vogelsang will take part in the Agritechnica trade fair from the 12th to the 18th of November in Hanover, and will be presenting its latest product developments for low-emission slurry application.
In Hall 23, Stand B46, the company will showcase the new 30m BlackBird trailing shoe, extending the product lineup. Henning Ahlers, sales manager for agricultural technology in Germany, said: "The 30-meter BlackBird will become the linkage of choice for contractors. The larger working width means they can get the slurry to the fields even more flexibly and efficiently."
Also on the stand will be the SwingMax5 Slide, an updated version of the company's proven trailing shoe linkage. Now available in a 24m working width, the new compact model also includes slender welding assemblies to lower the overall weight, and larger hydraulic cylinders to optimise working on slopes.
The modified linkage is said to make it possible to work with larger tyres and high wheel fenders. Mr Ahlers explained: "The drum trucks are getting bigger, the tires correspondingly higher. We are responding to this development with the SwingMax5 Slide and adapting to the conditions of drum truck manufacturers."
It's completed with two built-in ExaCut series for exact manure distribution, as well as the proven TopSwing, TeleShift and DoubleFold features.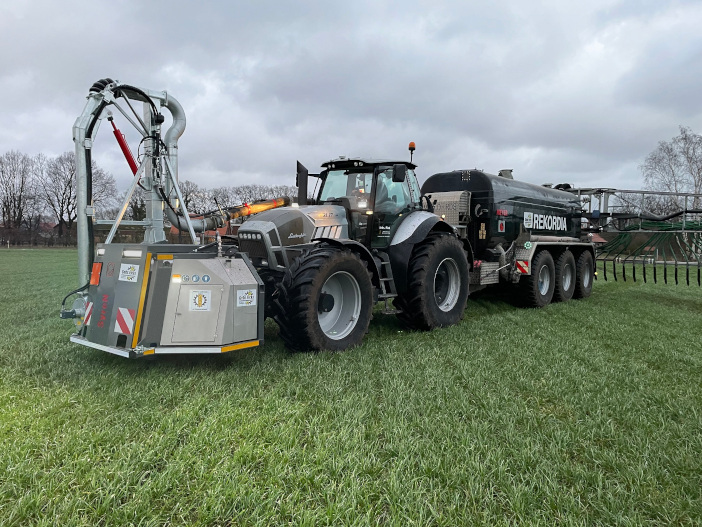 The company will also introduce updates for its SyreN manure stabilisation system, using sulfuric acid to limit ammonia emissions by up to 70%. The company will showcase a permanently installed front suction arm, enabling users to refill slurry directly in the field. It folds in and out via a hydraulic cylinder, with a knife gate valve and venting to ensure a clean flow of products.
To control linkages, especially on retrofit machines, the company will also introduce a universal toggle switch control with automated headland management, compatible with the BlackBird, UniSpread and SwingUp dribble bar linkage.
Further launches include new components for XSplit press screen separator, turning into a system solution with a CC-series progressive cavity pump, hoist, VX pump, control system and RotaCut wet cutter.
"We are delighted to be presenting our innovations for economical slurry management again at the Agritechnica this year. With these machines, our users can work even more efficiently, precisely, and in line with requirements," said Harald Vogelsang, managing director of Vogelsang GmbH & Co. KG.
For more information go to www.vogelsang.info