Set to be introduced to the market this spring, Weaving Machinery has developed the Fenix Grass Drill, a compact machine designed for mixed farms and contracting operations.
The machine is able to sow new leys directly into the sward, using a three-inch row and serrated disc. For greater versatility, coulters can be blocked off making the Fenix suitable for establishing wheat, barley and oats, while a full-width press roller at the rear ensures that the ground is properly consolidated for even germination.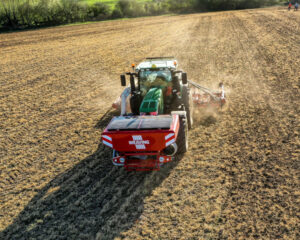 It's available in a 3m working width, requiring 80-100hp up front and comes complete with the RDS Artemis Lite metering unit and GPS forward speed monitoring. The use of GPS is reported to offer greater levels of accuracy, regardless of weather conditions, than radar technology.
"We've now had two wet winters in a row," said Simon Weaving, sales director at Weaving Machinery. "Many farms are hoping to reseed and top up their winter grass. From an environmental perspective, they're understandably trying to plough less. The new Fenix Grass Drill is designed with this in mind.
"The size may be small, but the functionality and specifications are high," added Mr Weaving. "The Fenix Grass Drill is loaded with valuable features that make a real difference. For example, the 4-inch hydraulic fan blows air to the top of the coulter and then releases 50% of that air allowing the seed to fall freely and saving on fuel consumption."
In addition to the Fenix drill, Weaving has also developed a new Front Tank, following customer demand. Designed to improve weight distribution during seeding operations, the unit boasts multiple new features including a stainless steel double metering unit, the capability to offer higher output, a two-tonne capacity and front row lights and integrated cameras.
For further information go to www.weavingmachinery.net