The Lemken SprayHub front tank can now be used with the SprayKit application unit and a rear-mounted hoeing machine for band spraying during hoeing. According to the company, this combination can reduce workloads by up to 60%.
Additional functions include electrical single-row deactivation via ISOBUS for row-by-row automation section control when combined with GPS. A new version of the SprayKit has also been made available for the Azruit precision seeder, enabling under-root fertilisation.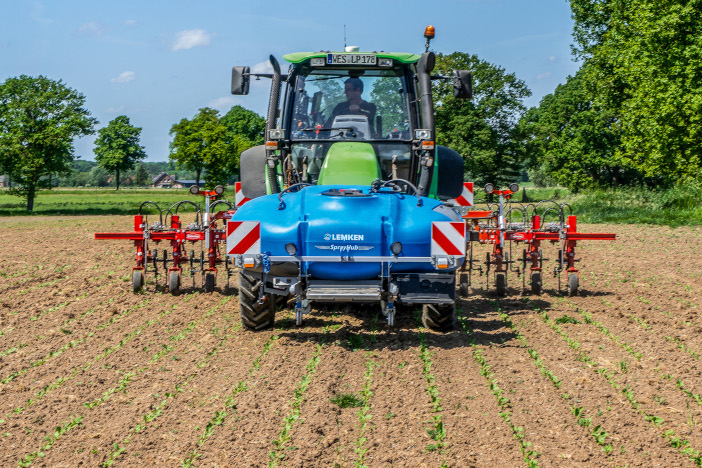 The SprayHub is available in capacities of 1,100 or 1,500 litres, with ISOBUS control and iQblue spray software. It is fitted with a clean water tank, a hand wash tank and a filling filter. An additional induction nozzle is available to break up solid materials and a CTS connection for contactless induction can also be specified.
Depending on the model, up to 28 rows can be band sprayed when the SprayHub is combined with the EC-Weeder and it is possible to have two nozzles per row so that herbicide is applied from the side and under the leaves. It can also be used for liquid fertilisation when fitted with a duck-foot share.
When combined with the Azruit, up to eight rows can be specified for under-root fertilisation with a double-disc coulter. Lemken also states that the SprayHub can be combined with a range of different machines.
For more information go to www.lemken.com