Agricultural drone technology specialists Drone Ag has announced the start of a two-year, Innovate UK funded project. The company has received a grant of £610,000, which was conditional on them raising the same amount from investors.
Bruce Colley, program manager from Innovate UK said "I am delighted that our grant funding has helped to derisk Drone Ag's ambitious technology plans sufficiently to encourage further private investment."
The funding will enable Drone Ag to develop automated aerial drone-based systems for testing and validation of new agricultural products, in both research and commercial trials.
Investment has been led by a consortium of partners, including the Business Innovation Centre, Innovation SuperNetwork, Northinvest, Fund Her North and the UKBAA.
Jordan Dargue, head of Access to Finance at Innovation SuperNetwork said "We've supported Drone Ag from the start of their journey and are thrilled to help them receive this grant from Innovate UK. The technology that Drone Ag is developing is ground-breaking and the funding is going to help them achieve their goals of a faster more efficient plot analysis automation. I'm looking forward to watching how this project unfolds over the next two years."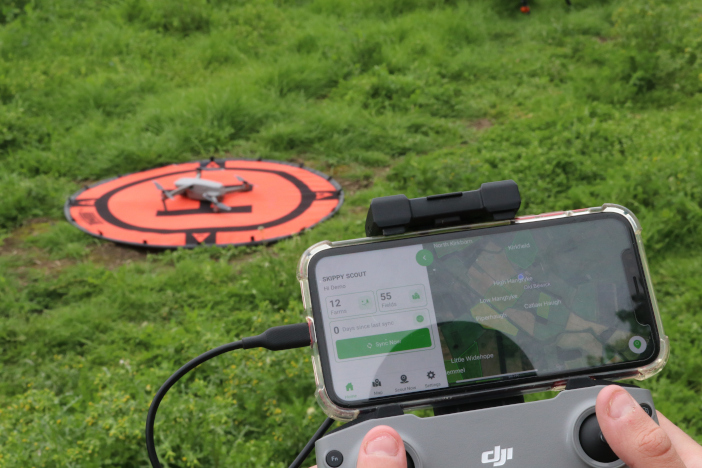 At present, data gathering and analysis rely on hand measurements and require many man-hours in the field. Ruth Mann, head of integrated crop technologies at Agrii said: "Trials programmes are in desperate need of innovation, As most monitoring is still done visually, manually, and in person." Drone Ag's specialism in drone automation, artificial intelligence, and data pipelines means that its trial plot analysis automation will allow companies and research bodies to monitor and assess trials with a far greater level of speed, precision and repeatability than current methods."
Working with Agrii, Eurofins Agroscience Services and UPL, the company will provide fully automated drone flights from on-site base stations as frequently as desired. According to Drone Ag, this will provide unparalleled analysis and integration powered by artificial intelligence, allowing companies to monitor and interrogate their trails with greater accuracy and in a fraction of the time.
Graham Poulton, global head of agronomic digital innovation team at UPL said: "UPL are excited to see DroneAg's solutions being applied to Research & Development trials. We are very supportive as we see many benefits to our own operations, including staff well-being. We hope in supporting this others will also come to benefit, which is aligned to UPLs OpenAg mission."
Jack Wrangham founder of Drone Ag added: "Crop research and development is an extremely important factor in moving agriculture toward infinite sustainability. We are very excited to receive Innovate UKs backing, and support from Agrii, UPL and Eurofins to help develop a version of the Skippy Scout platform that will revolutionise crop trials monitoring and analysis."
For more information go to www.droneag.farm