Stihl has expanded its range of professional brushcutters with the latest FSA 135 and FSA 135 R.
These new models build on the previous FSA 130 with new compatibility with the company's AP battery system, making it ideal for contractors and grounds management firms tackling large areas of grass and brush, and using a variety of cutting attachments.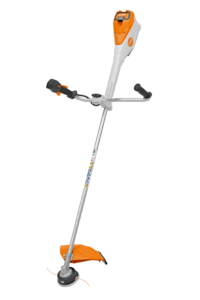 The FSA 135 bike handle brushcutter comes with the GrassCut 260-2 blade as standard and offers an expected working time of 100 minutes when used with the AP 300 S battery. The FSA 135 R loop handle model is fitted with an AutoCut 26-2 line head, with a working time of around 45 minutes when using the AP 300 S.
New cordless models feature the same design as the company's petrol units, with engine, driveshaft and gearbox, meaning that the FSA 135 can fit metal cutting attachments designed for brush and wood.
Both feature ergonomic control handles with three-level speed pre-selection with LED display, as well as infinitely variable trigger speed control for energy efficient working and longer running times depending on the attachment and working conditions.
The company states that both models can work in all weather conditions and are fitted with low-maintenance motors and easy to clean air filters.
The battery housing has a new design, enabling easy changeover of batteries from Stihl's high-performance 36V AP range. A range of accessories is also available for both brushcutters, including the Advanced Plus Harness, Advanced X-TREEM Harness and a wide range of line and metal cutting heads.
More information is available at www.stihl.co.uk