The latest, new look, DX100W-7 wheeled excavator from Doosan sees the company enter a new weight class, and is said to offer a compromise between compactness and agility, complemented by excellent productivity and high-end comfort.
It boasts an integral 1.35-tonne counterweight for added stability, alongside an articulated boom and long arm. The weight also has a novel design, said to offer the best maintenance access in the industry from the rear and from ground level.
The articulated boom allows the operator to position the machine as close as possible to trucks during loading, as well as offering a 2.7-tonne lift capacity (at 4m) and a digging force of 58.6kN. It also satisfies height requirements, with a travel height of under 4m.
Other safety features include a ROPS cab, which features a premium seat as standard and a large eight-inch touchscreen to browse through machine settings. Standard side and rearview cameras are fitted as standard, with the option of a 360-degree all-around camera, linked to an optional ultrasonic detection system.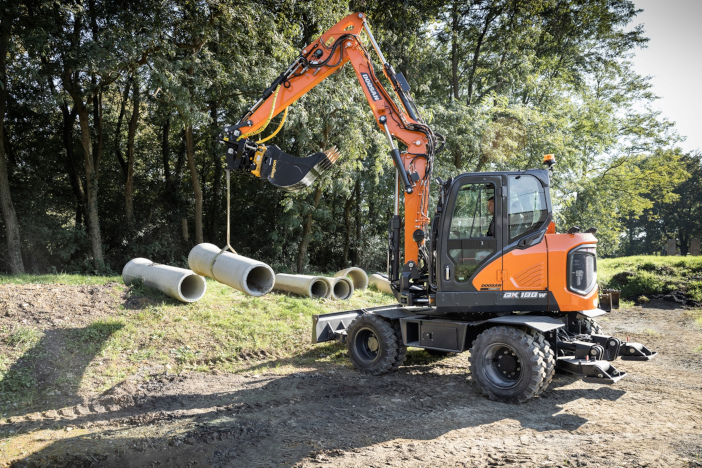 Power comes from a 100hp D34 G2 Stage V engine, with separate hydraulic pumps providing independent flows for the transmission and to power hydraulic tools at the front end. It also features an improved and robust chassis frame, with a new type of pinning system for front and rear undercarriage attachments.
It's completed with a factory-installed DoosanCONNECT TMS 3.0 wireless fleet monitoring system, enabling users to monitor the performance and machine security.
For more information go to www.eu.doosanequipment.com