JCB has announced its first fully-electric wheeled loader, said to offer the largest standard battery pack in its class to offer comparable productivity to the 403 diesel model.
The 403E is fitted with a 20kWh lithium-ion battery back, with a 33.4kW drive motor with three driving modes, a 20kW hydraulic pump motor, ZF axles with an integrated drop box and a digital dashboard and rotary controller.
According to the company, the combination of components can provide up to four to five hours of continuous use, or a full day's autonomy when used for select loading tasks during the day.
Like the E-Tech range, it features a built-in charger for connection to a range of power sources. A 110v socket will fully charge the unit in 12 hours, while a 230v industrial or domestic plug will fully charge the battery pack in eight hours. JCB's own off-board rapid charger is said to deliver a full charge from a three-phase supply in just two hours.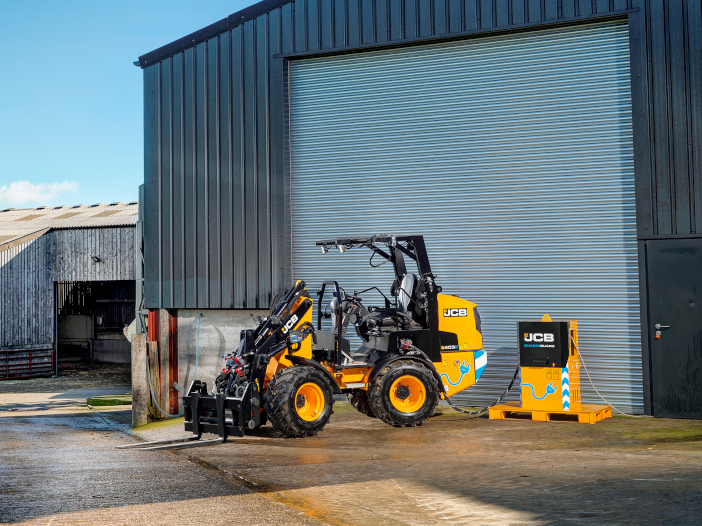 Three driving modes are offered to adjust performance to the task:
Hare mode has a maximum speed of 20kph for maximum performance and productivity
Tortoise mode is limited to 8kph for improved speed modulation and an increased battery life
Snail mode has a 5kph maximum speed, which can be adjusted in 0.5kph increments through the rotary controller for precise speed control.
The loader arms are available in standard and high-lift configurations, delivering either 2.9m or 3.1m lift heights and both are available with a hydraulic quick hitch as standard.
The tipping load is 972kg with pallet forks, while the transport weight is just 2,671kg, putting the machine within legal towing standards. As an option, a heavy-duty counterweight is available, increasing the tipping load by 118kg and the transport weight by 121kg.
Control is via a single joystick, with a proportional controller on top. An optional auxiliary roller can be provided for full control of all functions. An independent hydraulic pump motor offers two operating modes, starting with bucket mode for dynamic responses, and fork mode for increased precision. It's also possible to programme a constant flow for attachments such as bedding spreaders and yard sweepers.
The 403E is offered with a fixed or folding canopy initially, with a fully glazed cab set for launch in Q3. For more information go to www.jcb.com