Highlighted by the jury for its versatility and fuel efficiency, the X5.120 puts power to the ground through the new P3-Drive. Based closely on the P6-Drive automatic powershift gearbox seen in the larger X6 machines, the driveline has been stripped back to offer 36×12 or 48×16 gears and a three-step powershift, all controlled via the SmartPilot joystick.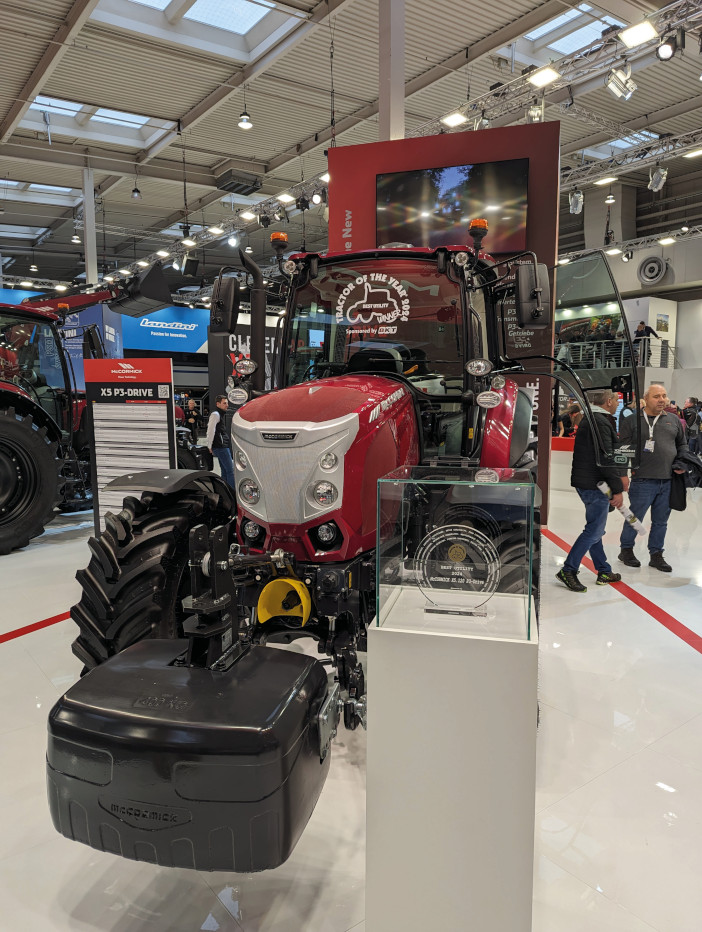 Reducing the size of the transmission doesn't mean that features have been removed, however. The P3 offers the same automatic functionality as the P6, with separate operating modes for in-field and on-road operations.
Argo has also focused on driver comfort with the option of the Advanced Driving System+ (ADS+), which brings the automotive features seen on the Landini across to the McCormick range, as well as front axle and cab suspension. When we had the chance to drive, we were impressed with the visibility from the cab, especially when using the front loader to stack bales.
However, it also impressed in the field with a cultivator. Despite only having 114hp under the bonnet and weighing just 4,000kg unladen, the X5 handled field duties with ease – showcasing its versatility. Recognising that operators do not always have the choice of which tractor they use for each task, Argo has made available a full suite of precision farming systems, including guidance systems, as well as access to its fleet and farm management systems.
The McCormick X5.120 is rounded out by a triple-pump hydraulic system, offering 82 litres per minute and an additional 32 litres for steering functions. This feeds up to five spool valves around the machine to operate front and rear implements, as well as the loader. An ISOBUS socket is included for greater connectivity and control over various machines and the rear hitch can lift an impressive 4,500kg, with an optional front lift system capable of carrying 2,200kg.
For more information go to www.mccormick.it