While it may share the same chassis as the Rex 4-120 GT Roboshift entered in last year's competition, the various technical features added to the Dynamic edition made it a clear winner according to the jury. Powered by a Deutz-AG engine offering 112hp, put to the ground through a 48×16 gearbox, with fully robotised HML and automatic shifting.
Control of the unit comes via the SmartPilot Plus joystick, mounted onto a new multifunction armrest that moves with the driver's station, oscillating up to 16 degrees to the right to see the rear implement and eight degrees to the left. Landini claims this is a first for the specialist market and having jumped in the cabin on a trip to Italy to put the machine through its pace, it's remarkable that they've managed to integrate this feature on such a compact machine.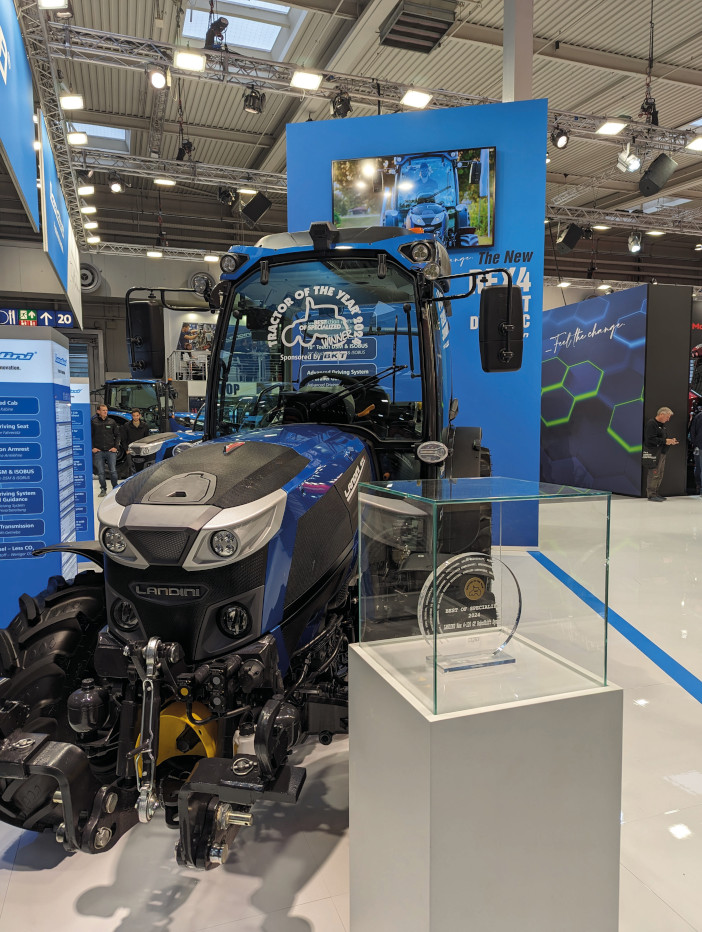 Driving comfort is extended further with various functions built into the transmission. Stop & Action provides clutchless braking, while the optional Advanced Driving System (ADS) brings automotive functions to the specialist tractor market. ADS automatically aligns the steering wheel to the centre after turning and adjusts the steering resistance based on the forward speed to avoid oversteering. This not only aids comfort but improves safety, especially when working on slopes.
Specifically designed for vineyards is a new precision farming system, which uses integrated sensors to measure the distance between the rows and keep the tractor running straight. User inputted parameters, including implement width, adjust the system accordingly and the real-time sensor data means that it will adapt to the growing crop.
Other features have been brought down from the larger Argo products, including ISOBUS compatibility, access to the Landini Farm management software, and Landini Fleet telematics. During our test drive, we were impressed with the ease of use and smooth control of the machine via the redesigned operator's station, as well as the comfort provided by the cab suspension, which effectively dampened the undulations in the vineyard we were working in.
For more information go to www.landini.it