Working with customer feedback, New Holland has redeveloped its T4 range of specialist tractors for Stage V emissions regulations. One of the key features is the hood, which is just 96cm high despite the after-treatment system being fully encased – this is 4cm lower than the Stage IIIB variant launched in 2014, and just 1cm taller than the Stage IIIA model back in 2006.
This has been achieved with sister company FPT, which has developed an ultra-compact version of its FS four-cylinder engine. On the T4.120, the engine is optimised to produce 120hp, with maximum torque levels reaching 518Nm. The low hood improves visibility, as well as enabling additional front and mid-mount implements to be attached.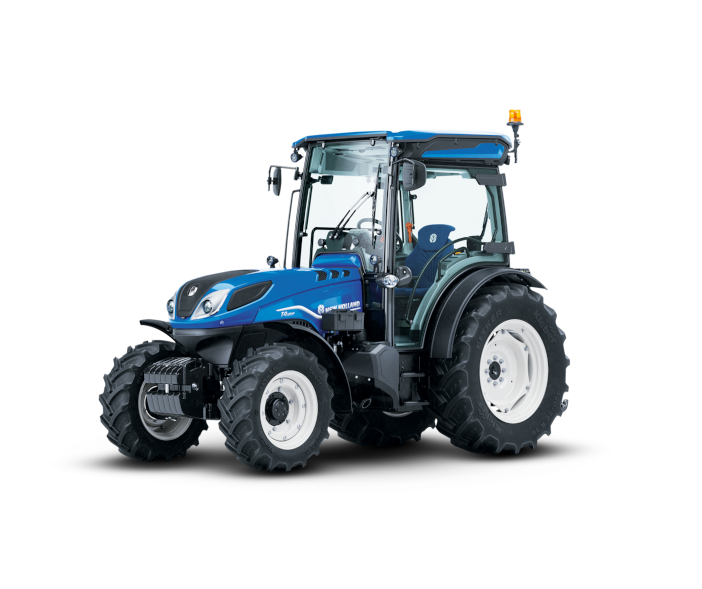 An in-house transmission, with mechanical Hi-Lo gears, has been equipped available as standard with 32×16 gears, with the option to boost this to 44×16 when a creeper box is equipped. Control of the gearbox is via a newly designed lever, with declutch and HiLo controls, while the powershuttle has been upgraded to an electro-hydraulic system.
As well as this, the newly designed transmission is laid out to offer a flat floor in the cabin, further boosting operator comfort.
The hydraulic system has also been updated, offering 80 litres per minute optimised to work the rear hitch first to improve performance. The system reportedly works at 20bar below the previous generation, to reduce fuel consumption and heat build-up. To maintain performance, there is also a 36-litre dedicated steering pump.
Up to four rear remotes can be equipped, with eight couplers, and there is the option of Power Beyond. In-built hydraulic functions such as the top link, stabilisers and tie rod are managed by dedicated valves so the eight couplers are solely for equipment. There is also the option of up to eight mid-mount valves, which are electrically controlled using a dedicated in-cab joystick.
The rear lift has a capacity of 2,519kg, with the option of a fully integrated front hitch system that can lift 1,500kg. The front hitch is fully integrated without impacting the capacity of the fuel tank or AdBlue tank, or impeding the SuperSteer option.
T4 models are completed with a new VisionView cabin, which comes with a digital dashboard and increased storage space. The four-post cabin increases visibility around the machine and, finally, the New Holland T4 is available with a host of precision farming equipment, including guidance and telematics.