Kubota has announced a full range of MX loaders for its M4, M5, M6 and M7 tractor ranges, spanning 66hp up to 170hp.
Designated the LK range, there are three series of orange liveried loaders available. The LK U (utility-mechanical) and LK M (mechanical) offer mechanical parallel lift and a headstock that uses automatic mechanical attachment.
The LK H (hydraulic) benefits from a hydraulic parallel lifting system, while all units can be equipped with the optional Mach 2 coupling for loader and attachment hydraulic services, delivering simultaneous coupling of hydraulic and electric connections.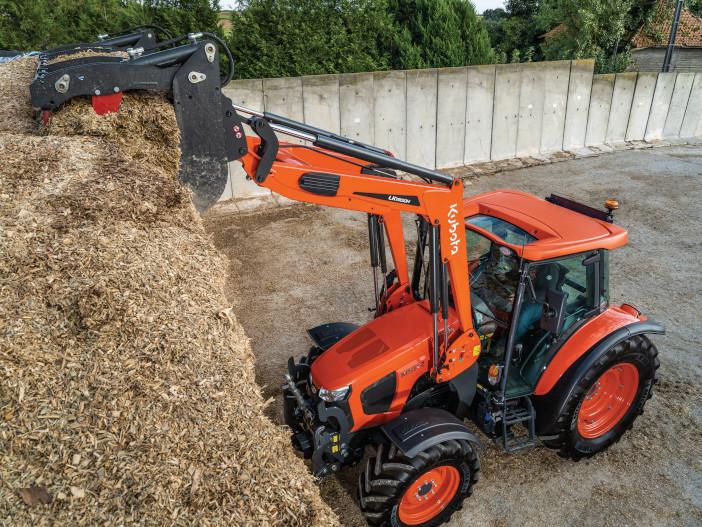 The numbers on the badges reflect the lift capacities, ranging from 1,180kg up to 2,410kg, with maximum lift heights at the pivot point running from 3.5m to 4.15m.
Three control systems are available, including the cable-operated ProPilot joystick; a low-pressure servo-based FlexPilot joystick; and the electronic e-Pilot S control system. Push button options can be fitted from auxiliary services and certain models can be optioned with a fourth hydraulic service and automatic return to dig.
Fitting and removing the loader from the tractor is made easy thanks to FitLock, a mechanical latching mechanism that secures the unit onto the brackets. The operator only needs to leave the cab once to unlock the loader, with the unit automatically relocking.
LK H loaders can be fitted with the optional Fastlock attachment connection, as well as Speedlink 3rd and 4th service attachments to swap implements without leaving the cab.
Integral parking stands and protected grease nipples at the pivot points add to the convenience, as does the Shock Eliminator hydraulic boom suspension system.
The LK is priced from £7,278 for the LK1500U, including a third service, tractor brackets and the ProPilot joystick.
For more information go to www.kubota.com