The highly anticipated reduction sale of the Burnett Family's Spittalton herd of Blairdrummond, Stirling was completed on Friday August 4, 2023.
Established in 1993, the herd has grown to become one of the larger pedigree Limousin herds in Scotland and they are three times winners of large herd section of the Scottish herd competition.
All 47 lots found new homes selling to packed ringside at Borderway Mart, which saw prices top at 11,000gns with the 41 cow and calf outfits averaging £5,245, heifers averaging £5,171, and individual cows averaging £6,825.
Topping the lots at 11,000gns was Spittalton Norma, who was sold with her heifer calf Spittalton Umbrella to Antony Sayer Jnr from Hilderston, Staffordshire. Mr Sayer said: "In my opinion Norma was the best cow in the market, still young with a lovely heifer calf, I liked her breeding."
The next top priced lot of the day, Spittalton Milly, made 10,000gns, when she was sold to Ian Snape, Dambourne, Redditch. Another cow and heifer calf pair, Spittalton Lodie and Teasel, was sold for 8,200gns to Charlotte Garbutt, Grindale, Bridlington, East Yorkshire.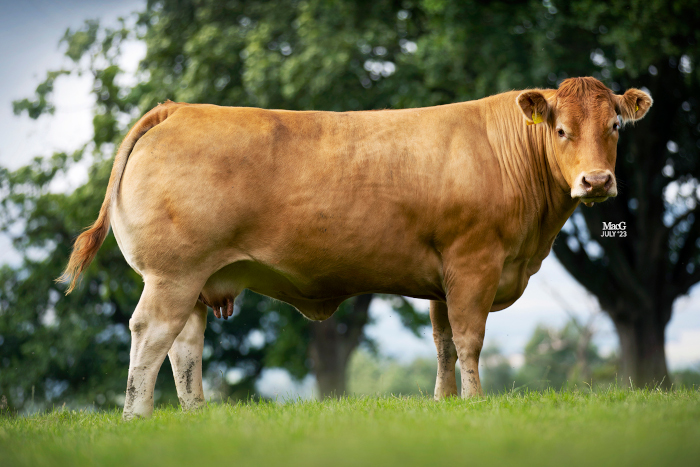 Next in the trade stakes was the first of two lots to sell for 7,500gns. Just four lots in was Spittalton Ivana with her four-month-old and Ampertaine Opportunity sired heifer calf Uvana. Ivana is sired by the home-bred Spittalton Denzil, another prolific herd sire with over 80 progeny registered.
This was the just one of nine lots to be snapped up by Ian Miller, Inverurie, Aberdeenshire, to join his Miller's pedigree Limousin herd, which he has been growing since his first heifer purchase in 2018 and now totals 35 breeding females, alongside his suckler herd which is exclusively run to Limousin bulls. Mr Miller said: "Limousin ticks all the boxes and is the only breed for me for weight gain and finishing."
Mr Miller went on to purchase a 7,500gns lot, maiden heifer Spittalton Soanna saying she was "really something special". At 20 months old, she has a top 10% beef value of 44.
Spittalton Ottie with her heifer calf Spittalton Uttie caught the eye of Andrew Ewing, Annan, Dumfriesshire, who bought them for 7000gns. Another pair to be knocked down at 7,000gns were Spittalton Offer and Topher. They are both going home to Glenrothes, Fife, with their new owners Messrs Jack.
Adding to the day's sale was a small consignment of five cows with calves from the Broadhead herd of Turner Farms Ltd, Honley, Holmfirth, West Yorkshire. Their top selling lot at 3,000gns was the cow and calf pair Broadhead Nellie and Unicorn, who were purchased by BA Comer, Wedmore, Somerset. The five-year-old Nellie is a cow with French bloodlines, she is sired by Volcano while her Dam Bewick Genevieve goes back to Ionesco. Her June born heifer calf Broadhead Unicorn is sired by the homebred Broadhead Rolly.
Averages
Spittalton Herd
41 cow & calves £5244.87, 2 dry cows £6,825.00, 4 heifers £5171.25, 6 embryos £316.66
Broadhead Herd
5 Cows & calves £2898.00